Roku is the most popular streaming device in the United States and is also famous for its TVs. If you're planning to buy a Roku one of the questions you may be wondering is if you are buying a streaming device manufactured in the US or China.
Roku is not a typical "made in China" product. Although Roku's hardware is assembled in China, the streaming device's products and components are designed in the United States hence the reason why most people assume that Roku is a Chinese product. Roku is of American origin and manufactured in China.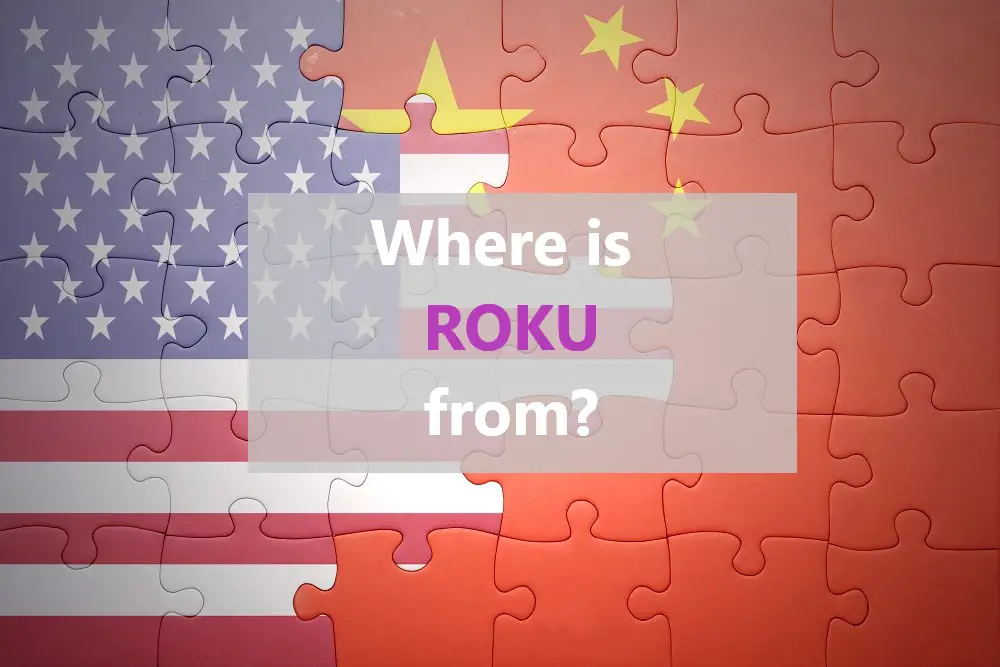 In this article, I'll discuss with you the origins of Roku. This includes where Roku is from, where Roku is manufactured and the economy that benefits the most from Roku device sales.
It's important to understand this information to help you debunk rumors about Roku devices being low-quality products and also help you make a constructive decision on purchasing your next Roku device.
Where Is Roku From?
Roku currently has its headquarters in San Jose, California, United States. Roku was initially founded as a limited liability company (LLC) in October 2002 by Anthony Wood as his sixth company. The name Roku was coined from the Japanese language as it means "six" in the language.
The founder of Roku, Anthony Woods, was initially the Vice President of Netflix in April 2007. He advised Netflix's board to build and produce its own player, which the board declined leading to Netflix not building the player.
This led to the new company, Roku, being incorporated in February 2008. The company was at that time based in Palo Alto, California, and saw Netflix as its first investor with over $6 million in investments to build a player. 
Roku launched its self-serving advertising product to allow advertisers to serve ads to Roku's users in 2017.
The ads were made possible through Roku allowing its advertisers to transition from standard cable TV advertising to Roku's streaming platform. The ads include interactive video ads, audience development promotions, and brand sponsorships. 
Roku partnered with a media firm that specializes in advertising, Magna, in 2016 to incorporate targeted advertising measures on the streaming platform. Roku went ahead to hold its IPO (initial public offering) stock on September 28, 2017, and began to trade on the Nasdaq exchange. Roku moved to its new headquarters in San Jose in July 2019 with plans to vacate offices subleased from Netflix.
What Does Roku Consist Of?
Just like any other technology device, a Roku device consists of two major categories— software and hardware. These categories are important when looking at the origin of a Roku device.
The Roku software is the user interface and functionalities you can access while using the device. Functionalities like voice control, screen mirroring, switching channels, and so on are all a part of Roku's software. The major contents of Roku's software are the Roku OS, and the Roku channel. 
Without the Roku OS, you won't be able to operate Roku's hardware devices not leaving out other functionalities within the device itself that will be inaccessible without the OS. The Roku OS is built with Linux hence, making it impossible to overwrite the OS and change it to an Android OS. Roku did this to ensure that all of its channels are controllable and monetizable via its custom OS. 
This doesn't mean the Roku OS makes sure all of the Roku channels are not free because, amongst Roku's 4000+ channels, Roku has a fair share of free channels that users can access.
The Roku OS has quite a lot of functionalities that allow users to use voice control, surf the web, and most importantly, stream their most preferred channels. 
The Roku hardware is the physical part of the device itself. The devices include the Roku streaming devices, Roku TVs, the Roku Soundbar, Roku remote (with android without voice control), its cables, and so on.
Without the hardware devices, users won't be able to control the device using its remote, power on the device via the power cable, connect the streaming device to TVs using the HDMI cable, or even connect to the internet via internet cables.
It's important to note that both Roku hardware and software components work simultaneously as one cannot work without the other to give users the utmost experience they deserve hence both components have to be taken care of and used carefully. 
Where Is Roku Manufactured?
Although Roku is designed in the United States, its hardware is assembled in China. This is due to the resources and cost used to make the streaming device components. The Chinese market offers the lowest production cost for Roku's hardware components hence why we see Roku's hardware being assembled in China.
As indicated on Roku streaming devices' tag, Roku is designed in the United States meaning its software components are made in the United States. The Roku OS is designed by Roku's software engineers at the company's laboratory to give users the utmost experience they require to enjoy their streaming experience. 
The fact that Roku is assembled in China doesn't mean that Roku is a Chinese product as this doesn't indicate such. It only means that Roku partnered with the Chinese to bring its hardware designs to life due to the country's cheap cost of resources required to achieve the hardware designs. Roku is a United States product since it is designed and founded in the United States. 
After the Roku device hardware is assembled in China, they are shipped back to the United States where the designed Roku OS software is installed on the device and coupled to make it a whole Roku streaming device.
This process helps Roku cut production costs lower than manufacturing the hardware components of Roku devices in the United States or any other country around the world as this may result in higher production costs. 
Does Roku Produce Its Own Programming?
Roku already airs some programs presently on its Roku free channels. Not all of these programs are produced by Roku's media team, but the majority of the shows are currently produced by them. In the next 2 years, Roku plans to develop more than 50 original programs for its free channels to further enhance Roku users' streaming experience.
Apart from Roku's free channels, the streaming device offers other streaming platforms that provide a top-notch streaming experience with awesome shows and programs that most users love.
The channels include Netflix, Hulu, ESPN, and over 4000+ more channels so if you're looking to see your favorite Netflix show, that particular HBO show's premiere, or your favorite team play (across all sports), Roku provides you the best streaming channels with top/notch streaming experience. 
While most of these channels require you to subscribe to a monthly, or yearly plan to be able to access their shows and services, the Roku free channels also provide quality entertainment, and to make it better, Roku is looking to add 50 more programs to the Roku free channels.
So in case you're not interested in subscribing to any of those premium channels, you can access awesome programs on Roku's free channels and these programs will be produced by Roku's media company. 
Does Buying A Roku Help The US Or Chinese Economy?
As both markets do not necessarily depend on each other, buying a Roku helps both the US and the Chinese economies. This is because every Roku device sold is designed in the United States and assembled in China meaning that both countries have a stake in the revenue gotten from selling any Roku devices.
Since Roku is a United States company and the company's initial public offering was hosted in the United States, the United States has more advantages than the Chinese when it comes to the purchase of a Roku device affecting either country's economy.
In addition, most Roku investors are either US companies or ventures hence, the company's capital is funded in the United States. The company only patronizes the Chinese because of the cheap cost of production resources.
Apart from this, there are no funds directly being pulled from Chinese companies and ventures into Roku to make the company give out more revenue back to the Chinese economy. 
We can see this same thing happening in Apple Inc. since the company also assembled its iPhones and other devices in China but designs its software and raises its capital in the United States. Purchasing an apple product directly affects the US economy and partially, the Chinese economy.
Thank you for your feedback!