Smart TVs have become central to consumers' daily routines. As consumer habits evolve, so do marketing strategies. Marketers are increasingly using Smart TVs to accurately target their audience with unskippable trackable ads.
Free to air channels generate revenue through ads. TV manufacturers and streaming services also gain additional revenue through sales of ad space. Nonetheless, there are ways users can block some ads on their Smart TV. You can use TV settings or use the router.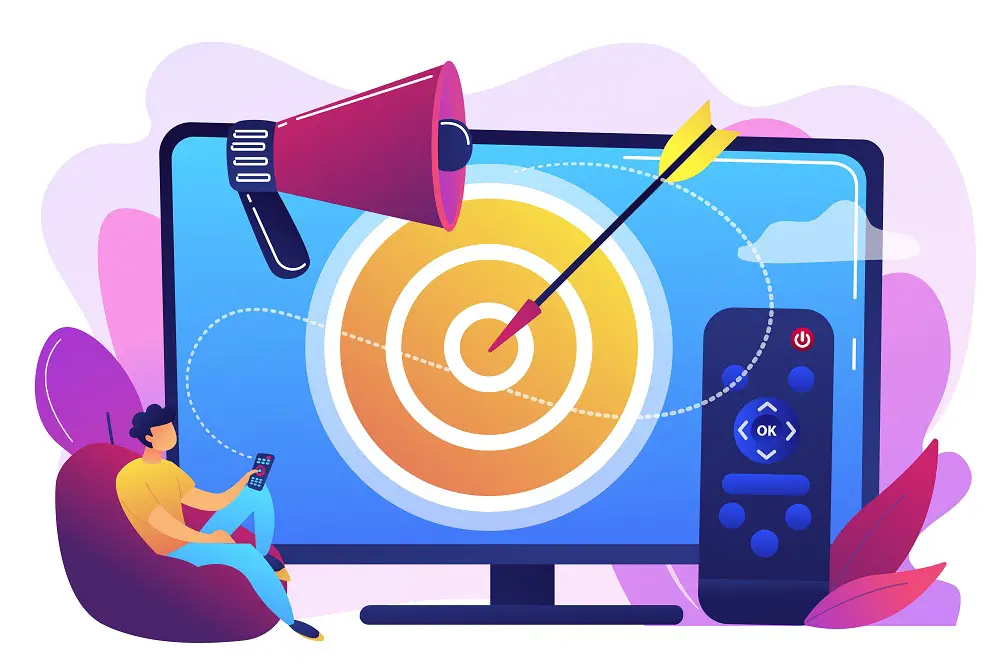 Ads on Smart TVs can be controversial. With viewers paying subscriptions for content, they don't expect to be bombarded with ads.
Read more to get all the details about why Smart TVs show ads and what consumers are doing about it.
Why Do Smart TVs Have Ads?
There are several key reasons why Smart TVs show ads. These include:
Free to air TV channels depend on ad revenue to create content.
These channels include news channels, some sports channels, and traditional broadcasting companies. 
Some apps depend on ad revenue to run their services.
For example, YouTube is a free service that depends on ad revenue to bring you on-demand videos.
TV brands and subscription sites use your viewing habits to serve you targeted content, including ads.
For example, Samsung will serve you ads for other apps depending on which apps you normally view. If you're interested in movies, you'll see more ads for subscription services such as Netflix, Disney+, and Hulu. 
Marketers use your viewing habits to increase their ad sales.
This is the most controversial of reasons why Smart TVs show ads, and also the one that gives corporations the highest profits. 
Do All Smart TVs Have Ads?
All Smart TVs built after 2018 have ads. TV makers are including ad distribution platforms within their TV operating systems. It's the new monetization after-sales, which has allowed Smart TV prices to go down. Some older Smart TV models are ad-free but most are no longer in the market. 
Most Smart TV brands will have unobtrusive ads which you have to click on to view. They will also display sponsored banners and more intrusive ads which appear at any point during your viewer experience, like in the middle of a movie.
Below is a short review of how the leading brands display ads. 
Do Samsung TVs Have Ads
Samsung TVs run ads, especially those running on the Tizen operating system. 
Older models show suggested content in the home menu and content store. Newer models add suggested content and have a pop-up box that regularly displays intrusive ads. 
Do Sony TVs Have Ads
Sony TVs run on the Android interface. While they claim to be ad-free, all Sony TV models show a row of suggested content. These are suggestions for apps you should try out, most of them requiring a premium subscription.
In the past, Sony TV owners could use the TV settings to opt-out of ads completely through the 'Customize Channels' menu option. However, later models don't show options for opting out. They simply have options to disable data collection.
Do LG TVs Have Ads
Running on the WebOS platform, most LG TVs show ads. The ads will mainly appear on the home menu and in the content store. Most of the displayed ads are suggested content.
With LG Smart TVs there's no option for disabling ads completely and no option to opt-out of ads.
However, LG ads aren't very intrusive and most viewers aren't bothered by them. 
Do Vizio TVs Have Ads
Vizio TVs are largely ad-free even though they display a row of the suggested content on the home page. The suggested content row can't be disabled.
Vizio has in the past faced heavy criticism for collecting personal data without viewers' permission.
While they still collect personal data, all models made since 2017 have menu options allowing users to disable viewing data and to stop ad tracking. 
Do Roku TVs Have Ads
Roku TVs display ads in between episodes on online services, much like broadcast TVs do. Additionally, they don't provide any means for disabling ads are removing ad tracking. The ads also run on the home screen whenever you connect to the internet. 
Nonetheless, there's an option for limiting ad tracking, thus, the ads you see won't be as a result of them monitoring your viewing habits. 
Do Fire TVs Have Ads
Fire TVs display ads on all their models. You will typically see ads on the home screen's sponsored row. You may also see inline ads appearing in select rows.
Fire TVs also feature sponsored screensavers. There's also a feature rotator that places ads on rotation across the top of your screen. Feature rotator ads exclusively show ads for entertainment companies. 
Smart TVs Without Ads
While rare, there are still some Smart TVs that don't show ads at all. Others have the option to opt-out of ads or disable ad tracking. Some examples of makes and models which don't show ads include:
TV Make & Model Year of Manufacture
Vizio P Series (2020)
Hisense H8G (2020)
TCL 1 Series (2017)
Sony X750F (2018)
(Unsure about the Actual Lifespan of Smart TVs? Read this)
How to Remove Smart TV Ads
There are various ways to stop your Smart TV from displaying ads. Not all methods will apply to all TVs.
Some methods include:
TV Settings
Some TV manufacturers include an option for blocking ads in their menus. The menus are different for every TV brand. 
Router Settings
You can use your router settings to block IP addresses of web domains used for serving ads.
Some of the domains you may want to block include:
LG Ad Domains
Ngfts.lge.com
us.ad.lgsmartad.com
lgad.cjpowercast.com
edgesuite.net
us.info.lgsmartad.com
Samsung Ad Domains
www.samsungotn.net
www.samsungrm.net
www.samsung.net/ads
config.samsungads.com
gpm.samsungqbe.com
log-config.samsungacr.com Samsung
samsung.com Samsung
samsungacr.com Samsung
samsungads.com Samsung
samsungcloudsolution.com Samsung
samsungcloudsolution.net Samsung
samsungotn.net Samsung
Ad-Blocking DNS Servers
Some DNS services provide features to block internet ads on your Smart TV.
An example is the AdGuard app which you can download from your browser and install on your Smart TV.
Another example is AlternateDNS which you can set up on your router.
Use a browser to log into your router settings.
Find the DNS settings and put in the alternate DNS server addresses 76.76.19.19 and 76.223.122.150.
Then click Save or Apply and wait a few seconds for the settings to be updated.
This will provide a network-wide ad blocker for all devices connected to your router.
(Our easy Guide about Smart TV IP Addresses is here)
Thank you for your feedback!