Smart TVs have come a long way and are now in almost every home. One of the main appeals of a Smart TV is the ability to stream videos and other online content through apps like Netflix and YouTube. However, some people may still prefer to use cable. 
You can watch cable TV on your Smart TV using a cable box. Nonetheless, your Smart TV also has a tuner, allowing you to scan and automatically program local broadcasts. Alternatively, you can access local channels using an antenna or access over the air (OTA) programming using Satellite TV.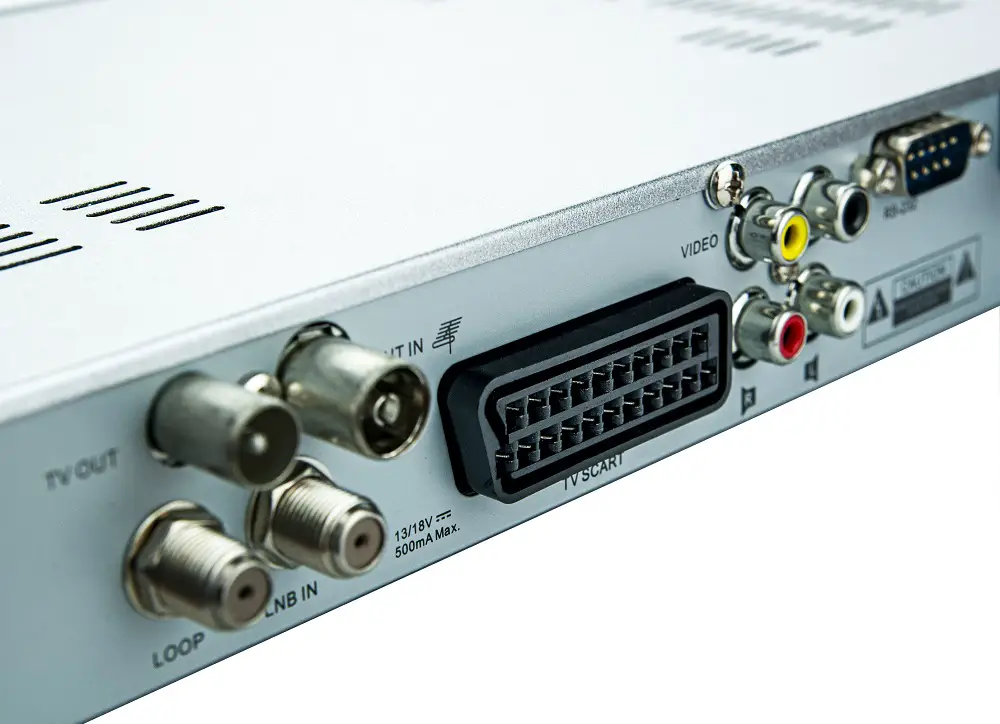 Cable has been with us for a long time. Read on to discover whether a Smart TV can use cable and what other options exist for Smart TV owners. 
Can I Watch Cable on A Smart TV?
There are several ways you can watch cable on a Smart TV. These include:
Connect a cable box to your Smart TV to access cable channels. 
Download and install apps allowing you to stream cable channels. 
Connect an antenna or use your Smart TV tuner to watch live local broadcasts.
For example, PBS can be accessed free from almost anywhere in the US, connecting viewers to over 125 PBS member stations. 
The top advantage of Smart TV streaming services over traditional cable is that you don't have to pay for so many unwatched channels. There are a variety of apps, both free and premium, which give you access to the channels you want. 
Most of these apps offer dozens of channels for between $10 and $50 a month, compared to the $49.99 (Spectrum Select) to $$150 per month for a premium cable plan.
The locally available basic plans for cable typically include local broadcasting stations plus channels such as ESPN, HGTV, and Disney Channel. Depending on your physical location, all these could be available to you for free using a Smart TV and an antenna. 
Mid-level and premium cable plans can add specialized channels such as SHOWTIME, HBO, and CINEMAX. Most of these you can access at significantly lower subscriptions through streaming apps on your Smart TV. 
Some of the most popular TV apps for different niches and genres of traditionally cable content include:
YouTube for free live TV services and user-created content. 
PBS app for free local shows and kids programming. 
DirecTV Stream (formerly AT&T TVNow) for live TV and on-demand content. 
Hulu with Live TV for news. 
Netflix for TV shows and movies
Amazon Prime with HBO subscription for TV shows
Philo for Reality shows
Starz for latest blockbusters
Movies Anywhere to own copies of movies. 
FilmStruck and SundanceNow for indie movies
Acorn and BBC iPlayer for foreign movies. 
Telemundo Capítulos Completos app for Spanish language (Mexican) shows.
DramaFever and Kocowa for South Korean shows. 
MLB.TV for baseball
N.B.A League Pass for basketball
FuboTV for soccer
Does A Smart TV Need a Cable Box?
A Smart TV doesn't necessarily need a cable box. Most of the basic cable programming can be accessed via the Smart TV's tuner or using an antenna, or through TV apps. Almost every cable TV offering nowadays has a Smart TV app version. For instance:
Spectrum has the Spectrum TV app available for Smart TV, smartphones, and tablets on the Google Play Store and most major TV app stores. 
Xfinity have the Xfinity Stream app available at partner devices including LG smart TVs and Roku TV. 
Buckeye Broadband have the StreamTV app
Cox TV is not available as a Smart TV app though it's available as the Contour app for smartphones. To watch Cox TV channels on your Smart TV you will need to install the channel-specific apps such as ESPN, DisneyNow, and HBO Max. 
Sparklight TV is available in some areas as a Smart TV app for Android TVs, Amazon Fire, and Apple TV. 
Verizon TV doesn't have a Smart TV app. However, they offer the Fios TV app for mobile devices. So, you can connect to Verizon on your smartphone or tablet and cast to your Smart TV screen. 
Optimum TV offers the Optimum Stream app for Smart TVs and the Altice One app for other devices.  
In some cases, accessing cable channels without a cable box provides you free access where you would have to pay for a cable subscription.
Nonetheless, cable often offers better quality video, especially if your internet connection is of low bandwidth.
(Do you know how much data your Smart TV will use? We'll explain it here)
Connect A Smart TV to a Cable Box
You can easily connect a cable box to your Smart TV, just like you would do with a traditional TV. You will need to use a coaxial cable or HDMI cable to connect the cable box to the Smart TV. HDMI cables offer the best picture and sound quality. Here are the steps to follow:
Check whether the cable box has HDMI ports. If not, then check for component ports.
For component ports, you will need a component-to-HDMI adapter. 
Switch off both the TV and the cable box.
Connect your HDMI cable to the back of the TV and to the cable box's HDMI out port.
Check the number of the HDMI port at the back of the TV. Most Smart TV's will have more than one HDMI port, each with a number such as HDMI 1, HDMI 2, and so forth. 
Turn on both your TV and cable box. 
The TV may automatically switch to the cable box as the new source.
If not, depending on the make of your TV, go to menu and choose the source or switch the input to the appropriate HDMI port. 
Use the cable box remote to tune and find channels.
You can now use the cable box remote to switch channels, change volume, or control picture quality. You can use the Smart TV remote to change input source, volume, picture quality, and other Smart TV functions. 
Connect Smart TV with Regular Cable Without HDMI
A cable box with an antenna or coaxial cable output would be a good option for connecting your Smart TV to your cable box without an HDMI cable. Those outputs are becoming rare since cable boxes rely on HDMI recently.
However, for most cable box connections without HDMI, you will want to use composite connections. The composite video connection is a type of audio-visual (AV) connection that transfers analog video and audio signals between the Smart TV and the cable box.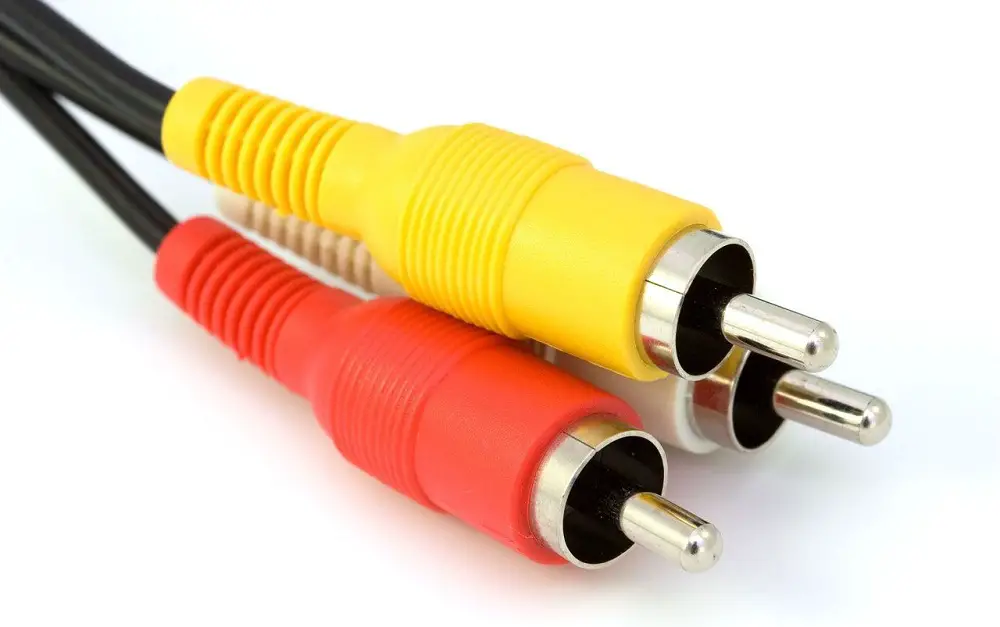 The steps for connecting a cable box to a Smart TV using composite cables (sometimes called stereo cables) are:
Check your cable box has the red, yellow, and white composite ports for output. 
Ensure your Smart TV has the input ports for the same colors. The yellow is for video while the white and red are for audio. 
Switch off both your Smart TV and your cable box.
Connect the three color-coded cables into the cable box in the space marked AV-OUT. Match each color cable with its same color port. 
Connect the other ends of the composite cables to the TV's AV-IN panel ensuring the same color goes into the correct color port. 
Power on both the TV and cable box. 
Using your Smart TV's remote control, choose the correct input, which should be AV1 or AV2. 
Using your cable box remote control, use the tuner to search and save channels and you're good to go. 
Connect to Cable with A Smart TV Without Box
There are several ways you can connect to Cable TV services without using a cable box connected to your Smart TV. These include:
Smart TV Antenna
You can connect to a limited number of Cable TV channels on your Smart TV using only your antenna and in-built tuner. These are most likely free-to-air and free-to-view channels transmitted on terrestrial radio signals. You don't need a subscription to access these. 
Smart TV apps
You can use Smart TV apps to access Cable TV services. You can either use the particular Cable TV service provider's app or use channel-specific apps.
More about that: Can Smart TVs Download Apps? (Beginner's Guide) 
Smart TV Browser
You can access Cable TV services through the Smart TV's browser. In most cases, you will need to have an account with an active subscription to access the content. Your TV browser should also be able to stream video content. 
Screen Mirroring
You can use smartphone apps to connect your smartphone or tablet to a Cable TV service then use casting and screen mirroring to view on a Smart TV screen. 
Similarly, you can access Cable TV services on a computer or laptop and connect to view on the Smart TV screen. 
Where Do I Find Cable Channels on Smart TV?
There are several ways you can find cable channels on your Smart TV. These include:
TV Tuner
You can find free-to-air TV channels using your Smart TV's in-built tuner. In most TV brands, the steps are:
Connect your TV antenna
Using your remote, choose the TV source to TV or Broadcast, depending on your Smart TV's menu options
Scan available channels. 
All available free-to-air channels will automatically save to the channel list of your Smart TV. 
Smart TV Apps
To find cable channels on your Smart TV through Apps:
Switch on your Smart TV and connect to the internet. 
Go to the home page and search through apps for Cable TV apps such as Buckeye's StreamTV, Xfinity Stream, or Sparklight TV. 
If you can't find your preferred Cable TV service in your apps list, go to the Smart TV's app store. Search, download, and install the apps you like. 
When you find the preferred app, open and log in with your details. If you don't already have a Cable TV account, create one. You may have to phone the Cable TV service to complete registration. 
TV Browser
There are two ways you can use your Smart TV's browser to access Cable TV services. 
One, you can use your browser to directly view Cable TV channels from their streaming websites. For example, a website like https://ustvgo.tv/ gives you access to over 95+ streaming channels, most of them free.
Two, you can use the TV's browser to download Cable TV streaming apps not available in your TV's app store.
Thank you for your feedback!