There's something about watching high-quality adult content on a big screen TV that makes many people want to get such content on their Roku. But with recent changes to how Roku operates, it is not so easy to add an adult content channel and you now have to cast or mirror it.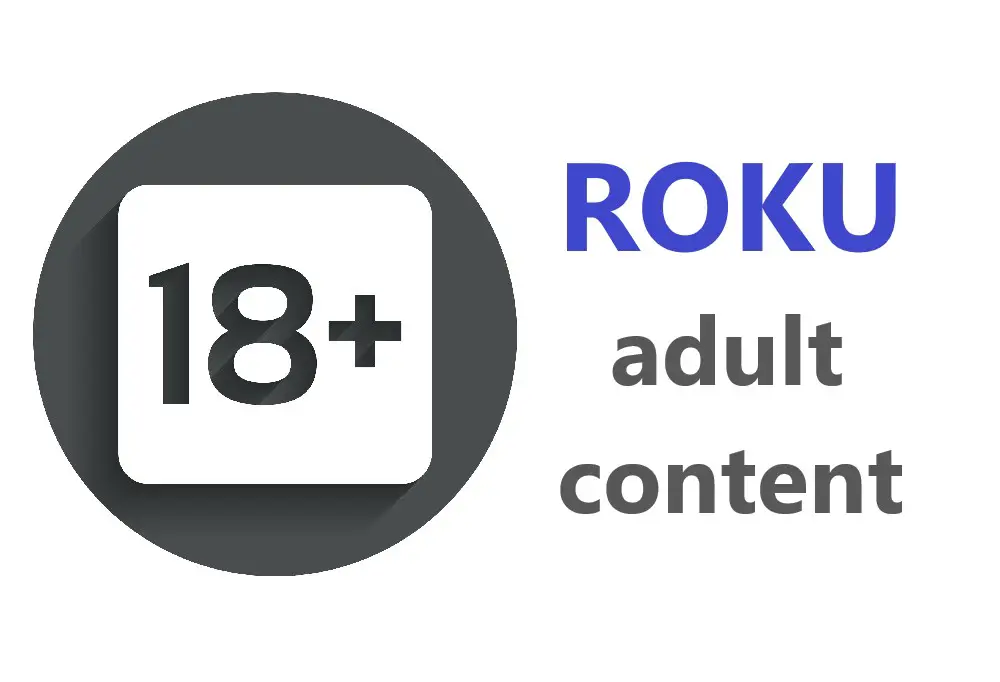 I'll take you through the changes made to Roku as well as methods and techniques you can use to continue to stream porn and adult content so that it is still viewable via your Roku.
Does Roku Have Adult Channels?
While previously Roku did have official adult or pornographic channels, there have been some changes that have removed these since 23 February 2022.
There are no longer adult channels on Roku.
Now to get to adult content, you just have to access it in a different way.
Previously you can add private Roku channels by using your Roku remote, going into the streaming channels section, and opening up the Roku Channel Store.
Much the same progress can be followed using the Roku app or via the Roku website.
However, private or non-certified channels are discouraged by Roku and they won't support or provide help if you have any issues with them. It seems that basically, no private or non-certified channels exist on the platform anymore.
Roku has been a bit secretive about this recent policy change, but they have been making announcements around channels that are pushing their Independent Developer Kit to give more power to developers and hobbyists with Roku.
Adding Adult Channels
Further updates to the Roku service mean that even these private channels are banned on Roku but you may still be able to find them by following the below method.
You'll have to do this via the Roku website, so head on over there and log in to your account. Click 'My Account' then click 'Add Channel with a Code'. You'll have to know the channel access code but then you're pretty much done.
Now there is no official list of non-certified channels as Roku is not keen on promoting their use, but you'll be able to find plenty of lists online of top private channels.
Can I Still Add Private Channels on Roku?
Roku has basically disabled the private channel feature, sometimes referred to now as non-certified channels. However, there is a way around this which is to stream the content on a different device, such as a phone or PC, and then stream the content to Roku.
There has been a change of private channels to beta channels. Beta channels aren't listed in the Channel Store, but can still be accessed via a code like the old private channel system. 
This is to enable new content to be targeted at several markets, but as it was used by porn channels Roku got a lot of criticism for dealing with inappropriate content or copyright violations, so much so that they were banned in Mexico briefly.
Keep in mind that Roku has been cracking down quite hard on private channels since February 2022 and that users have reported being banned by Roku for adding unauthorized channels to their Roku accounts.
As Roku views this as a term of service violation, you don't have much recourse or appeal rights if they decide to remove your account.
If you find the restrictions too onerous, then there are always the competitors like Amazon Fire TV and Google's Android TV that allow the loading of 3rd party apps, which means you can stream from virtually anywhere.
The blocking of private channels may not do much to prevent people from watching adult content, they are just not going to do it via Roku channels anymore.
To get adult content on your Roku device you'll have to stream or mirror it.
How To Watch Porn on Roku
The recent changes to Roku have all but removed the old methods of adding an adult channel to Roku, the only alternative now is to try streaming, casting, or screen mirroring to your Roku.
If you have a smart TV, this can also be used to stream to Roku as well.
Streaming or Casting Content to Roku
Firstly, make sure that both the casting device i.e. your phone and Roku are connected to the same WiFi network.
If you're casting from an app, both your device and your Roku will need the app installed.
Then, load up Roku and the content you want to watch, and you should be given a 'cast' icon which generally looks like a screen with radio waves on the bottom corner.
Once you click cast, it should ask where you want to cast to, so select Roku, and then it should start showing.
Screen Mirroring
Another method is to try screen mirroring. While similar to casting, screen mirroring allows you to put the mobile device's screen on your TV, including buttons and menus, and every action you take on your phone is mirrored on the TV. 
New Roku devices released after 2017 do support screen mirroring, as do Android devices running the 4.2 operating system or later. 
On the Android device, the name of the screen mirroring will be different depending on your app but look for apps called AllShare Cast, display mirroring, HTV Connect, Quick Connect, SmartShare, Smart View, or wireless display.
(By the way: You Can't Install Android On Roku)
Enable the above setting, then launch Roku and go into settings, then system, then enable screen mirroring.
For a Windows PC, you'll need to go into Display on your PC and find Connect to a Wireless Display. Your Roku should pop up and you can mirror your PC screen to it.
Unfortunately, as Apple devices do not allow screen mirroring, it is not possible to do this at present. There is an alternative called AirPlay which does much the same thing but doesn't work with Roku.
Thank you for your feedback!