Portable dishwashers make the perfect choice for those who want to ease their dishwashing chore. If you're considering buying a portable dishwasher but wondering if it's a better choice than the built-in, regular models, it will help to know the pros and cons of portable dishwashers first.
The pros of these portable appliances include fast cycles, portability, affordability, ease of hookups, reduced space requirements, more efficiency than hand-washing, and being as effective as built-ins.
The cons include the hassle of connections, taking up counter space, and reduced capacity.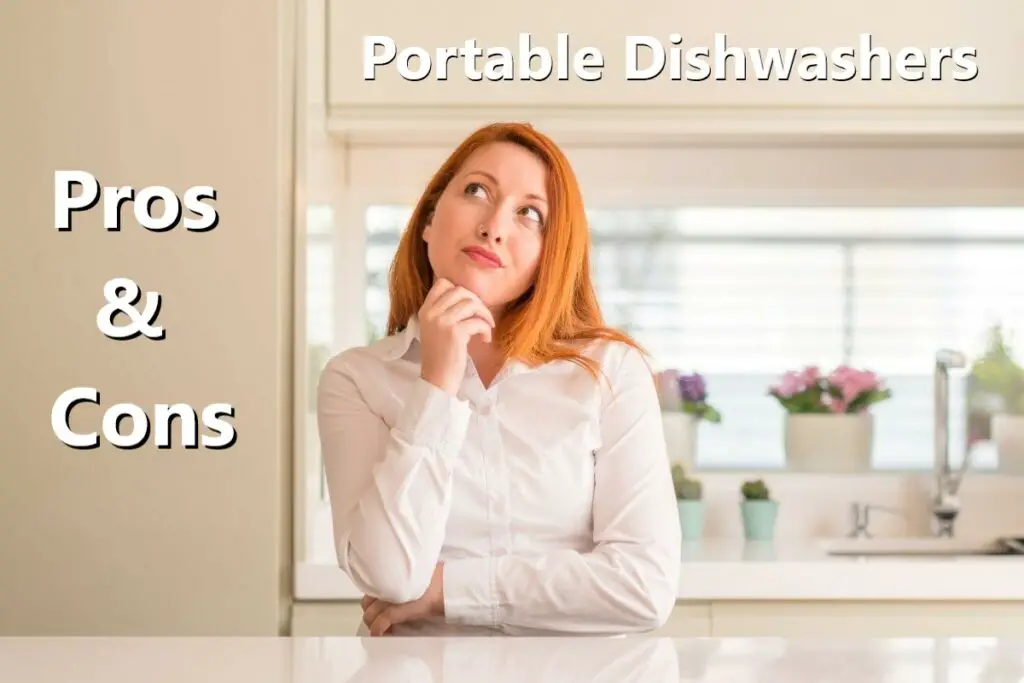 Read on to know the details of the pros and cons of portable dishwashers to help make up your mind. You'll also come across pointers on when to buy a portable appliance and when not to.
Pros and Cons of Portable Dishwashers
Here are the main benefits and drawbacks of portable dishwashers.
PROS
More efficient than hand-washing
Fast cycles
Gentler on your dishes
Portability
Additional counter space
Affordable
Easy hookups
Don't take up much space
Just as effective as built-in models
Varying capacities to suit needs
Can convert to built-in
CONS
Hassle of connections
Countertops take up counter space
Reduced Capacity
Pros of Portable Dishwashers Explained
Let's have a detailed look at the pros of portable dishwashers.
1. More Efficient Than Handwashing
Portable dishwashers are more efficient in saving time and energy than handwashing. They also consume much less water.
On average, if you run your dishwasher daily instead of washing the dishes by hand, you can save up to 24 gallons of water per load – that's about 5,000 gallons of water saved annually.
2. Fast Cycles
The wash cycles of portable dishwashers are fast. While a normal wash cycle might take about an hour or less, a heavy cycle takes less than two.
Smaller dishwashers take less time and water to wash their load capacity than regular ones.
3. Gentler on Your Dishes
With portable dishwashers connected directly to your sink faucet, you can control the inlet water temperature.
You can lower the water temperature through your faucet and wash even delicate items in the machine.
A combination of lukewarm water and less detergent than usual will be ideal for washing delicate dinnerware.
4. Portability
One of the primary purposes of owning a portable dishwasher is its portability. It's a great option if you travel or move homes often and want to take your portable appliance.
Packing and moving a portable dishwasher is easy. You won't have to rely on movers and packers to do the job.
5. Additional Counter Space
If you get a butcher block top portable dishwasher, you have the added advantage of additional counter space.
You can use this as a workspace for preparing meals or storing items between uses. This is especially useful if you have limited counter space available in your kitchen.
6. Affordable
While freestanding dishwashers with similar sizing and features might have similar pricing to regular dishwashers, countertop models are more affordable.
However, freestanding appliances of smaller dimensions will cost less than regular ones.
Could they be cheaper? Maybe. But here are 7 reasons why portable dishwashers aren't cheap.
You should also find out if Portable Dishwashers Are Worth It.
7. Easy Hookups
Unlike regular dishwashers, you don't have to make additional provisions for permanent hookups when using portable dishwashers.
The use of these portable appliances is much simpler. You simply roll your machine near the kitchen sink, hook up the inlet hose to the faucet, and ensure the drain line is securely placed in the sink. Then, you plug your machine into an electrical outlet and start the wash cycle.
Once the cycle is done, you simply unplug the appliance, remove the hoses from the sink, and roll it back into storage.
With countertop dishwashers, you only have to place them on the counter and hook up the inlet and drain hoses once. You must simply load the dishes for each use and start the cycle.
Here is How to Hook up a Countertop Dishwasher In 6 Easy Steps
8. Just as Effective as Built-In Models
Most of the trusted brands that make built-in dishwashers also make portable models. This means you can expect the same level of performance from a portable dishwasher as from a built-in.
Some portable models have similar capacity as built-in models; they aren't only for washing dishes or light loads. You can load your pots, pans, and dishes covered in grease or even burnt ones.
Also, there are plenty of wash cycle options in portable dishwashers, almost as many as in regular models.
And you may ask yourself: Are Portable Dishwashers as Good as Built-In?
While all dishwashers help reduce utility bills, countertop dishwashers consume much less energy than built-in models.
9. Don't Take Up Much Space
Portable dishwashers are designed for kitchens that are tight on space and don't have room for a built-in dishwasher.
The manufacturers of portable appliances also consider insufficient storage options or closet space in homes.
10. Varying Capacities to Suit Needs
Depending on your needs or how many dishes you accumulate on average, you can choose from the different capacities of portable dishwashers.
The 24" free-standing models have a similar capacity to built-in dishwashers but with reduced dimensions. On the other hand, 18" free-standing models have a lesser capacity – about 6-8 place settings.
Countertop models are much smaller and may come with up to six place settings; this is ideal for 1-2 members.
11. Can Convert To Built-in
One of the benefits of using free-standing dishwashers is that they can be permanently installed like a built-in.
If you move from a smaller home to one with provisions for a built-in dishwasher, you can convert your free-standing model using an installation kit.
Of course, we do explain the 6 requirements for portables to become built-in.
Cons of Portable Dishwashers Explained
The cons of portable dishwashers are much less than the pros. This implies that these portable appliances are indeed an excellent addition to your kitchen.
Here are the details of the cons:
1. Hassle of Connections
Whenever you want to run a wash cycle, you must roll your free-standing unit close to the sink and hook it up.
Compared to built-in models or countertops, connecting and disconnecting your free-standing appliance for each use can be a hassle.
2. Countertops Take Up Counter Space
Countertop dishwashers take up counter space for as long as the appliance stays there. If you're already tight on counter space, this might make it worse.
And if you don't have space to keep your dishwasher right next to the sink, you'll have to place it elsewhere on the counter.
Then, you'll also have to make provisions for the hoses (use longer hoses), which could be inconvenient.
3. Reduced Capacity
The compact free-standing and countertop models have a reduced capacity when compared to built-in dishwashers.
With fewer place settings, you might have to run more wash cycles if you have more dishes.
When To Buy a Portable Dishwasher?
If you're wondering when you should consider buying a portable dishwasher over a built-in, here are some reasons:
No provisions for a built-in dishwasher:
Free-standing or countertop models are good options if you don't have the provisions for installing a built-in dishwasher.
You don't want to wash dishes by hand:
Dishwashers are meant for convenience; if you loathe washing dishes by hand, these appliances will help save time and energy.
You don't have the time for chores:
Those who leave in the morning for work and return late in the evening might not have sufficient time for chores like washing dishes.
If you're working and can't find time to do your dishes, a portable dishwasher will do the work for you.
You want to save water or water bills:
Are you environmentally conscious? Or do you want to reduce your water bills? Either way, a portable dishwasher will be helpful since it consumes much less water than handwashing.
You entertain a lot:
If you entertain guests at your place often, you'll have many dirty dishes that pile up. Portable dishwashers will ease your work for you.
Tight on space:
If you're in a small apartment, dorm room, or RV, and you're tight on floor space, portable appliances are the way to go.
And, if you opt for a butcher block top dishwasher, you'll have additional space for preparing your meals.
You travel a lot:
Portable dishwashers are a smart choice if you travel or move homes often and prefer taking your appliances along.
The portable models are primarily designed for easy portability. You don't have to rely on professional movers to take your portable appliance.
You live alone, or there are only 2-3 members at your home:
Portable dishwashers are an excellent option for those living alone and not accumulating too many dishes daily. Countertop models will suffice if you live alone.
However, portable models are also appropriate if your household has two or three members. In this case, free-standing dishwashers would be a better choice than countertop models.
When NOT To Buy a Portable Dishwasher?
Here are some factors to consider when not to buy a portable dishwasher:
More than 2-3 members in the household:
A portable dishwasher isn't the best option if more than 2-3 members are in your household.
You might have to run more than one cycle to wash all the accumulated dirty dishes. The more sensible option would be a built-in dishwasher.
You aren't happy about the hassles of the water supply connection:
If you find connecting and disconnecting the inlet hose for each use a hassle, freestanding dishwashers might not be a good choice.
You have limited counter space:
If you're tight on counter space, you might be unable to dedicate the space for a countertop model. While a countertop dishwasher might be out of the question, you could still consider a free-standing model.
Conclusion
Portable dishwashers – free-standing or countertop models make a handy appliance to ease your chore of washing dishes.
Apart from the hassle of connections, occupying counter space, and reduced capacity, these portable appliances have a lot of benefits.
From being more efficient than hand washing and gentler on your dishes to being portable, affordable, and as effective as built-in models, the pros clearly outweigh the cons.

Thank you for your feedback!