Have you finally decided to get a dishwasher for your kitchen? But you don't have the provisions for a built-in model, and you're tight on floor space? Then, a freestanding dishwasher is a perfect choice. Now, you might wonder, 'Are all freestanding dishwashers the same size?'
Freestanding dishwashers aren't all the same size. Most freestanding models are 34" tall and 24" deep; what varies is the width. While the standard width is 24", the slimline models have an 18" width.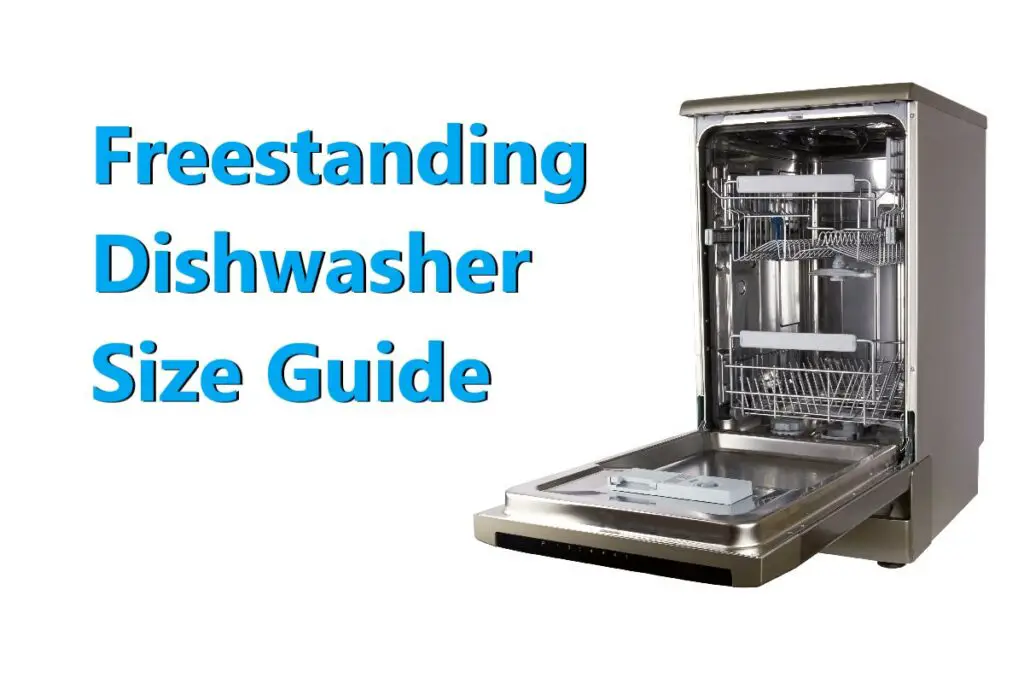 Although you can roll your freestanding dishwasher into a storage space between uses, you must measure the space dimensions first. This will help you decide which freestanding dishwasher size is a suitable choice.
Here's a complete guide about the sizes of freestanding dishwashers.
Are All Freestanding Dishwashers the Same Size?
No, all freestanding dishwashers are not the same size. There are different types with different dimensions and capacities. Freestanding models come in standard or slimline sizes.
However, the dimensions are more or less the same for each type – standard or slimline.
Freestanding dishwashers are slightly larger than integrated dishwashers, allowing the appliance's top to sit in line with your countertop.
Techjut tip: Consider butcher block top dishwashers if you'd like more space for food preparation.
Standard Size for Freestanding Dishwashers
Freestanding dishwashers are available in standard sizes or as slimline models.
| Standard | Slimline |
| --- | --- |
| 24″ long | 24″ deep |
| 24″ wide | 18″ wide |
| 34″ tall | 34″ tall |
Freestanding dishwasher sizes
The standard-size freestanding dishwasher dimensions are 24″ length, 24″ width, and 34" height.
The slimline freestanding dishwasher dimensions are similar to the standard-size dimensions except for the width – 34" tall, 24" deep, and 18" wide.
Consider a slimline model if you have limited floor space. You can roll these appliances into a dedicated, tight-fitting space in your kitchen. Measure this space to decide which dimensions are best.
Non-Standard Sizes for Freestanding Dishwashers
Some portable dishwashers come in non-standard sizes. It might be only a few inches difference in height, width, or depth from the standard dimensions. Nevertheless, these comprise non-standard sizes.
Some portable units might measure 24" wide, 27" long, and 37" high.
| Oversize | Convertible Built-In | Convertible Portable |
| --- | --- | --- |
| 27″ long | 23⅜" long | 27″ long |
| 24″ wide | 24″ wide | 24 ¾" wide |
| 37″ tall | 34″ – 35″ tall | 36 ⅛" tall |
Non-standard freestanding dishwasher sizes
A convertible built-in dishwasher that you can use as a freestanding or integrate under the counter measures 24" wide, 23 ⅜" long, and 34"-35" high.
A convertible portable dishwasher can also be used as a freestanding or built-in. Typical dimensions are 24 ¾" wide, 27" long, and 36 ⅛" high.
Just as converting your portable dishwasher to a built-in is possible, it's also possible to use your integrated dishwasher as freestanding.
To convert your regular dishwasher into a freestanding unit, add a cabinet around it, make a platform with wheels to keep underneath it, and convert the hoses and adapters.
Such integrated-converted-to-freestanding machines won't have the standard sizes of freestanding dishwashers.
5 Reasons the Size May Be Important
The entire purpose of opting for a freestanding dishwasher is to accommodate it in your limited kitchen space. Here are some reasons why the size is essential when deciding on a new freestanding unit:
1. For Storage
If you intend to keep your dishwasher in your small kitchen or utility area between uses, matching the appliance's size with the storage space dimensions is essential.
Ensure that keeping the dishwasher in this storage area doesn't interfere with your routine activities or convenience.
You can also store the machine in a cupboard, so it's important to see if the dishwasher size is appropriate for storage.
2. For Use in the Kitchen
While you can roll your freestanding dishwasher into its storage space between uses, you must be able to accommodate it in your kitchen when you use it.
It's recommended to place your portable appliance near your kitchen sink. You must connect the dishwasher's inlet hose to the sink faucet, and the drain hose must be placed or clamped in the sink for the appliance to drain the dirty water.
Although most dishwasher cycles only take a little over an hour or slightly less, the appliance should be near the sink for that long. Ensure the dishwasher size is such that it doesn't cause you inconvenience when placed near the sink for a wash cycle.
3. Placement Under the Counter
You can keep your portable dishwasher under the counter if you have spare space.
Most 24" or 18" models can be kept under the kitchen counter. However, to be sure the machine will fit, it's better to know the exact dimensions below the counter.
What's impressive about freestanding units is that you can convert these into integrated units with a conversion kit and a few other modifications. 
If you move to a new home and have the provision for an integrated dishwasher, consider converting your portable one.
4. Transport in Your Vehicle
One of the benefits of portable dishwashers is their portability. If you're regularly moving homes or traveling and prefer taking your dishwasher along, it helps to have a portable appliance.
You must ensure you can fit your portable dishwasher in your vehicle for transportation. Hiring movers whenever you want to transport your dishwasher isn't very convenient.
Transporting a freestanding dishwasher is easy, if you consider some basic points. Check our article.
5. Small Door Access
It's uncommon to have extremely narrow doorways in homes, but you might find these in older homes. In such cases, the door width is a constraining factor when you'd like to purchase any new piece of furniture or appliance.
If you have a narrow door at the home entrance or your kitchen entrance, consider measuring the width of the door first. Then, you can decide on the appropriate-sized dishwasher to pass through the door.
How to Measure for a Freestanding Dishwasher?
To comfortably store your freestanding dishwasher away, you must first measure the dimensions of the space where you'll be keeping it.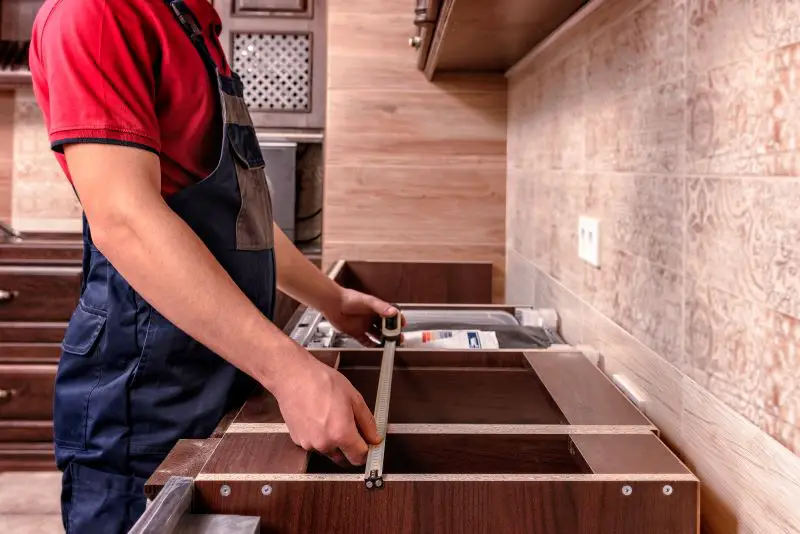 If you keep the appliance between your kitchen counter/workspace and another appliance (like your refrigerator), measure this space.
Use a measuring tape and measure the height from the floor to the top of the counter.
Next, measure the width between the counterspace and your other appliance.
Finally, measure the depth from the wall to the front of the counterspace.
Similarly, you must also measure the freestanding appliance. Since the dishwasher has casters for ease of movement, measure the appliance's height, including the wheels.
Next, measure the width from side to side, and finally, the depth from front to back of the device.
Only purchase an appliance if it matches the dimensions of the space where you wish to keep it.
Techjut tip: While the dishwasher dimensions mentioned are accurate for an online purchase, it's always best to go to a nearby electronics store. You can measure the appliance's dimensions in person. Then, you can make an online purchase if you find the exact model available for a lower price.
Here's a Problem You Might Encounter
It's essential to keep your dishwasher level for proper operation. This will help avoid leaks and other possible damage.
However, if you're keeping your appliance on an unlevel floor, you'll have to make the necessary adjustments to make it level. Doing so might increase the total height of the machine from the level surface to the top.
Additionally, if you're going to work your portable dishwasher from where you store it and the hose lengths are just about making it to the sink, here's your next problem. 
Leveling the appliance might increase the distance between its connections to the sink (even if it's by a few centimeters). You might have to get longer hoses if the hose lengths don't suffice.
Conclusion
While freestanding dishwashers make an excellent choice for those tight on floor space, it's essential to consider the size of these appliances. The standard dimensions are 34" tall and 24" deep. Standard freestanding models are 24" wide, while the slimline models are 18" wide.
The appliance size is important for storage, use in the kitchen, transport in your vehicle, place beneath the counter, or fitting through a small door. 
Always measure your available floor space and check the dishwasher dimensions to ensure a match.
Thank you for your feedback!