The common factors among the different types of dishwashers – built-in, portable, or countertop dishwashers, are that they're time and energy efficient and use considerably less water than hand-washing dishes. But then, are portable dishwashers as good as built-in?
A portable dishwasher is just as good as a built-in dishwasher. Some of the best portable dishwashers have many advanced features similar to regular dishwashers, with the added advantage of being space-saving.
If you're tight on space in your kitchen, a portable dishwasher is a great choice, especially for washing smaller loads.
Portable Dishwashers vs. Built-In
Here's a comparison of the different factors of portable dishwashers and built-in dishwashers.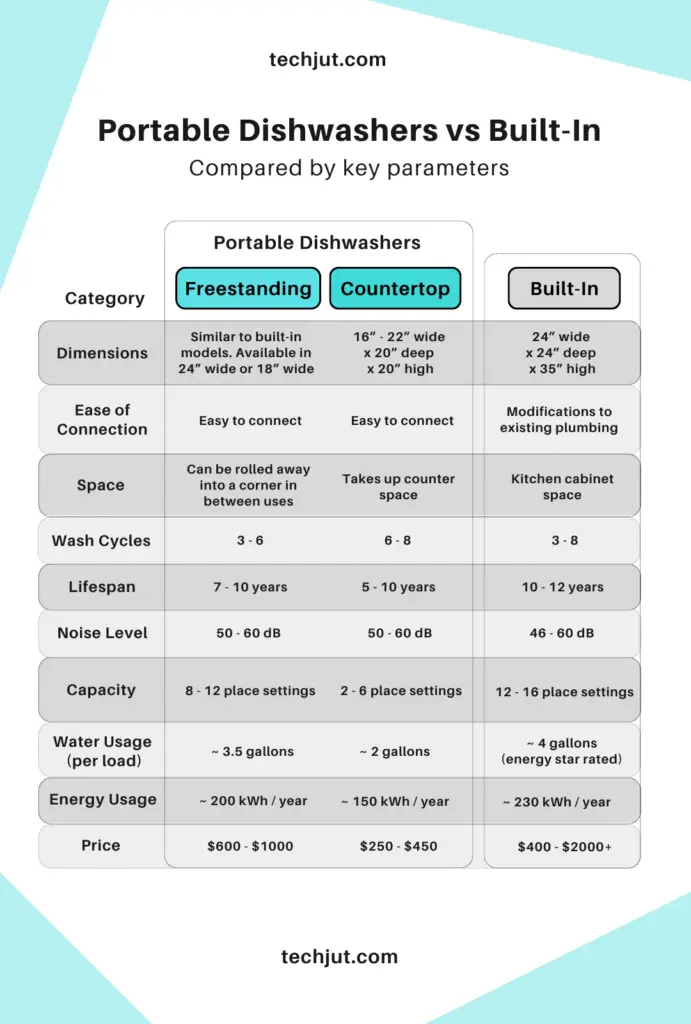 7 Reasons Why Portable Dishwashers Are as Good as Built-In
Among the many differences between portable dishwashers vs built-in, here are the main categories that really matter.
1. Energy Usage
A portable or countertop dishwasher uses less energy when compared to built-in dishwashers. The recent Energy Star-rated dishwashers are energy efficient and consume much less power per cycle.
After putting the energy consumption in relation to the capacity, the advantage persists for many portable models. Nevertheless, there might be some types with an unfavorable cost-per-capacity ratio.
We recommend to calculate the efficiency of your desired product before buying.
(You'll find more data and some examples in our article about he energy consumption of portable dishwashers)
2. Water Usage
Similar to energy usage, the freestanding and countertop models use less water than built-in dishwashers. Some countertop models also have a built-in water tank (and the option to connect to a kitchen faucet using a faucet adapter).
Regardless of the type of dishwasher, these appliances use much less water than hand-washing dirty dishes per cycle.
3. Cost
Some of the most affordable portable dishwashers are countertop dishwashers, which are a suitable option for those with no floor space to keep a freestanding dishwasher or no cabinet space for a built-in dishwasher.
The portable ones are slightly more expensive than countertop models, and the built-in ones come in a range of prices (cost more than portables).
4. Capacity
While a compact countertop dishwasher has fewer place settings, making for less capacity, some portable models on wheels have as many place settings as a standard dishwasher.
A 24-inch portable dishwasher can wash as many dishes as one that is built-in into kitchen cabinets, with the added advantage of being on wheels and not requiring a permanent connection for the water inlet hose and drain hose.
Those with an adjustable upper rack can also accommodate bigger vessels like pots and pans.
5. Wash Cycles
Most standard dishwashers have at least three washing cycles – a normal cycle for everyday plates and cutlery, a light cycle for delicate plates and glassware, and a heavy cycle for items that need intense cleaning.
The number of wash cycles varies between different models.
However, most countertop dishwashers have about six wash cycles (to eight), and the portable freestanding ones have three (to six). The built-in models typically have three (with a few models having six or eight).
6. Noise Level
The noise level of most dishwashers is 46 – 60 dB, with anything under 45 dB considered very quiet. Since built-in dishwashers are enclosed within the kitchen cabinets, they don't sound very loud (although there can be some noisy models as loud as 62 dB).
Most portable dishwashers have noise levels of 52 – 54 dBA, which isn't very loud, yet not extremely quiet either, but quiet enough for a conversation.
7. Lifespan
Any built-in dishwasher with a durable stainless steel interior lasts a long time (at least ten years) with proper use and maintenance. However, most portable dishwashers can also last close to 10 years if maintained properly.
A portable dishwasher with a stainless steel tub is more durable and long-lasting than one with a plastic tub.
Portable Dishwashers We Recommend
Now that we've seen that portable dishwashers are just as good as regular dishwashers, here are the ones that we recommend.
Novete Portable Countertop Dishwasher
For a small size, this compact dishwasher from Novete has a medium large capacity, with four place settings, fitting up to 12″ dishes (loaded at an angle). The water inlet options include a 5 L built-in water tank and an inlet hose.
At a 50 dB noise level, this unit has relatively quiet operation. Among its five wash cycles (Normal, Soft, Speed, Baby Care/Heavy, and Fruit), the Baby Care wash cycle uses 167 degrees Fahrenheit temperature to sanitize dishes and baby products.
It also has an impressive 3-in-1 function, featuring a dry mode and functioning like a dishwasher, cabinet, and dryer. There's a 60-minute hot air drying that keeps your dishes dry and odorless and 72 hours of automatic ventilation that stores your dishes in a sanitary condition.
Farberware Countertop Dishwasher
With six place settings, this Energy star-rated compact dishwasher from Farberware has folding-down rack shelves and a cutlery basket.
Providing full-size dishwasher cleaning power, this compact countertop dishwasher has seven wash programs (Normal, Light, Heavy, Baby Care, Glass, Speed 45 min, and Self Clean). It uses an average of 10.8 L of water for its normal cycle, with its heavy cycle using about 12.5 L.
An extra-dry function adds extra heat to the final rinse for better drying. With the self-clean program, the dishwasher effectively cleans itself, and you don't have to do much for regular maintenance.
Conclusion
Portable dishwashers are as good as built-in ones, especially for fewer items and limited space. Portable dishwashers are easier to install, use less water and energy, have lower noise levels, a good number of wash cycle options, and lower cost.
With some portable freestanding units having the capacity of built-in models, the added advantages are easier installation and less space requirement. If properly maintained, most of these dishwashers can last about ten years. If you'd like some extra counter space, go for butcher block top models.
Thank you for your feedback!