The working principle of a portable dishwasher is similar to a regular device except for the connection for fresh water and the drainage of dirty water. Portable dishwashers can be moved around but must be reconnected for each use.
A portable dishwasher is a solution when you don't have enough space to install a standard-size dishwasher. It's the real deal for small houses, your RV, a tiny apartment, or a dorm.
These mini dishwashers also come in handy when you don't have the option to pipe water into the appliance.
In this piece, we'll explain how a portable dishwasher works, and how to operate the appliance.
Working Principle Of A Portable Dishwasher
Portable Dishwashers work like regular washers and clean with the same technique. The difference lies in the ability to move around and the attachment of the water inlets and outlets.
Unlike your full-size dishwasher, portable dishwashers drain water in the kitchen sink.
A uni-couple is used to connect the dishwasher drain to the sink. The uni-couple attaches to the dishwasher using two hoses. While it's easy to join, some individuals might have difficulty securing the inlets and outlets.
Calling in a relevant service provider can help you set up the dishwasher. These instructions are also included in the user manual, so make sure to review them for better understanding.
The washing cycle you choose controls the washing and draining functions.
The water is pumped in and drained out using an automatic circulating pump.
You don't need to do anything besides plugging in the appliance, filling it up with hot water (if necessary), securing the uni-couple for adequate drainage, and hitting the desired washing cycle.
Most portable dishwashers come in a variety of different sizes and have different levels of water usage.
Setting Up, Operating, And Storing A Portable Dishwasher
These dishwashers are one of the most accessible appliances to set up and operate. We have divided the dishwasher working mechanism into different sections, making it easier to understand, set up, and function.
Setting Up Your Portable Dishwasher
Place your portable dishwasher in a location that is close to the sink faucet, as the appliance will require filling and draining when used.
After you have decided on the place to set up, start filling the portable dishwasher with water from the kitchen sink if required.
Turn the sink faucet on until you get warm water, and fill the portable dishwasher to wash dishes and other kitchen utensils effectively. You need to supply hot water for effective cleaning.
Some portable dishwashers have an inlet hose to attach to your kitchen faucet for easy filling.
The dishwasher obviously needs electricity and a sink nearby, as the drain hose needs to drain properly after a successful washing.
Most portables need a hookup with a water inlet, but not all dishwashers require a connection to the sink. These models have a built-in water tank which should be filled up before use.
If you want to use the portable dishwasher on the go, it is best to choose the model with a built-in water tank.
The inlet hose needs to be connected to the sink's faucet. If you cannot attach the inlet to the water faucet, consider purchasing a faucet adapter to secure it in place. The second hose should be placed in the sink for easy drainage.
Operating Your Portable Dishwasher
Place your dirty dishes, lids, pots, and pans on the lower rack, while bowls, coffee mugs, containers, and cups should be placed on the top rack for effective washing.
If you have a connected hose, turn it on to fill the water tank.
Now add the appropriate amount of detergent, close the portable dishwasher's door, and turn it on to do its work.
Depending on your washing requirements, make adequate adjustments to the washing cycle.
Typically, these wash settings include pre-set modes for heavy, light, and standard cleaning. The time of these cycles ranges between 40 to 150 minutes.
Storing Your Portable Dishwasher After Use
The sole purpose of purchasing a portable dishwasher is that it's easy to use and store.
Unlike countertop dishwashers, a portable dishwasher has a rolling cart for easy movement. After washing dishes, disconnect them from the electrical plug and the water faucet.
Now, you must push the portable dishwasher back into the storage.
The Difference Between Countertop Dishwashers And Portable Dishwashers
Portability
There is a lot of confusion between these two types of dishwashers. Most consumers think of countertop and portable dishwashers as the same appliance.
However, a countertop dishwasher sits on your kitchen counter space alongside other kitchen appliances, whereas a portable dishwasher can quickly move around.
Washing Capacity
Another notable difference between a countertop and portable dishwashers is their washing capacity. Countertop dishwashers work through a few place settings in one washing cycle. On the other hand, portable dishwashers can take a load similar to a built-in dishwasher.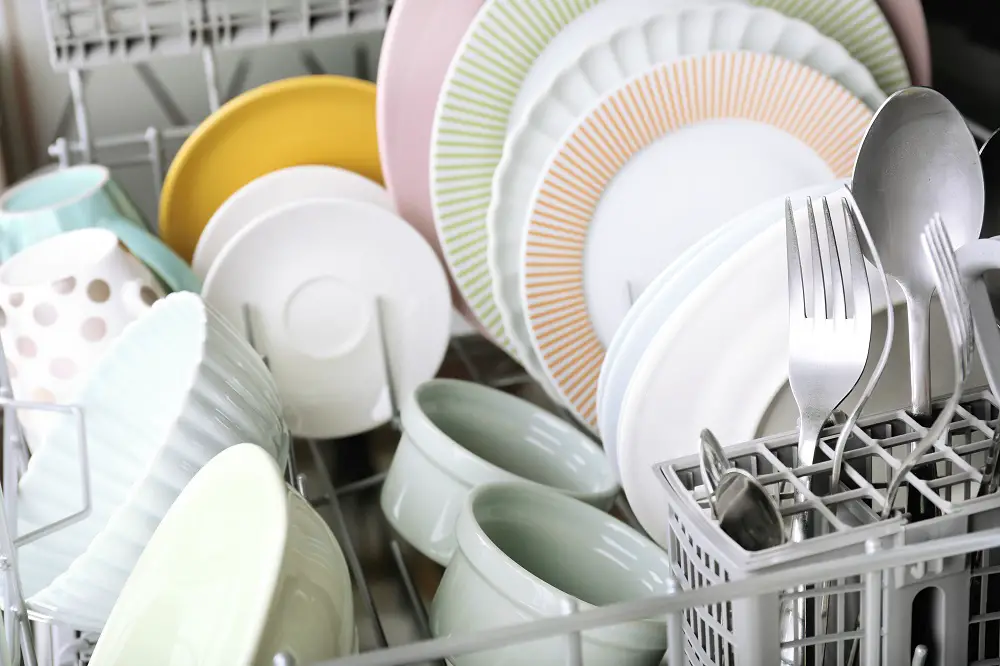 When speaking of electricity usage, a countertop dishwasher saves you money as it uses less electricity than the movable type.
On the other hand, a portable dishwasher is cheaper than your conventional dishwasher.
You can find a quality portable dishwasher for $350 to $690. Conventional dishwashers, on the other hand, can go up to $2200.
Water Usage
While a countertop dishwasher uses 8 liters of water, the portable type can utilize up to 11 liters.
These two methods are still more effective than hand washing, as around 27 liters of water can be used to clean the same utensils.
Countertop dishwashers are an excellent choice for people who don't have enough storage space, but it's not feasible if you have limited counter space.
Furthermore, the countertop dishwasher must be placed near a water inlet and a sink for adequate drainage.
To save even more space, some dishwasher models also come with a butcher block top where you can prep your meals.
Factors To Consider In a Portable Dishwasher
Place Settings:
There are several place settings available for different models. Consider reading reviews and recommendations before purchasing a portable dishwasher.
Size:
Considering the size is crucial as you need to make sure the storage is spacious enough to store the dishwasher safely each time after use.
A typical portable dishwasher comes in a variety of widths, lengths, and depths. Always dedicate some time to research, so it becomes easier for you to make an informed decision.
Noise level:
Different models will produce different noise levels. Earlier models of portable dishwashers are noisy, but recent models are quiet, creating minimum noise while working.
Maintaining Your Portable Dishwasher
You can spin the spray arms using your hands to ensure they are working correctly and spin without any issues. Washing the seals is also necessary as leaving them unattended causes grime build-up.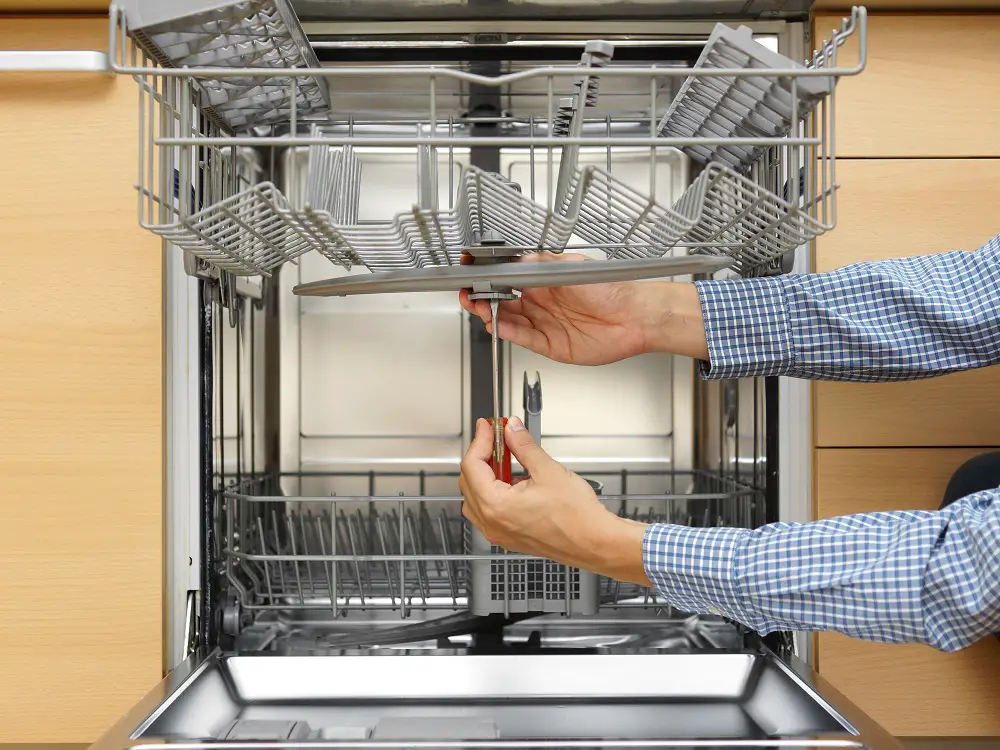 Similar to a full-size dishwasher, these portable models have filters that need to be cleaned periodically. The maintenance protocol is somewhat similar to regular dishwashers.
Are Portable Dishwashers A Good Choice?
If you don't have enough space for a full-sized dishwasher, the best choice would be to go for a portable model. The portable version also uses less electricity and water than the conventional dishwasher if you opt for a small size, making it a cost-effective option for a small family.
Still, it is necessary to remember that you can only wash a limited number of kitchen utensils at one time.
FAQ Section
Do All Portable Dishwashers Need Water Hook Up?
Most portable models need a water inlet, but some modes have a built-in tank that can be filled and used when required. 
Sometimes it becomes difficult to attach the inlet to the faucet.
A faucet adapter is necessary to connect the inlet to the dishwasher.
Where Does The Dirty Water From The Dishwasher Drain Into?
Most portable dishwashers can be attached to the kitchen sink drain.
A few models can store dirty water from several washing cycles but still need to be drained before using the appliance again. 
The uni-couple fitting aids in the proper drainage of water through the sink.
Does The Water Faucet Need To Be On When Using The Dishwasher?
If your portable dishwasher has a built-in tank, keeping the faucet on won't do any good.
However, if your portable dishwasher requires a faucet connection, you'll need to keep it on.
Final Thoughts
The portable usage feature of the dishwasher makes it an ideal choice for small spaces.
You can save some money during the purchase, but have to keep in mind that a portable washer eventually needs more water and electricity.
Portable dishwashers with a tank are rare, but a viable option to use in an RV.
As there are many different models, each boasting a unique feature, it is best to evaluate each available option. Comparing their parts will make it easier for you to choose the suitable model.
If you have already purchased a portable dishwasher, thoroughly read the instructions manual for detailed instructions.
Thank you for your feedback!