On average, portable dishwashers are slightly less expensive than built-in models, mainly because they aren't permanent fixtures. Nevertheless, the free-standing and countertop models have increased price tags over the last few years.
There are a few reasons why portable dishwashers are so expensive, including higher production costs for similar components as used in regular dishwashers, tub material, additional features, lower competition, energy efficiency, and brand name.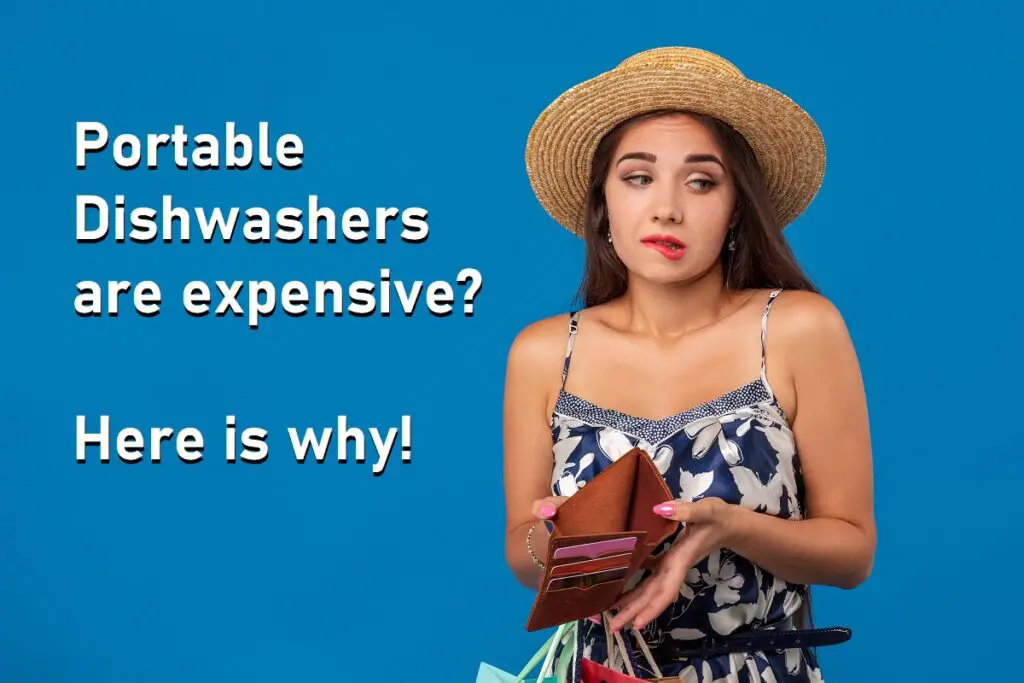 Read on to understand the reasons for the cost of portable dishwashers, whether they're worth the expense, and different ways to reduce the buying costs.
7 Reasons Why Portable Dishwashers Are Expensive
Here are some of the reasons why you need to shell out so much for portable dishwashers.
1. Components and Accessories
The primary reason why portable dishwashers are expensive is that each of their components and accessories comes at a cost. For this reason, the bigger the portable dishwasher, the more it costs.
Some of the parts of the dishwasher that determine its price are:
Filtration system: The filter is responsible for preventing solid residue from entering the motor and cleaning the water entering the dishwasher. Filters that last a long time are expensive but also need to be cleaned regularly.
Spray arms: These must be durable, heat-resistant plastic to handle spinning and high water temperatures.
Motor: The circulation motor helps pump water through the spray arms to remove food residue from the dishes. It's the most expensive part of a dishwasher. Motors with a quiet operation cost more.
Heating element: It's responsible for heating the water for the wash cycles and controlling air temperature during drying cycles. More sensitive heating elements will cost more.
Internal dividers: The dishwasher's baskets and racks to arrange dishes are heatproof and can withstand high temperatures.
Control panel: The different buttons to choose varied settings must be programmed. A dishwasher with more cycle options will cost more.
2. Dishwasher Tub Material
While you'll find portable dishwashers with plastic interiors for a lower price range, they might not be as durable as the ones with stainless steel interiors that cost more.
This concept is the same as with built-in dishwashers.
3. Higher Production Costs
While the components used in portable dishwashers are more or less the same as in standard dishwashers, the production costs are higher since they aren't produced on a wide scale as much as the traditional models.
4. Additional Features
Most dishwashers have special features these days, adding to their costs. 
While some come with Bluetooth, allowing you to control your dishwasher from your phone, there are other models that are Wi-Fi enabled.
GE portable dishwashers have a Piranha food dispenser (grinder) that fine-grinds hard food particles before they go down the drain, adding to the costs.
Any such similar additional features will increase the price of portable dishwashers.
5. Lower Competition
Portable dishwashers aren't as common as built-ins. The brands that are leading dishwasher manufacturers might have only two or three options for portable dishwashers.
There's a chance that with the increasing popularity of portable dishwashers, brands might manufacture more of these appliances in the near future, leading to a slight reduction in prices.
6. Energy Efficiency
Portable ENERGY-STAR-rated dishwashers or ones that consume less energy on average typically cost more.
However, these help in cost-savings in the long run by helping reduce utility bills, making up for the higher purchase cost.
7. Brand Name
Portable dishwashers from the more trusted brands like GE, Whirlpool, Farberware, Danby, and Black & Decker will have a higher price tag owing to the brand name.
You can be confident that their appliances will be more efficient and durable.
Are Portable Dishwashers Worth the Expense?
Portable dishwashers are an excellent option for limited space and the convenience of washing dishes. They are efficient for fewer dishes and can be hooked up easily for use and stored away when done.
Here are some of the reasons why portable dishwashers are worth the expense:
Uses less space:
Portable dishwashers can be placed on the counter (countertop models) or stored away between uses.
Efficient:
Just as efficient as built-in models, portable dishwashers use significantly less water than hand-washing.
Gentle on dishes: 
Since portable models use a water supply from the kitchen faucet, you can use lower temperatures for washing delicate dishware in less aggressive conditions.
Fast washing: 
Their wash cycles take less time than built-in dishwashers (including the heavy/intensive, normal, and Eco cycles). (Check the cycle lengths)
Easy hook-up:
There's no need for additional plumbing for permanent hook-ups (like with built-in models). The only requirements are a power supply, a suitable faucet adapter, and a drain hose.
Uses less water:
The smaller capacity models (like countertop ones) use much less water to wash dishes.
Less expensive: 
These are more affordable than built-in dishwashers.
Portability:
These compact-sized dishwashers make for easy portability for those who travel often.
Additional counter space: 
Butcher-block top portable dishwasher models provide extra kitchen workspace, like a table, counter, or island for meal prepping.
Find out everything necessary when concerned if portable dishwashers are worth it.
Ways To Reduce the Buying Costs
If you're looking to buy a portable dishwasher at a reduced price, here are some ways to go about it:
Consider buying used models in good working condition.
These might cost less than half the actual price.
Go for refurbished appliances
that cost much less than a new purchase but slightly more than used models.
Buy older models.
When a brand releases a new model, the older model prices get slashed. Unless you're particular about going for the latest model (with added features), the older models will wash your dishes just as well.
Buy on sale.
There are particular times of the year when appliances are available for sale, like during holiday weekends (Memorial Day, President's Day, the Fourth of July, Labor Day, and Thanksgiving weekend). 
Use local discounts.
Local retail stores often offer appliances for discounted rates at least once a year. Keep an eye out for flyers or ads about the same in the newspapers.
Compare online vs. retail store prices.
Shop around and see if the same models are available for reduced prices online.
Last resort – get a broken device if you can repair it.
If you'd like a portable dishwasher right away, but none of the other options are feasible, try to get one that's not functional (or broken), provided you can repair it. This is also the cheapest option.
Conclusion
While portable dishwashers are more expensive these days than they used to be earlier, they have several benefits, making them a suitable choice.
If you're keen on purchasing one at an even reduced cost, you could go for used or older models, refurbished ones, check for sales or discounts, compare online vs. retail prices, and, if nothing else works, get one that's broken if you're confident of repairing it.
Thank you for your feedback!