Having a system entirely of one brand can do wonders for compatibility and connectivity, but sometimes life is not so straightforward that you end up with such a situation. So how do you connect your Sonos system with other speakers?
Sonos has several connectivity options such as wireless, Bluetooth, cable, AirPlay 2, and casting. There are also methods involving the Sonos Connect or Sonos Port, hardware specifically designed to get around this issue.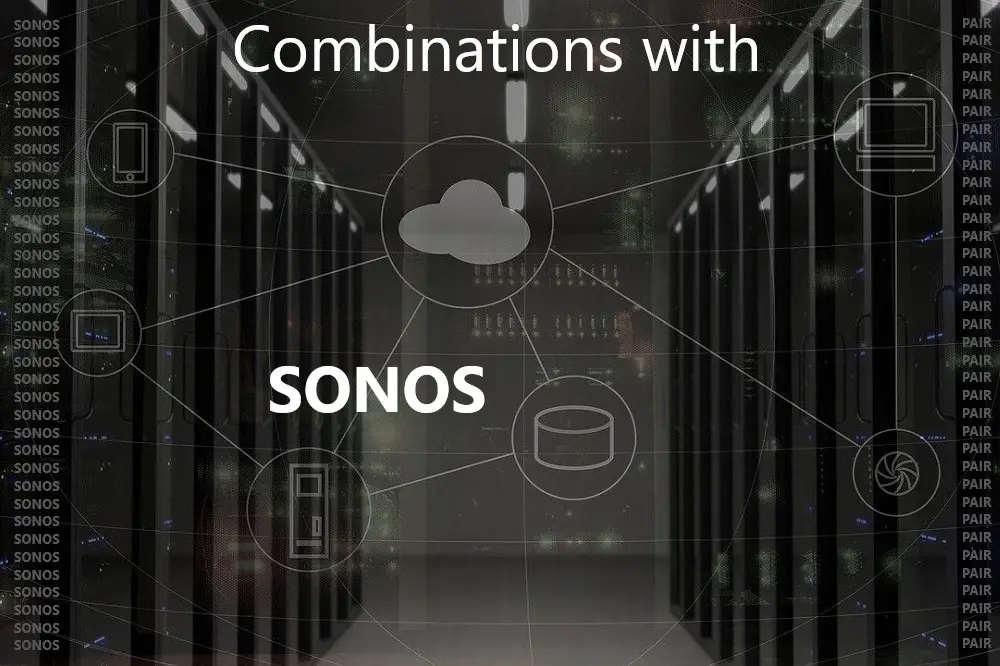 I'll take you through how to best connect your speakers up to a Sonos system, as well as consider other ways if the more common methods don't work.
Can Sonos Be Paired With Other Speakers?
Sonos has made connectivity a core part of its business model, but this is with the caveat of staying within the Sonos ecosystem.
While it is simple to connect your Sonos system to mobile devices such as phones or music players, or stream via the internet, it is not so easy to add in a different brand speaker or audio system.
Sometimes, there are methods and techniques to add external speakers to the Sonos ecosystem, but they won't be in the manual and will require a bit of technical know-how and searching online to find out the best way to do it.
Sonos does have a dedicated support line that you can discuss your options through with a specialist, as well as an active online community centered around the official Sonos website forum that contains a lot of Sonos experts, official and unofficial alike.
(And that's only one reason why Sonos is a good brand)
What Speakers Can Pair With Sonos?
All Sonos speakers can be paired and connected to each other, but there is a difference between what is known as first-generation and second-generation speakers, often designated S1 and S2.
S1 speakers are the older range, and due to changes in technology and features, S1 models don't offer as many functions as the newer S2.
Sonos has not gone the route of making the S1 speakers totally incompatible with the S2 models, and limited connectivity still exists.
However, often you will need to have both the S1 and S2 Sonos app to control the respective generations. This isn't really an issue for most people, who are able to get their systems running fine without any conflicts, but having two apps is not ideal for some.
Connect Other Wireless Speakers With Sonos
Other brands of wireless speakers can also be connected to Sonos, especially if they support AirPlay 2.
If you have an Apple device you should be able to group them together using AirPlay 2, allowing you to play music on both Bose and Sonos speakers simultaneously. Apple has a great video that explains how to do this.
Another option is a software solution like AmpMe, available on both iOS Store and the Play Store.
AmpMe is compatible with smartphones, tablets, and Bluetooth speakers, however, there is a limit of one sync per Bluetooth device per phone.
Fundamentally, there are many similar software solutions like AmpMe such as Soundseeder, fundamentally you should consider that many wireless speakers are set up to play music from devices using Bluetooth or other streaming facilities like AirPlay.
Such speakers won't connect to a Sonos network or appear on your Sonos Controller app.
To find out if you can connect it to Sonos wirelessly, try scouring the manuals to see if the device supports playing music files from a PC or NAS drive over a WiFi network.
Connect Other Speakers With Sonos via Cable
One of the simplest ways to get your Sonos and non-Sonos speakers to work together is via the Sonos Connect or Sonos Port.
All Sonos devices have a type of bridge inside them, allowing the device to make connections between Sonos systems to your home router. However, this doesn't extend to non-Sonos devices.
Sonos Connect is a way to turn your existing devices into Sonos devices. 
Connect has physical input and outputs where you can plug in an analog, RCA digital, and fiber digital cable to connect it to a Sonos device. The end result is that whatever that receiver is playing can then play to all Sonos speakers.
The Connect also gives you the flexibility of configuring its output to be either a fixed or variable output. 
The latter is more important when trying to port your music over several rooms, as you would use the fixed output for a conventional stereo system, and switch to a variable output when using the Connect in a whole-home audio system
To achieve this, it's best to put one Connect per zone and send its signal to an amplifier for that room.  
If we take the example of connecting a Sonos Amp to Bose speakers, first place the Sonos amplifier near the Bose speaker. Use an AUX cable to connect the two from the 'Analogue audio out' port on the speaker to the amp. 
The Sonos Port is an upgrade from the older Connect and, as might be expected, makes it possible to port to your traditional stereo or HiFi system to stream music and more. 
Both the Port and Connect are perfect for connecting to already amplified speakers, or a third-party amplifier that your Hi-Fi system already uses.
Keep in mind that you'll need to solve the amplifier issue before your Sonos system will work properly with non-Sonos devices.
Can Any Brand Pair With Sonos?
There are a lot of possibilities to pair other brands with Sonos devices, but the key is understanding the connectivity methods. 
For example, as long as both devices support AirPlay 2, you can easily group them together to play music or other audio simultaneously. 
One of the best ways to check this is to look for the Works with Sonos badge. This certifies that the product will seamlessly connect with the Sonos Home Sound System. There is a large range of companies, from Elite, Integra, Control, and IKEA Home Smart.
If you've got a Connect or Port, then even non-wireless speakers can be routed through it so that you have wireless control to stream your music that can be heard over those speakers.
The collaboration between Amazon, Google, and Apple has also seen the companies working together to allow their voice assistants and services to work via the Sonos network. 
This means you can cast or stream via services like Spotify, or even use your Sonos speaker as the output for your voice assistant such as Alexa.
(You can find more on compatible devices and apps in our guide)
Thank you for your feedback!