Sonos has taken the wireless home audio market by storm, but sometimes it is hard to know whether the devices you already have will play nicely with your brand new Sonos devices.
I'll take you through the mainstreaming services and devices including Amazon, Apple, and Google services that work with Sonos, as well as give tips for how to get them up and running.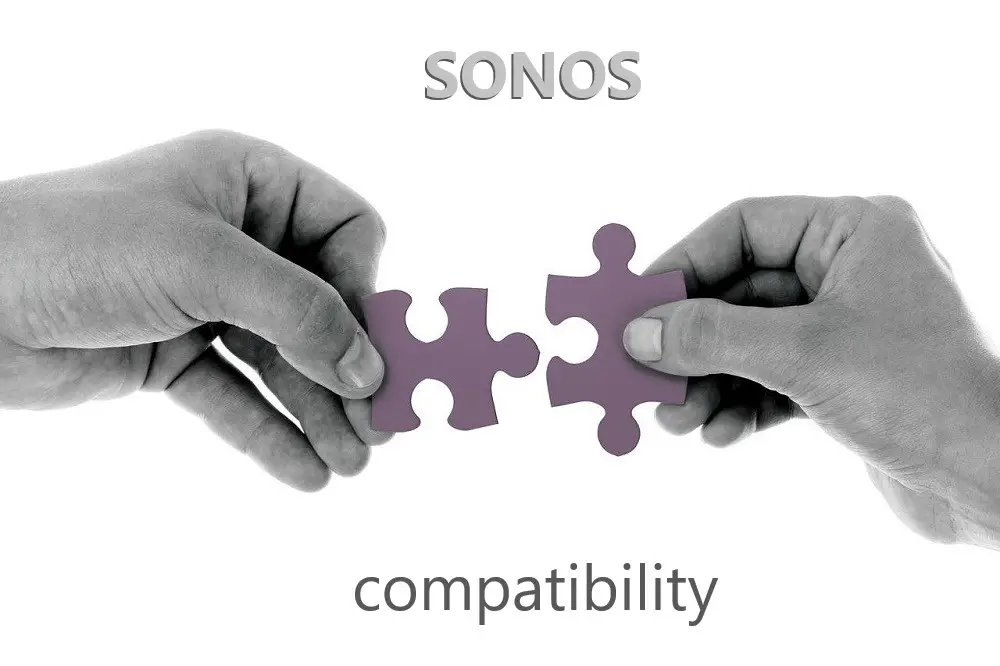 So let's explore how to get the most out of your Sonos.
Is Sonos Compatible With Alexa?
Alexa is the voice assistant that is developed by Amazon and Sonos has several models that are specifically designed with Alexa support in mind.
The Sonos products that were conceived with Alexa in mind are the Sonos Arc, Beam, One, Move, and Roam. This is due to them having microphones built-in, which means not only do you get hands-free operation but also incredible sound in the one package.
Keep in mind that the Sonos Beam, Move, and One do not have full support for all of Alexa's functions.
This also means that devices that support Alexa can also be used in conjugation with your Sonos system. For example, the Amazon Echo, the newest version being the fourth generation Echo Dot, can be used with the Sonos app to enjoy voice control.
Even Sonos speakers that do not have a microphone can still be voice-controlled via Amazon's devices.
First, load up the Sonos app and tap Set up a new system, then create or sign in to your Sonos account and then tap Add. Go through and add all the speakers, making sure they have power and are turned on.
Open the Sonos app to Grab the Sonos skill from the Alexa skills menu and
Go to the Settings tab.
From there, click Services & Voice then
Add a Service then find Amazon Alexa from the list.
You should get a prompt that will redirect you to the Alexa app. Tap on the button labeled Enable to use which will allow you to sign in to your Sonos account.
After enabling the Sonos skill, the Alexa app will prompt you to discover any other compatible devices. The process should start automatically, but you can also tell Alexa to discover devices by using a voice command: 'Alexa, discover my devices'.
Alexa uses this discovery process to learn the names you've given to your Sonos products. 
This is the basic setup done, and you can use zones or rooms that you have your Sonos set to with the voice commands to operate individual speakers, by using commands like 'Alexa, play Lorde in the living room'.
Is Sonos Compatible With Google Home?
Sonos has also added similar compatibility with Google Assistant. The Sonos One, Beam, Arc, Roam, and Move are all capable of being used with Google Assistant.
Make sure you have the Google Assistant app downloaded on iPhone or Android. Also, make sure the app is up-to-date by heading to Settings > System Updates. (We've found new updates occasionally appear here before they're visible in the app store, so best to check here first)
If you have a compatible Sonos speaker that works with Google Assistant, the app will prompt you to connect them, simply tap and acknowledge this to start setting up.
Otherwise, do this to get along:
Tap the cogwheel in the bottom bar and
Go to Services & Voice.
Tap on Add a Voice Assistant and then
Select Google Assistant from the list and
Finally, Add to Sonos.
At this point, there is further customization, such as choosing which rooms you want to have Google Assistant working in, at which point you'll be redirected to the Google Assistant app to sign in.
It's also worth setting Sonos as the default for your Google Assistant. Find your voice assistant in the Google Home app and go to Device settings, represented by the cog in the top corner.
Select your default music speaker by tapping on that category and selecting your Sonos speaker from the list shown.
Is Sonos Compatible With Apple HomeKit?
Recent updates have brought more functionality to Sonos, with the support of Airplay and HomeKit recently also being brought into the Sonos family.
However, this only applies to the more recent Sonos devices, sometimes known as S2, and S1 devices won't work without a bit of fiddling.
If you've got a Sonos device released in the last few years, follow these steps:
Launch the Home app (for HomeKit or Siri) and
Tap the plus icon that you can find in the top right corner.
Select Add Accessory and select Don't Have a Code or Can't Scan.
The Sonos speaker should pop up in a list, so select it and assign it a room.
If you have an S1 device, you'll need to purchase a Homebridge hub or at least one S2 Sonos device, as just adding a single S2 device (Roam, Beam Gen 2, Move, One SL, One Gen 2, Arc, Playbase, Amp, among others) will enable these extra features.
Is Sonos Compatible With Apple Music?
While not initially offered with Sonos products, Apple's subscription service offers over 75 million songs ad-free, online or off, as well as playlists, live radio, and the amazing lyrics view option. Apple Music is very common and compatible with Sonos as a streaming service.
You can easily access multiple accounts on Sonos, which means that up to six Apple Music family members will have separated settings preferences on the same Sonos system.
As Apple Music is a streaming service, these are the steps:
Open the Sonos app
Go to the Settings tab and then
Tap Services & Voice
Under Music & Content, find Apple Music then tap Add to Sonos.
Is Sonos Compatible With Android?
Sonos has released both an Android and iOS compatible app, and have always tried to position itself as neutral in the battle between Apple, Google, and Amazon. Sonos devices are fully compatible with Android.
You can grab the Sonos App from the Play Store and then you have some decisions to make. If you're wanting to play the music that is physically stored on your Android phone, make sure all the music is in the Music folder on your device.
Open the Sonos app from the Browse tab
Tap This Mobile Device.
You should then be presented with a list of music in your Music folder.
You can also go through the usual steps of adding a music streaming service as a source to play music from using the Sonos app.
Not all Android devices work with Sonos, so be sure to check the official requirements list here.
Is Sonos Compatible With Spotify?
Spotify has been on Sonos for some time and acts like any other streaming service. You can use both free and premium Spotify accounts with Sonos and can be saved on multiple Sonos systems, but only one at a time.
You can even use the Spotify app to control the music volume, song, etc by going to the Now Playing screen, and then at the bottom of the screen, tap Devices Available and select your Sonos speaker or group.
As Spotify is basically just another streaming service, the following steps will do the job:
Open the Sonos app and
go to the Settings tab and
then tap Services & Voice.
Under Music & Content, find Spotify in the list then tap Add to Sonos.
Is Sonos Compatible With Heos?
It should be first noted that Heos, by audio equipment maker Denon, is a direct competitor to Sonos. Heos was also sued by Sonos due to the Heos lineup being alleged to be too similar to Sonos' own as well as several allegations of patent infringement.
This has resulted in several features of the Heos app being removed, limiting the Heos' functionality as Sonos won several of those court cases.
However, while that means out of the box there is not a lot of cross-compatibility, there is an interesting product by Sonos called the Connect.
The Sonos Connect is a wireless home audio receiver component, which means it acts as a bridge between your Sonos and other equipment, such as Heos.
Once you've got your Connect powered and got the app downloaded,
tap on Set up a new system then
Add on the popup showing your Sonos product.
Follow the indicated steps in the app to set up your Connect. You also have the option of using the included RCA, digital coax, optical, or other line-outs to plug in your Heos devices.
Is Sonos Compatible With Siri?
Sonos is compatible with Siri, but compared to Amazon Alexa and Google Home Assistant, you don't get as much functionality with Siri on your Sonos speakers themselves.
For example, you cannot use Siri for a voice-enabled Sonos product or control them directly within the Apple Home app.
The abilities you get with Siri on your iOS device allow you to play and control Apple Music on Sonos.
Just like the HomeKit instruction you have to do these steps:
Open the Apple Home app on your iOS device and
Tap the plus symbol in the corner.
Tap Add Accessory and then I Don't Have a Code or Cannot Scan.
Find your Sonos and assign it the same room name used in the Sonos app.
Is Sonos Compatible With Amazon Music?
Amazon music has very limited geographic reach but otherwise acts like any other streaming service you can add to Sonos combined with the Alexa skill.
First, ensure that the device has an internet connection, is powered up and the appropriate Alexa skill is enabled from the Alexa companion app.
From here, you have to cast the music using the Amazon app, the instructions differ slightly for iOS and Android.
For iOS:
To start casting, select Menu and then tap Connect to a Device.
Find the Sonos device to which you would like to cast your music and then it's good to go.
If you've already got the media playing, from the Now Playing View tap the Casting icon in the upper right corner.
Select the Sonos device to which you would like to cast your music.
For Android:
Tap the Casting icon in the upper right corner, the symbol looks like a screen with radio/WiFi waves in the corner.
Select the Sonos device to which you would like to cast your music, then it should all be working.
Is Sonos Compatible With Bose?
Bose, like Heos, is a competitor to Sonos so while you can't have a lot of mixing and matching of equipment, there are ways to get them to work together.
One is to find Bose products that are compatible with Apple's Airplay 2.
As all the latest Sonos speakers support Airplay 2, as well as products like the Bose Home Speaker.
If you have an iPhone, iPad, or iPod Touch, you should be able to group them together using AirPlay 2. This will then allow you to play music on both Bose and Sonos devices.
Another method is to use the Sonos Connect, which has the inputs and outputs necessary for it to interact with Bose products. 
For example, you could attach an audio cable from the Connect's output to an input on your Bose speaker. As Sonos remains working via the Connect, you use the Sonos app to play from music libraries or via streaming, as well as control the volume. 
You could also use the Bose system to feed input into the Connect in order to play sources such as your Blu-ray player on any Sonos speakers you have.
Is Sonos Compatible With Chromecast?
Sonos is not compatible with Chromecast. While Sonos has implemented AirPlay 2 on its more recent devices, Chromecast is not a supported feature or option.
A Chromecast doesn't really work with a Sonos device because there is not a good way to get audio from a source like a TV, to play out of the Sonos without using AirPlay.
Another option is grouping the Sonos device with a Sonos home theater speaker, such as a Beam or Arc.
Is Sonos Compatible With Disney Plus?
Sonos is fully compatible with Disney Plus and was even offered for new Sonos customers in a promotional deal.
Once you've got your Sonos system up and running, you can add it as a streaming service or connect to it using the Disney Plus app.
Is Sonos Compatible With Dolby Atmos?
Dolby Atmos is a way to create and play sound to give it a more realistic and customized sound. 
To get the most out of Atmos, the media itself must have been created in Dolby Atmos, and you'll also need a compatible device that can playback content in Dolby Atmos. 
The Sonos Arc Soundbar, Beam, One, and Sub are all capable of running Dolby Atmos, as long as they are the second generation offerings or S2 products.
Once you've got these products set up, they should automatically detect that the media is designed per the Atmos standard, and will play it as it is meant to be heard.
You can check audio output settings in the Sonos app to confirm this. You can also try setting audio output to automatic to see if this helps.
Is Sonos Compatible With Firestick?
It's important to understand that fundamentally Sonos is not about providing audiovisual solutions. That means that your Sonos device won't always be able to send audio from an Alexa-enabled device, like Firestick, to a Sonos speaker.
Sonos and Alexa integration is about controlling your Sonos through Alexa voice control.
To make such a setup work, Sonos will play TV audio through the optical input on the Playbar or Playbase, and there are no wireless options.
Otherwise, the voice assistant on any Alexa-enabled device will control Sonos. Just set up the Sonos skill in the Alexa app and discover your Sonos devices.
Is Sonos Compatible With Netflix?
Netflix will work in limited situations, namely requiring the AirPlay 2 system, which means you'll need an Apple or iOS device as well as the Sonos speakers.
The AirPlay 2 compatible speakers are the Sonos One, Playbase, Play:5 (2015 version), Move, Five, Arc, or One SL.
Using the iOS app, open up the Apple Home app and add your Sonos speaker to it.
Next, you will see your nearby accessories visible on the screen. Click on each of your Sonos speakers to add them to Home and then you can cast Netflix to it.
Is Sonos Compatible With Google Nest?
Updates to Sonos have seen it being able to be used as the default speaker instead of the Google Nest.
Google Nest is the company's line of smart home devices which include the famous Nest Learning Thermostat as well as the Nest Hello Doorbell, Nest Hub, and Nest Cam.
To set up your Sonos:
select an Assistant device in the Google Home app.
Then find Device settings via tapping the gear icon in the upper-right corner and
scroll down to Default music speaker and
select your Sonos device.
Is Sonos Compatible With Ubuntu?
Officially Sonos does not support Ubuntu or any Linux distributions with its app. This means you will need an Android or iOS device to perform configurations and set up your Sonos system.
However, there are some workarounds for devices or apps that are supported on Linux-based systems, for example, Spotify has such a client from their official site.
Once you have Sonos all set up, you can add Spotify as a streaming service and then control it from your Linux or Ubuntu distribution.
Thank you for your feedback!