Sonos has been producing multi-room audio solutions since the 2000s and has expanded its range to indoor and outdoor speakers that connect wirelessly and via Bluetooth. But is Sonos a good brand?
Sonos offers high-quality hardware that is easy to set up and use. It is able to play high-quality music and has many additional features and functions such as voice control. Sonos is more expansive than other brands but leading in its field and can be considered a good brand.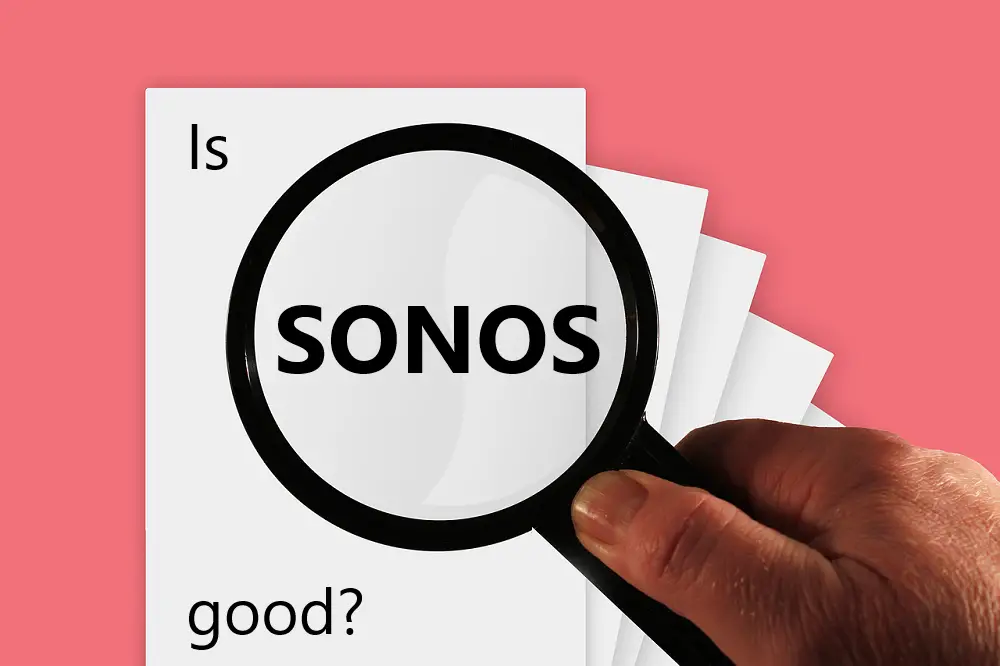 We'll go through the various aspects of Sonos speakers and consider where they rate in the home audio sphere, as well as discuss some pros and cons, build quality, and whether Sonos is worth the price or not.
Does Sonos Have the Best Music Quality?
Music quality and sound quality are hard to rate and there is a significant subjective element. However, there are certain criteria like bitrate or other benchmarks to compare audio against each other to determine which produces the 'best' sound.
Is Sonos Considered HiFi or Audiophile Level?
Definitions are not always so easy on their face, but many of today's streaming services have the option to select lossless streaming, which is another way of saying little to no compression was used so that the quality is the same or better than a CD.
However, different formats can have different fidelities. In the past, HiFi was generally defined as audio quality from a CD or vinyl but with improvements in audio technology, today you can listen to higher resolution audio files.
This leaves the question as to what exactly constitutes HiFi.
Some audio experts use the term to mean the equipment can reproduce recordings of all types such as CD, vinyl, or streaming. It must also have very low distortion, low signal-to-noise ratio, dynamic headroom, and channel separation.
Audiophile plays into this definition, although an audiophile is strictly someone who is enthusiastic about HiFi sound reproduction. This means it spans from the media to the recording process to product to playback (and the associated devices).
It is certainly possible to make the argument that since the release of their second-generation products, known as S2, Sonos is embracing the HiFi capabilities. This is apparent in the S2 range such as the Arc, which supports Dolby Atmos.
Why Is Sonos So Expensive?
When looking to purchase Sonos devices, you'll find them in a variety of retailers but there is generally not going to be much difference in price.
Sonos is also not the most expensive multi-room audio speaker producer, so there are other factors going into the price rather than just their market share.
There are three major factors that go into the Sonos price: usability, sound quality, and longevity.
Sonos prioritizes making their products work as seamlessly together as possible, right out of the box, without having to mess around with cables and inputs. Many users state that Sonos is a plug-and-play type deal. Get the app, turn on the devices, and start playing music.
Sonos runs a community board that they monitor, and they seem to take many customer suggestions on board and release functionality or change operations of Sonos devices to accommodate these requests.
It would take too long to document all these, but just consider the successful implementation of AirPlay 2; the addition of Alexa, Home, Siri, and other voice control features; and the ability to easily add a streaming service like Spotify or Tidal.
Sound quality has always been a focus of Sonos, as they wanted to bring the HiFi experience to people without having to mess around with lengths of cable or buying individual pieces that all have to be jury-rigged together.
High-quality components are needed to make high-quality sound, but quality assurance and technology behind the audio source also go a long way to make the best sound. 
In the end, it's hard to objectively say Sonos are good speakers according to some standards, but customer reviews, even from self-confessed audiophiles, tend to rate the Sonos speakers as very high quality.
Longevity is always hard to achieve with technology, but Sonos doesn't want you junking your speakers every year to get the new one. Instead, they sell speakers that are more expensive than their rivals but offer very flexible return policies as well as constant app updates.
Where Is Sonos Made?
Many Sonos devices are made in China although they have moved significant amounts of production to Malaysia as well.
The company was founded in 2002 and is based in Santa Barbara, California in the United States. This is the main headquarter and the place where the design is made.
Sonos also has additional offices in the United States in Cambridge, Massachusetts, as well as international offices in the Netherlands, China, and Malaysia.
Pros and Cons of Sonos
| Pros | Cons |
| --- | --- |
| Great audio quality | Expensive  |
| Easy to set up | Button and LEDs not customizable |
| Wireless streaming from many sources | |
| Privacy Policy | |
| Independent offline voice control (2022) | |
Sonos offers great audio quality at a reasonable price and many other additional desired integration with services like Amazon Alexa, Google Home, and Siri.
Taking the market as a whole, Sonos is definitely at the higher price points, so if you're not overly fussed about audio quality or ease of setup, there are many competitors which will give you much the same experience.
One common gripe is the compatibility with certain devices, like Smart TVs or if you don't have an Apple device, you don't have as many options for streaming high-quality audio.
Is Sonos Worth the Price?
Sonos does what it does very well, so if you're looking for multi-room audio solutions, particularly in regards to streaming of music and voice control operation, Sonos has to be at the top of your list.
The refreshing aspect of Sonos is that they're not afraid to invest in technology to improve their products, and they're open to working with competitors or other partners to improve synergy.
Sonos doesn't try to be anyone else and offers high-quality speakers that have an intuitive and easy configuration process via the app, as well as having the flexibility to be linked via SonosNet.
They release software updates regularly and communicate better than most large technology companies that operate in the same space.
Conclusion
Fundamentally, Sonos is a good brand, and you do get what you pay for. While customer reviews and message boards tend to reflect customer complaints and feedback, having spent a lot of time looking at everything on Sonos, the amount of negativity is low.
Many users praise both the build quality and sound quality of Sonos, the ease of getting everything set up, and importantly, fixing issues when things go wrong.
Some people don't like that Chromecast isn't supported, or the lack of an Android equivalent to AirPlay 2, but complaints like this are out of Sonos' hands to an extent. It is clear from the moves Sonos has made, that they want more functionality in their devices where possible.
Thank you for your feedback!