The TV and movie industries seem to be shifting viewers towards systems for only streaming or time-shifting. However, there are still options for downloading movies to watch offline or sharing with others. 
Most of the best streaming apps allow you to legally download movies to a limited number of devices. However, Smart TVs have low storage limits. Nonetheless, you can download and save to an external storage device if you've exceeded your TVs storage limit.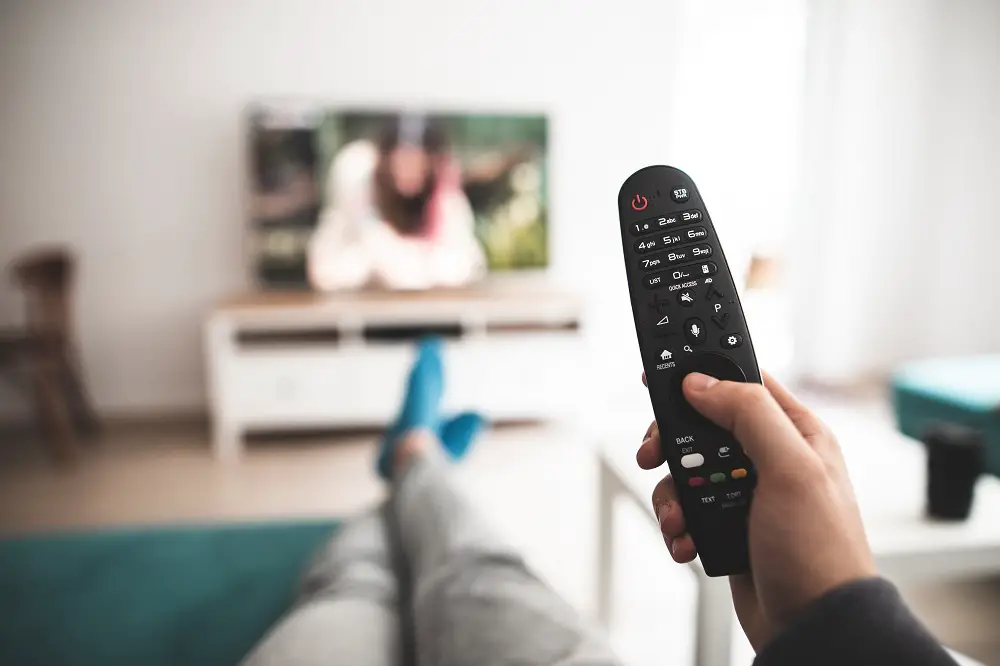 While your Smart TV isn't as optimized as a computer for downloading and storing movie files, there are a few possible workarounds. Read on for our full guide on downloading movies using your Smart TV.
5 Ways to watch Movies Offline with a Smart TV 
Even though Smart TVs work best when connected to the internet, there are times when you'll need to watch your favorite movies and TV shows offline. Five of the best available options for watching movies offline with your Smart TV include:
1.Download Movie Files to Your Smart TV
Some of the most popular streaming services allow users to legally download movies and watch offline. In most cases, you have to either purchase the movie or TV show first or have an active subscription.
Downloading movies and TV shows will depend on the availability of a downloading function on the streaming service. It may also depend on your type of subscription and the type of Smart TV.
A major consideration when downloading movie files to your Smart TV is the internal storage. Thus, your TV may be capable of downloading, but your Smart TV's storage is too low to accommodate a full movie.
If you have the necessary storage and have access to services that allow downloads, then you can save movie files to watch later. You can access the saved movie files even when your TV is not connected to the internet.
(Do you know how much data your Smart TV uses? We'll easily show it here)
2.Connect Smart TV to Computer Via HDMI
This is probably the best and easiest way to download and watch movies offline on your Smart TV's big screen. Practically all Smart TVs come with HDMI input ports and so do all recent PCs.
For iOS devices, you will need a Mini DisplayPort adapter that connects to your TV's HDMI port. If your PC doesn't have HDMI ports, you may need an HDMI composite converter. HDMI connections are capable of full HD and multi-channel audio in one cable. 
One of the prime advantages of using a PC to watch movies on the Smart TV screen is that PCs have a significantly higher memory compared to Smart TVs.
For instance, while most Smart TVs will hardly have 2 GB storage memory, even a low-end PC will have a hard disk drive with at least 256 GB of storage memory.
(More about PCs and Smart TVs: Why Using a Smart TV As a Computer Isn't That Dumb)
The resolution of the PC will matter too even though your eyes will be on the much clearer Smart TV screen. Even though older laptops and PCs may not be capable of 4K and 8K resolution, most are capable of Full-HD 1920 x 1080 resolution.
3.Using an External Memory Drive
You can watch movies offline by downloading the movies to a thumb drive or external hard drive then connecting the drive to your Smart TV. Typically, all Smart TVs come with USB ports.
These ports are capable of accessing data on memory sticks and hard disk drives, particularly video, audio, and image files.
The advantage of using a memory drive is that it's smaller than a computer and thus, less obtrusive. Also, a memory drive frees up your computer for other uses while you enjoy the Smart TV entertainment. 
Also, memory drives are much more mobile compared to PCs or laptops.
You can easily carry them around in your pocket, unplug from one device to another, and add or delete files easily. 
Nevertheless, memory drives can sometimes be prone to malfunctioning. For instance, it's very easy to lose all your data and files if the drive falls down or suffers any impact.
It's also easy to lose the drive itself, being so small and mobile. 
4.Connect to a NAS Drive
Network-attached storage (NAS) is another option that works like an external hard drive, but with several advantages. A NAS is basically a set of hard drives in one device. 
A NAS is basically a computer without a monitor, keyboard, or mouse. 
With several hard drives and the expandability to add extra hard drives, your storage will be almost unlimited. You can save as many movies as you want and create libraries for different niches or genres. For instance, you can have a library for romance movies, another for action movies, and another for kids' cartoon and animation movies. 
One of the top advantages of a NAS is that it connects to a network and can connect to multiple devices.
So, you can connect to your Smart TV which plays the movies, and a laptop that downloads and saves the movie files. 
Another big advantage is that a NAS drive runs on its own OS, typically a LINUX OS.
An additional advantage is you can connect the NAS to all your home devices. For instance, you can connect all your home computers, your CCTV security network, your Smart TV, and all your mobile devices. You can even connect to the NAS remotely to add, edit, or remove files. 
An advantage the NAS has over a PC connection is that with a NAS, only the resolution of the files and the Smart TVs' resolution matter.
Unlike a memory drive, with the NAS, if any of its hard drives begin to fail, the saved files are transferred to the other hard drives. Thus, it's much more secure. A few more advantages over memory drives are:
Better reliability
Scalability
Superior data protection 
5.Cast from Mobile
Casting and screen mirroring from a smartphone or tablet can enable you to watch movies on the big screen even if your Smart TV is offline. You can view movies and other video files saved on your Smartphone. You can also use streaming services on your mobile device then cast to the TV.
Mirroring or casting lets you and your friends or family enjoy content on a big screen rather than all of you crowding around a small screen. On an Apple device, the function is called AirPlay. 
Most medium and high-end smartphones have higher storage compared to smart TVs. For example, a mid-range phone will typically have between 32 GB and 128 GB of storage memory. Mobile devices come with all ranges of screen resolution, so you can enjoy 1080p, 4K, and 8K. 
While some casting or mirroring functions may require a Wi-Fi connection, some connections can be done directly from phone to TV without the need for a Wi-Fi internet connection.  
Can Smart TV Download Movies from TV (Cable/SAT/Terrestrial)? 
In the days of VCRs and DVRs, you could connect the VCR to your TV and record a movie. With the modern Smart TV, you mostly rely on streaming content rather than broadcast content. Nonetheless, you can still record (download) and save movies from broadcast channels. 
Some types of Smart TVs have a feature called Personal Video Recorder (PVR). This feature works with either the TV's internal storage or connected external storage such as a USB thumb drive. 
If your TV has an in-built PVR (sometimes referred to as DVR depending on your TV, make, and model) then you might be prone to limited storage. The function works better when you're recording to an external USB memory device. One way to check whether your TV has a PVR function is to check the original remote control that the Smart TV came with.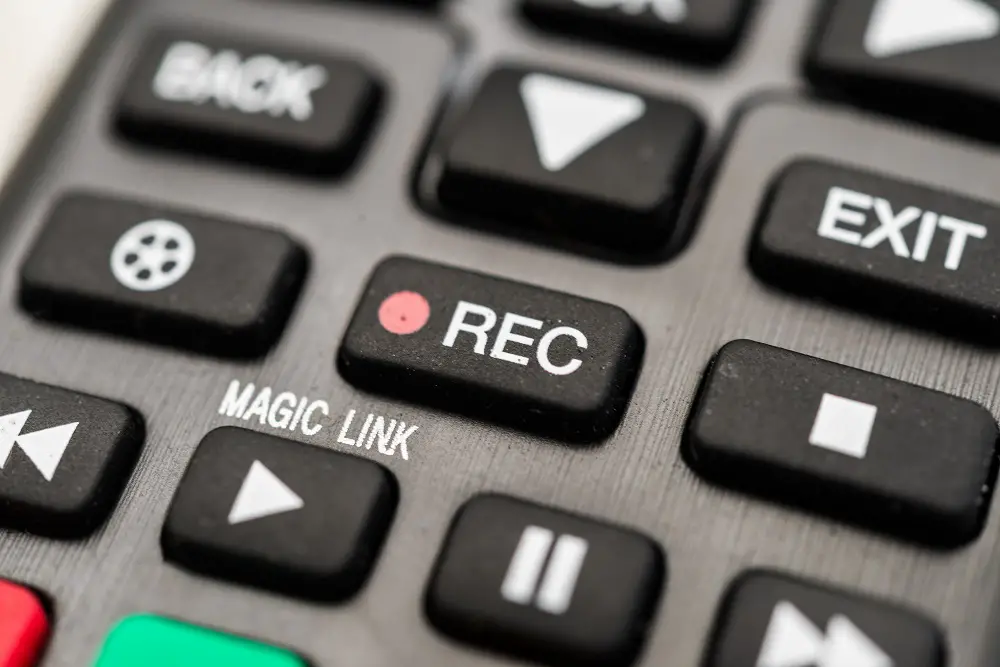 The Smart TV remote will have a red button labeled 'REC'. Also, the Smart TV will have a USB port. 
Broadcast content comes to you via either your TV aerial or terrestrial antenna, cable, or Satellite TV (SAT). It is the regular programming delivered by broadcasting stations.
When downloading broadcast TV content, follow these steps:
Browse to the channel which is showing the movie. 
Connect a USB storage drive into the Smart TV's USB port. 
Tap the REC button on your remote control.
With some Smart TV brands, you may have to first enable this in the TV settings menu.
You may also have to choose the option to saving either to internal storage or USB storage. Always choose USB storage if you have a memory stick available and attached to the TV. 
When the movie is done, press the 'STOP' button typically placed next to the 'REC' button. In some brands, you may have to press the 'REC' button once more instead of the 'STOP' button. 
Newer models may recognize the intended programme and stop automatically when the movie is done.
Check in your storage for recorded media.
You can now view your downloaded movie file. 
Smart TVs that can record broadcast TV content will typically record in MPEG-4 format. 
One thing to note is that most Smart TVs will first format the storage device before recording. Thus, you will need to save all your other files elsewhere first before plugging the memory device into the TV. Also, not all Smart TVs can record broadcast content, and not all Smart TVs can format your storage device. 
If your TV doesn't have the PVR function, you might need a Set Top Box to record and save broadcast content. One popular Set Top Box brand is the Freeview recorder. Some Smart TVs have an in-built Freeview recorder in place of the PVR function. An external Set Top Box will come with 500 GB to 1 TB of space. 
One last way to download a movie from broadcast TV is to use a DVD or DVD-R player.
However, DVD-R players are quickly dying out in the market and will likely be obsolete in the coming few years. 
If you opt for recording with a DVD (DVD-R) player, you will need an empty DVD disk for each movie. Each disk stores approximately 4.7 GB of data. DVD disks are a dying breed, just like DVD players. 
The advantage of using a DVD player is you can watch one channel while recording a movie showing on another channel. For this to be possible, you will need to connect the antenna, SAT, or cable through the DVD player rather than directly to the TV. 
Can Smart TV Download Movies from YouTube? 
Currently, you can't download movies from YouTube directly to your Smart TV. However, there are several ways you can download YouTube indirectly and watch it on your Smart TV.
These include:
Use PC and YouTube Premium 
If you have a YouTube Premium subscription, you can find a download button in each video description. However, this download feature is only available on computers, not on Smart TVs. 
Download On Mobile
The YouTube mobile app allows users to download videos. You can download a movie to your smartphone to watch later even if you'll be offline. Once you've downloaded the movie of your choice, you can use screen mirroring, casting, or AirPlay (for iOS) to watch on the Smart TV screen. 
Use Third Party Downloaders
There are a few third-party services that allow you to download YouTube videos from your browser or through apps. These include Google TV and Movies Anywhere.
Can Smart TV Download Movies from Netflix? 
There are third-party apps that allow you to download Netflix movies for offline watching. However, you must have an active Netflix subscription before you can download movies and TV shows to your Smart TV.
For example, Google TV (formerly Google Play Movies & TV) allows you to purchase and download movies and TV shows to watch later. The app, Movies Anywhere, also allows you to download movies from other streaming services such as Hulu, Netflix, and Amazon Prime. 
Can Smart TV Download Movies from Websites/The Internet? 
Not all Smart TVs can show videos on their browsers. However, if your TV is compatible with Flash Player, you can watch videos on your Smart TV browser and possibly download your favorite movies.
Unsure which browser is best or how to use it? You should read Smart TV-Browser: Starter Knowledge & Easy Instructions.
In case your TV can play movies, try the third-party services which you normally use on your computer for downloading movies and YouTube videos. One such service is savefrom.net. Other possible third-party downloaders include vidd.ly, iTube HD, and YouTube-dl. 
Where these services work, they can download movies from YouTube and other browser websites.
How to Play Recorded Movies 
If your TV has available storage space and is capable of downloading and storing movies, then you can watch offline without having to stream. Follow these steps:
Access your TVs internal storage.
Search for and find the movie file. 
Hit play. 
It's noteworthy that most TVs will only play movies in particular video configurations. For example, most Smart TVs will only play MP4 files. For other file types, you may have to download a media player such as VLC. 
How to Play External Downloaded Movies
You can play movies and TV shows directly on your Smart TV if the video files are in the correct format or configuration. Otherwise, you may have to download and install a third-party media player such as VLC. 
Some video files you can play on a third-party media player on your Smart TV include:
MP4
MOV
AVI
MKV
WEBM or HTML5
Thank you for your feedback!