Do you live in a small apartment or lack the provisions for installing a built-in dishwasher? A portable dishwasher – freestanding or countertop, is a convenient and efficient option that doesn't require a permanent kitchen setup. But how much does a portable dishwasher cost?
Portable dishwashers cost between $250 and $1000. Countertop models are more affordable and cost anywhere between $250 – $500 while freestanding options range between $500 – $1,000.
It's important to note that while you may find cheaper appliances, these are likely lesser-known brands and may not last long.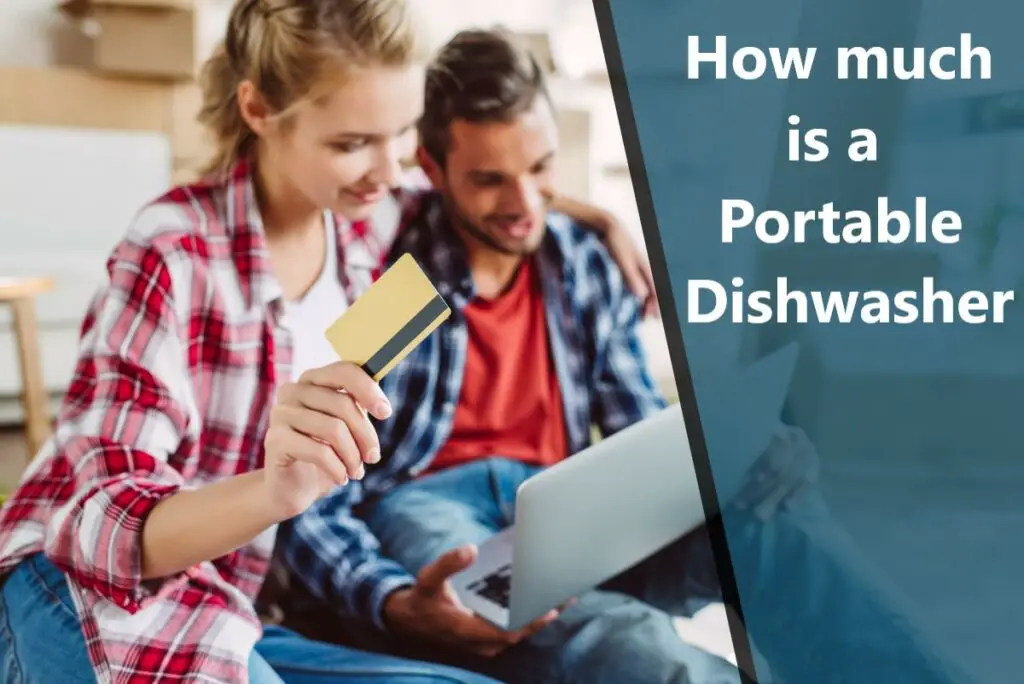 Let's look into how much different types of portable dishwashers cost, tips to reduce purchase costs, and alternatives to these portable appliances.
How Much Do Countertop Dishwashers Cost?
Countertop dishwashers are popular for those with limited floor space and a tight budget. These units are designed to sit on your kitchen counter conveniently, requiring minimal installation efforts.
Check our recommendations for Small Portable Dishwashers to find the right model for your needs.
If you're wondering how much countertop dishwashers cost, here's a table summarizing the different price ranges:
While smaller units with fewer place settings might be more affordable, they may not suit households with more members requiring increased dishwashing capacity. In such cases, freestanding dishwashers are a better alternative.
How Much Do Freestanding Dishwashers Cost?
Freestanding portable dishwashers, also known as rollaway dishwashers, come with wheels and can be conveniently rolled away between uses. These appliances provide greater capacity than compact countertops.
Do you need a bigger portable model? Check our recommendations for Full-Size Portable Dishwashers
Here's a list of some freestanding models and their costs:
Dishwashers in the mid-price range will provide advanced cleaning options, quieter operation, and good build quality. On the other hand, high-end models often have additional wash cycles, enhanced energy efficiency, and sleek designs.
How to Reduce the Purchase Costs?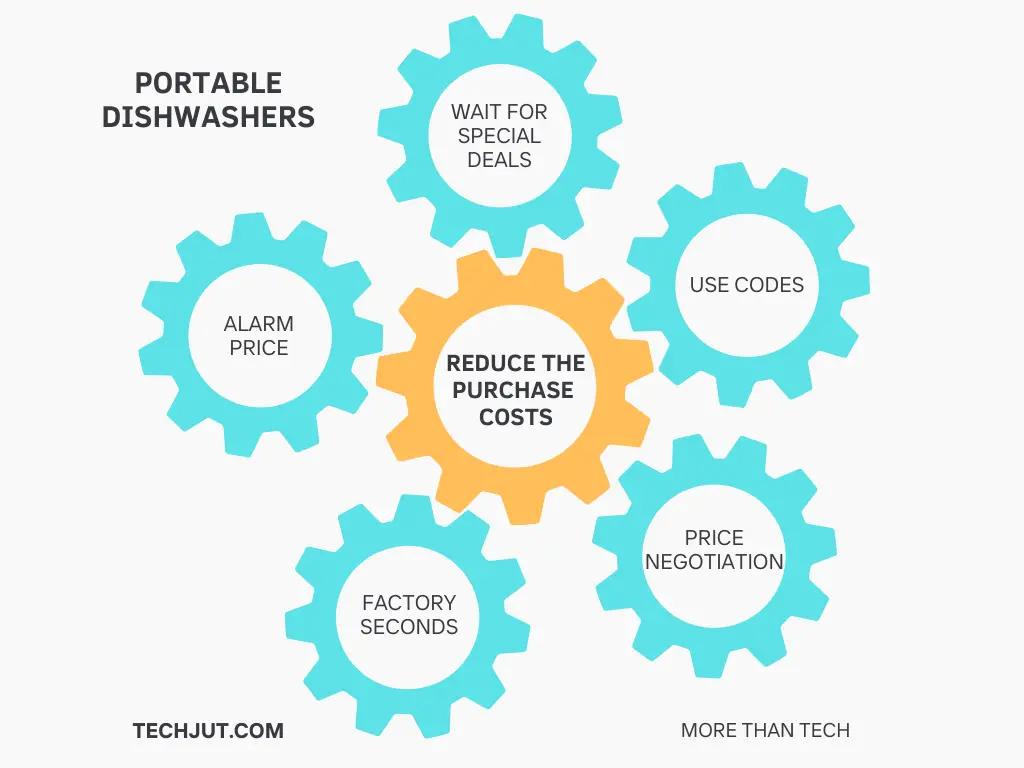 There are ways to further reduce how much you need to spend to purchase a portable dishwasher, including:
Wait for special deals
Keep a lookout for seasonal sale events, holiday sales such as during Christmas, Thanksgiving, and Black Friday, or manufacturer discounts. Purchasing during these periods can significantly reduce the overall cost of the portable dishwasher.
Use codes
Online shopping often involves the availability of promo codes and coupons that you can use for substantial savings on your portable dishwasher purchase. You can find these codes or coupons on certain websites, browser extensions, and newsletters.
Price negotiation
One of the benefits of shopping in physical stores for an appliance is the freedom to negotiate the price. Often, salespeople are willing to offer discounts to close a deal. However, you must be prepared to walk away if the negotiation doesn't work your way.
Factory seconds
Refurbished or imperfect units are referred to as factory seconds. Such units can offer considerable savings without sacrificing quality. While these appliances may have minor appearance flaws or superficial defects, they're fully functional.
Set alarm price
Many online shopping platforms and websites offer features that allow you to receive notifications when the price of a product drops. This includes a wishlist, Save for Later, or using price-tracking websites or browser extensions.
Refurbished models
Refurbished dishwashers are units that have been used and returned but are in excellent condition. Most places that sell refurbished models often provide a warranty and a reduced price, resulting in a cost-effective choice.
Alternatives to Buying a New Portable Dishwasher
If you're not really looking for a new portable dishwasher, here are some other alternatives worth considering:
Wash dishes by hand
As much as this defeats the purpose of dishwashers (to save water and effort), washing dishes by hand is the most budget-friendly option. This may require more time and effort, but it eliminates the need to purchase a dishwasher.
Shared facilities
Some apartment complexes or communal living spaces have shared dishwashing facilities, similar to a laundromat. You can use such facilities to save money on purchasing a portable dishwasher.
Buy used models
Check online marketplaces or local appliance stores for pre-owned portable dishwashers. However, before you purchase such an appliance, ensure it is in good working condition. If possible, also try to get a warranty.
Conclusion
A portable dishwasher – countertop or freestanding- makes dishwashing hassle-free, especially if you dislike washing dishes or have a busy lifestyle. Once you've decided to get one of these appliances, the next obvious question is, 'How much is a portable dishwasher?'
Countertop dishwashers are the more affordable models, with prices ranging from $250 to $500. However, freestanding dishwashers are a better choice if you require an appliance with increased capacity. These models have prices ranging from $500 – $1,000.
To further reduce the purchase cost of portable dishwashers, you can wait for special deals, use codes, negotiate prices, set an alarm price, or go for factory seconds or refurbished models.
On the other hand, if you aren't looking to buy a new appliance, you can buy used models, use shared facilities, or wash dishes by hand.
Thank you for your feedback!