Are you looking for an efficient way to deal with the household dishwashing chore, but you have a low budget?
While portable dishwashers are a popular solution to keep your dishes clean conveniently, the range of best-used portable dishwashers will also cater to your budgetary constraints.
Among the best portable dishwasher brands are GE, Bosch, and Danby. Several places sell used portable dishwashers at affordable prices. However, before you buy a used appliance, you must thoroughly inspect it and ensure it's being sold for a fair price.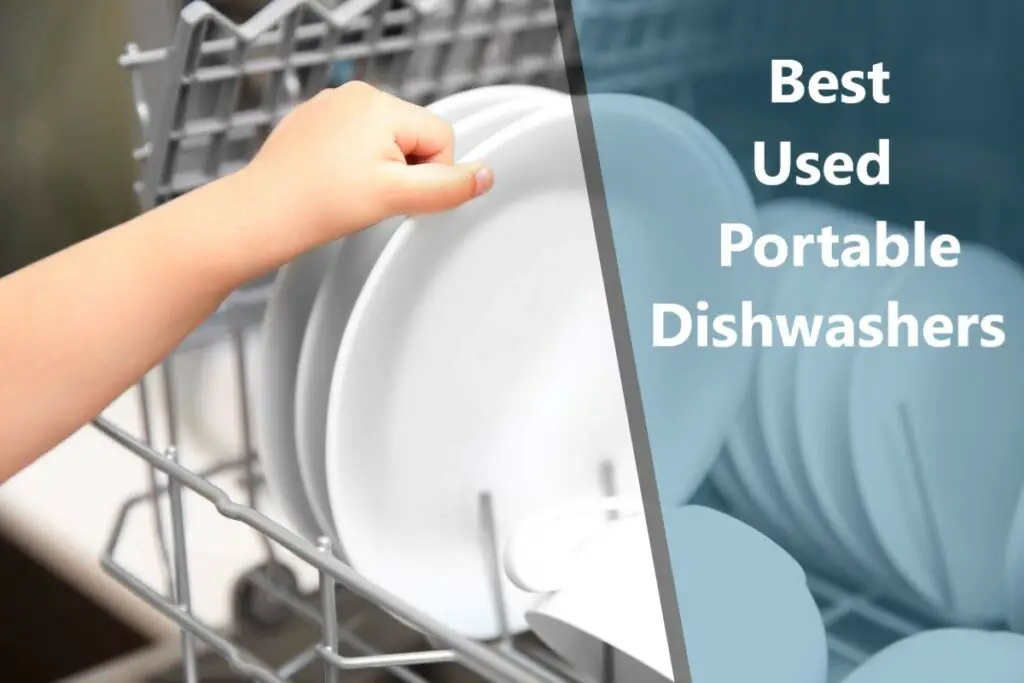 Let's look into a detailed guide that will help you purchase a good, used portable dishwasher.
Best Used Portable Dishwasher Brands (With Models)
Many portable dishwasher brands are available in the market, each offering different models with varied features and capacities. The following brands are the best choice for used models and stand out for their reliability, performance, and innovative features.
GE
GE is synonymous with high-quality appliances, and its portable dishwashers are no exception. Known for durability and reliability, GE's portable dishwashers are available in various models to cater to different needs and spaces.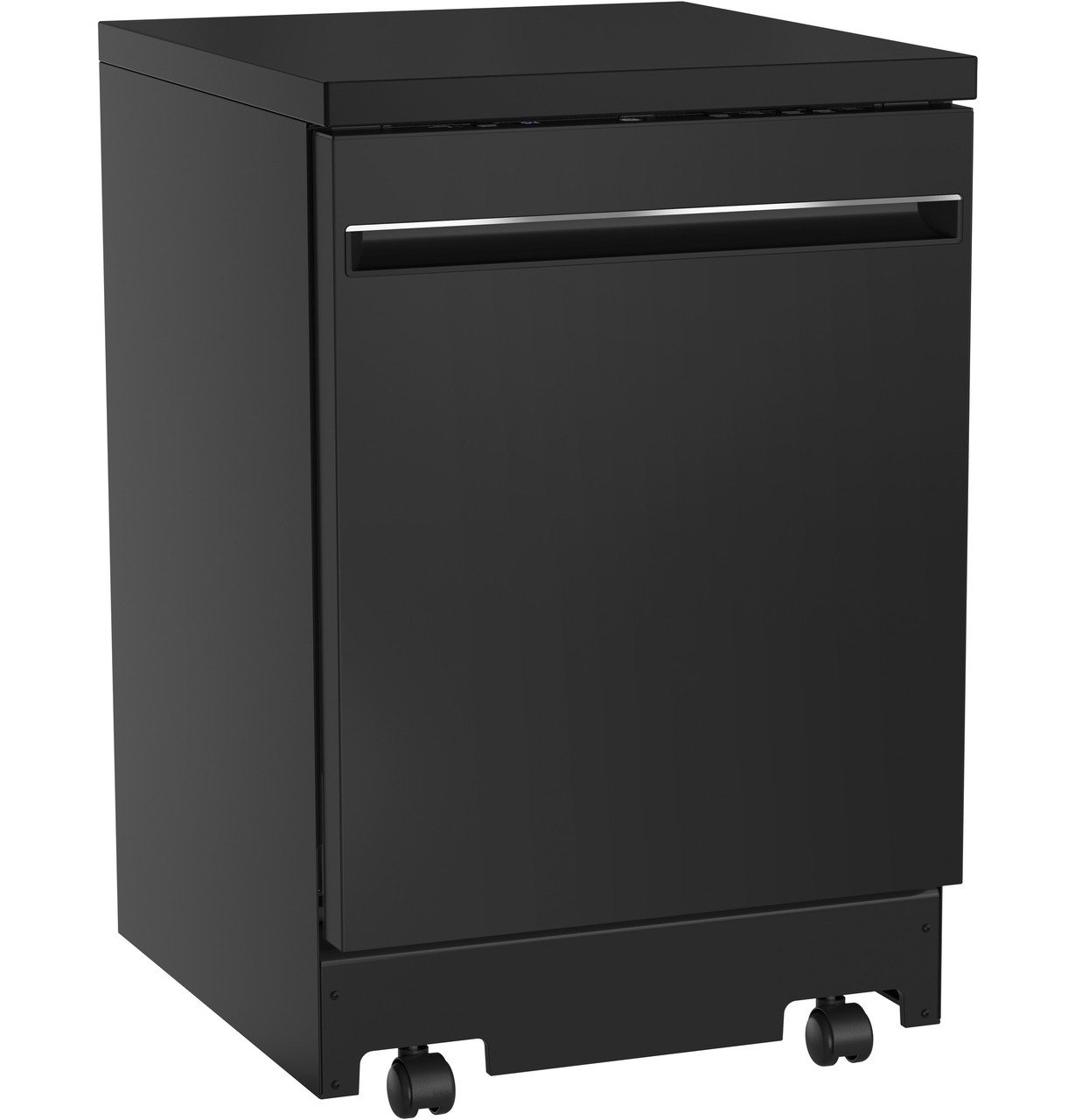 GE's widespread service network and customer support means it is easier to access repair services, replacement parts, or customer support when needed.
Best used GE portable dishwasher (2023): GE GPT225SGLBB 24"
This 24" stainless steel interior portable dishwasher, with a sanitizing cycle, is the best model for the following reasons:
Autosense cycle that adjusts the ideal cycle time by sensing the soil levels and water temperature.
Piranha hard food disposer helps prevent large particles from clogging the wash arms.
Three-level wash for exceptionally clean dishes
Connection capabilities include Amazon Alexa, IFTTT, Google Assistant, and Sonos.
With a sale price of $665, it's an affordable option for an appliance that can wash just as well as a built-in dishwasher.
Danby
Danby offers a range of compact and portable dishwashers ideal for smaller kitchens. Danby's portable appliances are affordable and don't compromise on quality.
Best used Danby portable dishwasher (2023): Danby DDW631SDB
Despite being a countertop dishwasher, this model, with six-place settings, is energy-star compliant and has a low water consumption of 11.7 L per wash.
Here are some reasons why this dishwasher model is considered the best:
8 wash cycles
Noise level – 54 dB
Delay start option
Fits under most cabinets
While Danby might not have an extensive service network as the other bigger brands, you can still expect satisfactory customer support and service options. Since Danby appliances are designed for simplicity, repairs might be more straightforward.
EdgeStar
EdgeStar is a brand driven to develop powerful energy-conscious appliances that can transform customers' lives.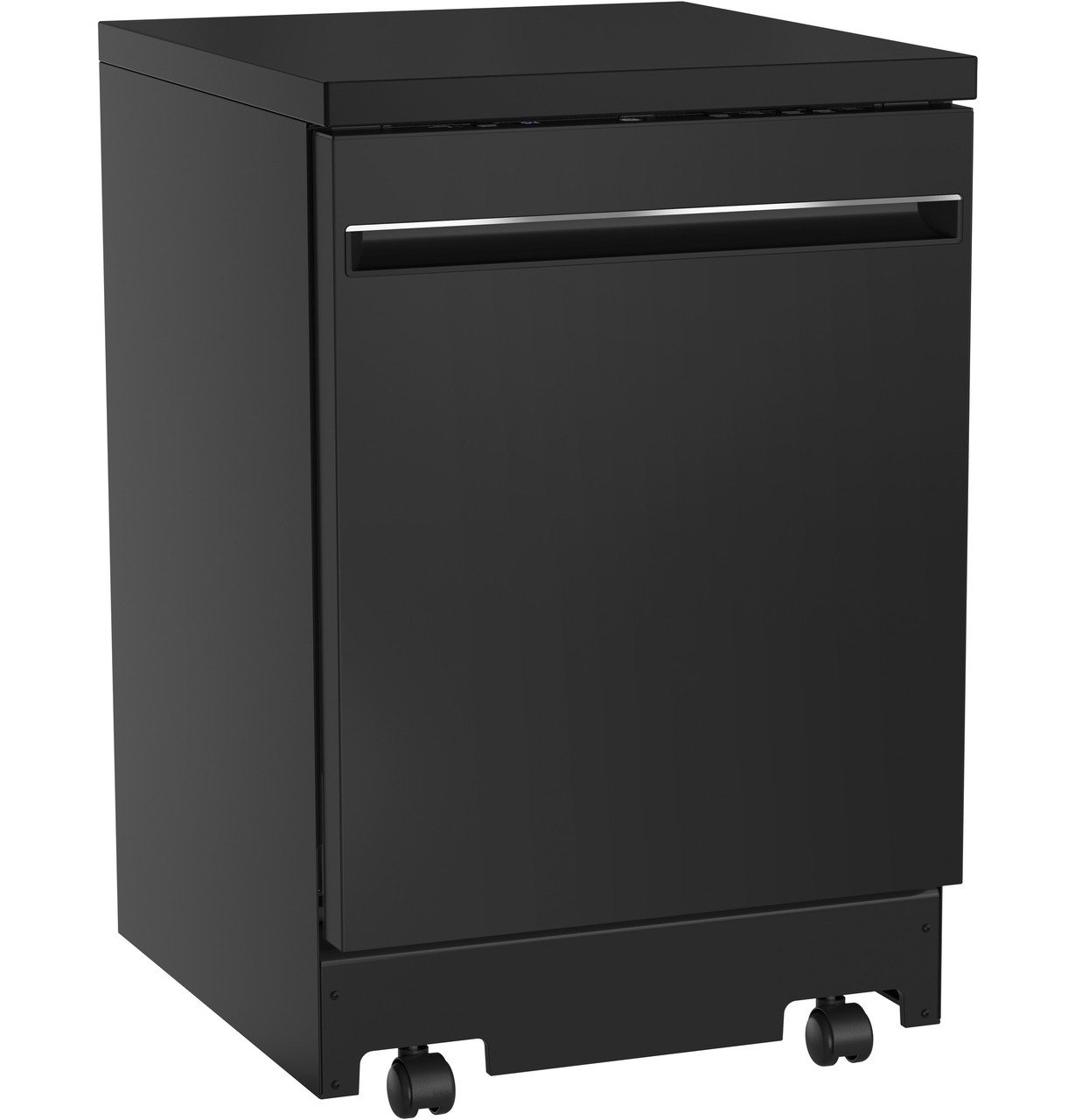 Best used EdgeStar portable dishwasher (2023): EdgeStar DWP62BL 22"
This six-place setting countertop dishwasher comes with a five-foot hose for convenient hook-up to almost any faucet. Some of the features making this model among the best are:
7 wash cycles
Noise level – 52 dB
Delay start feature
Affordable cost – $329
EdgeStar models of portable dishwashers perform consistently over time for clean results and dependable operation. The durability of these dishwashers makes them a trusted choice for consumers.
With a competitive price range, EdgeStar dishwashers are an excellent choice for many customers, including those on a budget. While they provide good customer care and assistance, they also have a decent track record of making replacement parts available for their appliances.
Checklist for Buying a Used Portable Dishwasher
When buying a used portable dishwasher, it's essential to make a cautious and smart purchase. Here's a checklist to help you with this: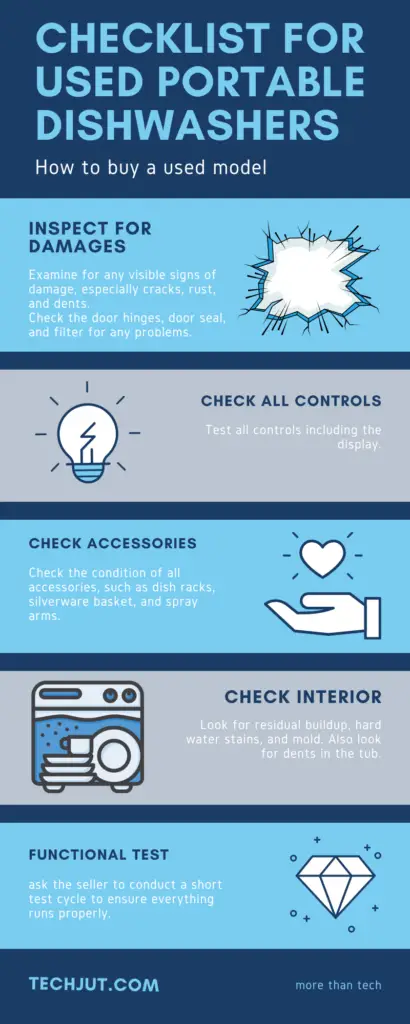 Inspect for damages
Thoroughly examine the dishwasher for any visible signs of damage, such as cracks, rust, or dents.
Additionally, check the following components to ensure they're without damage:
– Door hinges
– Door seal
– Filter
Controls
Test all the dishwasher's controls, including digital displays, to ensure everything works as intended.
Accessories and parts
Check that all the necessary accessories, such as dish racks, silverware basket, and spray arms, are in good condition.
Dishwasher interior
Inspect the appliance interior for signs of residual buildup, hard water stains, or mold. While such issues indicate a lack of proper maintenance, a deep cleaning can fix these problems. However, ensure the dishwasher tub is in good shape without any dents.
Energy efficiency
Check for the dishwasher's Energy Star rating. Getting an energy-efficient model will help you save money on utility bills in the future.
Functional test
Above all, it's essential to check if the dishwasher functions correctly before you buy it. Ask the seller if you can run a test cycle and check for any leaks, unusual noises, or other issues during the cycle.
Where to Buy Used Portable Dishwashers
There are several options where you can look to buy used portable dishwashers, such as:
Online marketplaces
Online sites like eBay, Craigslist, and Facebook Marketplace often have a wide range of used appliances, including portable dishwashers, for sale. However, it is essential to exercise caution and verify the seller before you make a purchase. This will help ensure the authenticity and quality of the product.
Local classifieds
Usually, the local newspaper or boards in public places may have listings of used appliances. It's an excellent way to find deals in your area.
Used appliance stores
There are appliance stores that sell refurbished and used appliances. You can find portable dishwashers in such places. These units are usually inspected and reconditioned before being resold.
Flea markets
Vendors often sell used appliances in flea markets. If you're looking for a used portable dishwasher, you can also physically inspect one at a flea market before purchasing it.
Garage sales or yard sales
People sell unwanted items, including appliances like portable dishwashers, at local garage sales or yard sales. It's a good place to find one for a reasonable price.
Online Community forums
Sometimes, online forums or community websites may have sections dedicated to buying or selling items. You may find used portable dishwashers locally on such platforms.
Estimate the Fair Price
Since you're purchasing a used portable dishwasher, it would be best to estimate the fair price of the appliance to determine if it's suitably marked.
Here are some factors that will help in estimating the fair price:
Warranty:
If a seller offers a limited warranty on used appliances, this can add to the total purchase cost. However, it does provide some protection against unexpected issues.
Market price:
Start by researching the prices of similar models on various online platforms to understand the current market value. As a result, you can gauge whether the seller is asking for a reasonable price.
Age and condition:
How old is the dishwasher? How is its overall condition? These factors play a significant role in determining the appliance's value. A relatively new, well-maintained unit will be priced higher than an older or worn-out one.
Brand:
Appliances from popular brands with advanced features will likely retain their value better. Consider the brand and the model's features to decide if the price is fair.
If the seller-set price doesn't meet your budget, you need not hesitate to negotiate with the seller. This is especially true if you identify issues that justify a lower price.
Fair Price Calculation
To calculate a fair price for a used portable dishwasher, you can follow this:
Original Price / Estimated Life Cycle = Depreciation Per Year
Life Cycle of Appliance – Age of Appliance = Years Left in Life Cycle
Year Left in Life Cycle x Depreciation Per Year = Fair Price
Considering an average life span of ten years for portable dishwashers, let's assume the original price of a five-year-old portable appliance is $500.
Then, $500 / 10 = $50 (annual depreciation)
10 – 5 = 5 (years left in the life cycle)
Finally, 5 x $50 = $250 (fair price)
Conclusion
Used portable dishwashers provide an affordable and effective solution for cleaning your dishes.
Exploring the best brands, knowing where to look, following a thorough checklist to ensure functionality, and estimating a fair price, allows you to make a well-informed decision to suit your needs and budget.
A portable dishwasher, even a used one, can ease up your dishwashing chore just as well as a new unit.
Thank you for your feedback!