Looking for a small portable dishwasher that saves space but offers the same functionality as a full-size dishwasher? Our guide has got you covered.
We've assessed and compared various small portable dishwashers based on factors like size, weight, capacity, and energy efficiency, to help you make an informed decision.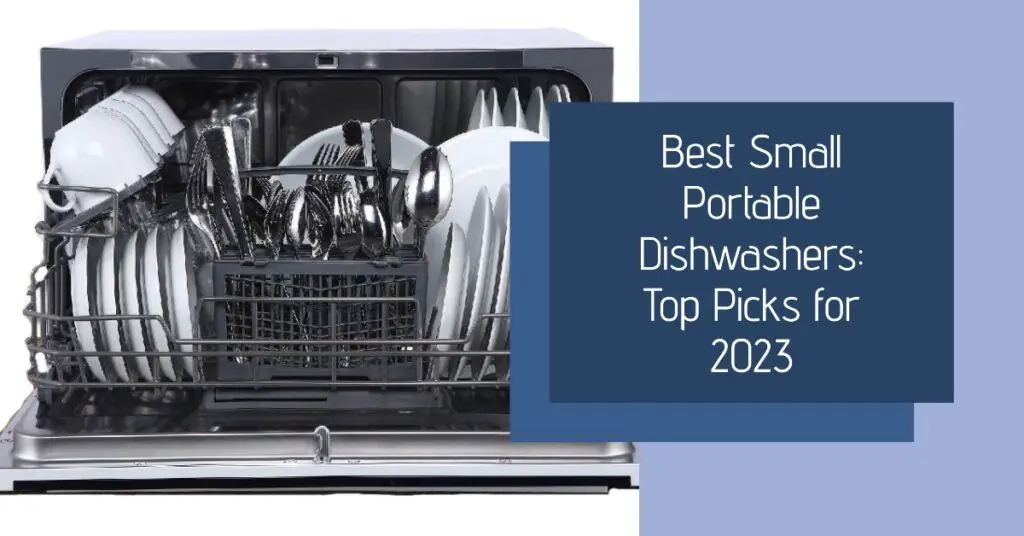 We'll be sharing our top picks, considering factors like performance, ease of use, durability, and value, tailored to your needs.
Top Small Portable Dishwashers
We have gathered a list of the best small portable dishwashers, perfect for those with limited space or a tight budget. Explore our top picks and find the ideal solution to make washing dishes a breeze.
The COMFEE' Portable Countertop Dishwasher is a great addition to small kitchens, offering convenience and efficiency in a compact size.
Pros
Compact design ideal for small spaces
Six program options for various cleaning needs
High-temp wash and air-dry functionality
Cons
May not hold larger plates or cookware
Takes up counter space
Noise level at 62 dB
Adapting to small kitchens or living spaces can be challenging, but the COMFEE' Portable Countertop Dishwasher provides a practical solution. Its compact design saves valuable space, fitting comfortably in apartments, dorms, or RVs. We found it particularly useful in situations where a full-size dishwasher would be impractical or too large.
The dishwasher offers a range of six program options, catering to different dishwashing needs and preferences. From normal washes to quick cleaning, this dishwasher has got us covered. We especially appreciated the high-temperature wash, which is perfect for eliminating tough, greasy stains and ensuring optimal hygiene.
One of the standout features is the built-in 5L water tank, which means no hook-up is required; just add water and ready for use. We found this convenient, as it eliminates the need for plumbing or additional installations, making it great for temporary setups or those frequently on the move.
While the COMFEE' dishwasher accommodates up to 30+ items (max plate size of 9.5 inches), larger plates or cookware may not fit. Additionally, keep in mind that it occupies counter space, so ensure enough room is available. Furthermore, the noise level was 62 dB during operation, which is worth considering if you're sensitive to noise.
In conclusion, the COMFEE' Portable Countertop Dishwasher is an ideal choice for those lacking space or seeking a convenient, customizable dishwashing solution. Its range of program options, high-temperature cleaning, and built-in water tank make it a valuable addition to small living spaces.
This portable dishwasher is perfect for those with limited space who want an efficient and convenient way to clean their dishes.
Pros
Compact design for small spaces
Built-in water tank for portability
Multiple wash programs, including Baby Care and Fruit Wash
Cons
Limited capacity for larger dishes
Hose and faucet adapter not included
Potential rusting issue in dish rack
We recently used the Farberware FDW05ASBWHA Complete Portable Dishwasher and were pleasantly surprised by its compact design and easy portability. We found it perfect for small-sized homes, apartments, dorms, and even boats and campers. It's a great option for those who don't have permanent water hookups as it comes with a built-in 5-liter water tank.
One of the main features we were excited to try is the variety of washing programs. It offers 5 different cleaning functions, including Normal, Rapid, Fruit Wash, Baby Care, and Glass. The Baby Care cycle uses steam to sanitize baby bottles, while the Fruit Wash comes with a fruit basket for easy vegetable cleaning. We were particularly happy with the Rapid cycle, which cleaned our everyday dishes in just 40 minutes.
Though compact and efficient, Farberware's portable dishwasher does have some drawbacks. Its limited capacity can only accommodate up to 12-inch dishes, which might be a problem for larger cookware. Additionally, the dishwasher package does not include a faucet adapter, so you need to purchase one separately if you plan on connecting it directly to your kitchen faucet. Lastly, some users mentioned rusting issues in the dish rack, which could affect the longevity of the unit.
Overall, we found the Farberware FDW05ASBWHA to be quite handy and efficient in cleaning daily dishes. It's a great option for those in need of a compact and portable dishwasher with multiple cleaning programs. However, if you have larger or heavily soiled dishes, you may want to consider other options.
We highly recommend the COMFEE' Countertop Dishwasher for anyone looking for a compact yet efficient dishwasher for small apartments, dorms, or RVs.
Pros
Compact size suitable for small spaces
8 washing cycles for various cleaning needs
Simple installation with faucet connection
Cons
Limited capacity for larger dishware
Not ideal for heavy or bulky pots and pans
Requires appropriate adaptor for faucet connection
We've used the COMFEE' Countertop Dishwasher ourselves and found it to be perfect for 2-3 people. Its compact dimensions (H17.2″×W20.6″×D21.6″) make it an ideal dishwasher for smaller spaces such as dorm rooms, RVs, and apartments without built-in dishwashers. We were able to fit up to 70 pieces of tableware, with plate sizes reaching 10 inches in diameter.
The 8 washing cycles it provides cover most of our cleaning needs, ranging from heavy to eco, glass, and speed washes. The additional extra-drying function is helpful in ensuring our dishes come out spotless and dry. We were also impressed with the heavy program that incorporates 12 washing nozzles, 360° spiral spray wash, and high water temperature and pressure. This feature guarantees even the most stubborn stains are removed.
Connecting the dishwasher to a faucet is easy, as long as you have the appropriate adaptor. Keep in mind that it has a limited capacity for larger dishware, which means heavy or bulky pots and pans may not fit. Nonetheless, the COMFEE' Countertop Dishwasher is a solid choice for those in need of a compact, efficient dishwasher for smaller living spaces.
The Hermitlux Countertop Dishwasher is an excellent choice for small spaces, offering convenience and efficient cleaning without sacrificing quality.
Pros
Compact and portable design
Five washing programs for versatile cleaning
Built-in 5-liter water tank for instant use
Cons
Not suited for large dishes or cookware
Limited capacity – 4 place-setting
Requires frequent water refilling for optimal performance
We recently tried the Hermitlux Countertop Dishwasher in our small kitchen and found it to be a convenient and space-saving solution for our dishwashing needs. Its compact size makes it perfect for tight spaces, such as apartments, dorms, or even RVs. Despite its small size, it offers five washing programs, including standard cleaning, fast cleaning, ECO cleaning, strong cleaning, and fruit cleaning. This provides a range of options to suit different dishwashing requirements.
One feature that we particularly appreciated was the built-in 5-liter water tank, which allows for instant use when fully filled. This reduces the need for constant connection to a faucet, which can be a hassle in smaller kitchens. The unique glass door also allows you to check on the washing status during the cleaning cycle, ensuring that your dishes are being cleaned effectively.
However, it's essential to note that the Hermitlux Countertop Dishwasher is not designed for washing larger dishes or cookware due to its limited capacity. The 4 place-setting arrangement is ideal for smaller households but may not be sufficient for larger families or extensive dishwashing needs. Additionally, the 5-liter water tank may require frequent refilling for optimum performance, which could be a slight inconvenience for some users.
Overall, the Hermitlux Countertop Dishwasher offers an excellent balance of portability, convenience, and cleaning efficiency for those with smaller living spaces. Although it has some limitations, we believe it's a solid choice that provides excellent value for the size and features it offers.
We highly recommend the NOVETE Portable Countertop Dishwasher for those with limited space seeking a compact yet efficient dishwasher.
Pros
Small size with large capacity
No installation needed
Baby Care mode for baby products and oily tableware
Cons
Slightly heavier than expected
May not fit all larger cookware
Limited water heating options
We used the NOVETE Portable Dishwasher recently, and we were impressed with its small size and large capacity. Measuring 16.9 x 16.8 x 18.1 inches, it can accommodate four full place settings and fits up to 12-inch dishes loaded at an angle. This makes it perfect for compact living spaces like apartments, dorms, or RVs. The double-layer design offers sufficient space for various dishware, completing our daily needs without requiring a full-sized dishwasher.
One of the best features we experienced with this dishwasher is that it doesn't require installation. The countertop dishwasher supports two water supply modes, utilizing either a faucet or a built-in 5 L water tank. We found that this added flexibility made it even more convenient to use. The automatic water level indicator also ensures that you know when the appropriate water level is reached.
Our favorite feature in this dishwasher is the Baby Care mode, which provides a high-temperature wash suitable for baby products and oily tableware. With a cleaning temperature of 167°F, this mode thoroughly cleans and leaves glassware sparkling. In addition to this, it offers a variety of washing programs, such as Normal, Speed, Soft, and Fruit, catering to different dishwashing needs.
While using the NOVETE dishwasher, we noticed that it was slightly heavier than expected, weighing in at 28 pounds. Its dimensions may also limit the size of pots and pans that can be loaded. Additionally, water heating options are limited, so you might need to rely more on detergent and water pressure for thorough cleaning.
Overall, this NOVETE Portable Countertop Dishwasher is a great investment for those with limited space or smaller households. Its multiple features and versatility make it an efficient and convenient addition to any kitchen.
Buying Guide
When searching for the best small portable dishwasher, there are several key factors to consider. First and foremost, it's important to think about the size of the dishwasher and the available space in your home. Measure the area where you plan to place the dishwasher to ensure a proper fit. Remember, a portable dishwasher should be easy to move and store when not in use.
Capacity is another crucial aspect to keep in mind. While smaller dishwashers will have a more compact size, they might not hold as many dishes and utensils as you need. Consider your daily dishwashing needs and choose a dishwasher with a capacity that meets them. It's common for portable dishwashers to hold 6-8 place settings.
In addition to size and capacity, we recommend considering the following features:
Energy Efficiency
Look for a dishwasher with an ENERGY STAR rating, as these models consume less water and energy, lowering your utility bills and reducing your environmental footprint.
Noise Level
A quieter dishwasher is ideal, especially if you have an open-concept living space. Check the dishwasher's decibel (dB) rating; the lower the number, the quieter the appliance.
Cleaning Performance
While it's harder to gauge without trying the dishwasher firsthand, check online reviews to see how effectively the dishwasher cleans dishes. Some dishwashers include additional wash cycles and options, such as a quick wash, sanitize, or delicate cycle, to help cater to your individual needs.
Drying Options
Ventless drying systems use less energy and are more efficient. These systems work by condensing moisture from warm dishes onto the cooler stainless-steel interior of the dishwasher.
Here's a summary of the key features to consider:
| Criteria | Recommendation |
| --- | --- |
| Size | Measure available space; portable dishwashers should be easy to move and store. |
| Capacity | 6-8 place settings, depending on your dishwashing needs. |
| Energy Efficiency | ENERGY STAR rating for reduced water and energy consumption. |
| Noise Level | Lower decibel (dB) rating for a quieter operation. |
| Cleaning Performance | Additional wash cycles and options; check online reviews. |
| Drying Options | Ventless drying systems for better efficiency. |
By taking these factors into account, we can help ensure you find the best small portable dishwasher to suit your needs and make dishwashing more efficient and convenient for you.
Thank you for your feedback!