There's nothing like a dishwasher for a convenient and efficient solution to keeping your dishes clean. A countertop dishwasher offers several benefits, making it a valuable addition to your kitchen.
However, before you decide on getting one, it's essential to know if countertop dishwashers are worth it.
The space-saving design, portability, ease of installation, and energy and water-saving features of countertop dishwashers make them worth considering for your dishwashing needs.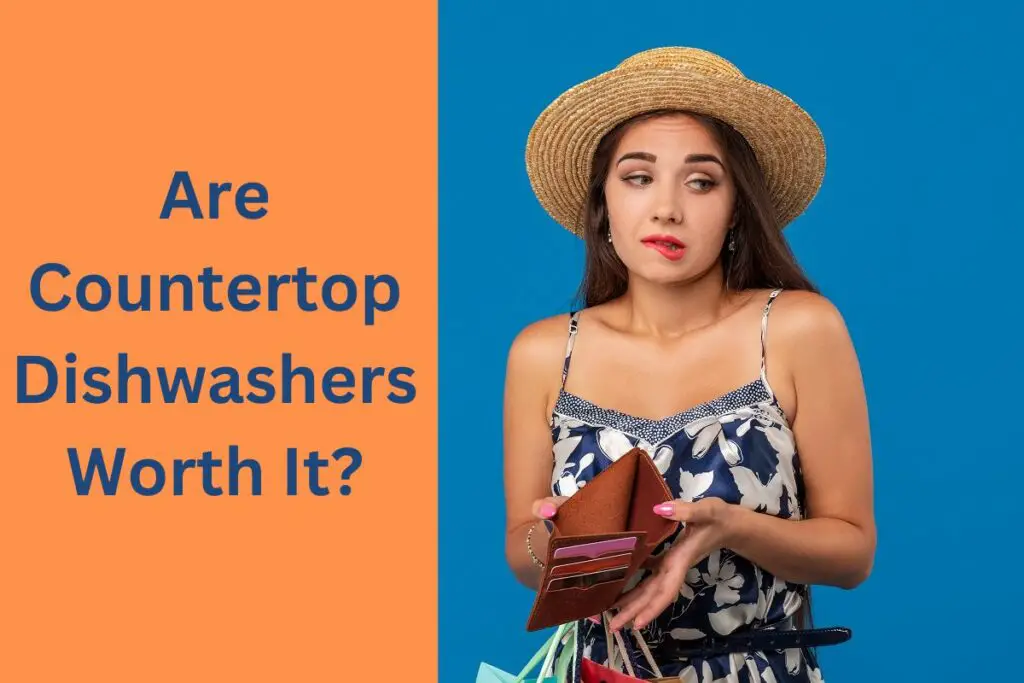 Despite the benefits of countertop appliances, certain factors make them an unsuitable choice, too. Let's read into why a countertop model is worth it and when it's not.
8 Reasons to Buy a Countertop Dishwasher
There are many reasons why investing in a countertop dishwasher is worth it and these are our top 8.
1. Limited Floor Space
If you live in a small home, apartment, or dormitory or have limited kitchen space, a countertop dishwasher might be a better option over traditional built-in dishwashers or even freestanding models.
Countertop appliances are compact and designed to sit conveniently on your kitchen countertop or in a small cabinet.
Also, they don't require permanent installation or any modifications to your kitchen counter.
2. You Live Alone
A countertop dishwasher is ideal if you live alone and have few dishes to wash.
Instead of accumulating dishes for a full load in a larger dishwasher, a countertop model will efficiently clean fewer dishes.
This helps reduce odors from dishes left unwashed for long periods.
3. You're Often On the Move
Apart from being an ideal choice for those living in rental homes or temporary living arrangements, countertop dishwashers are also suitable if you frequently move.
You can opt for countertop appliances if you live in an RV or use it for travel often.
Since these compact dishwashers require minimal installation, they can be transported easily in your vehicle. 
4. For Convenience
A countertop dishwasher can ease your chore if you have a busy lifestyle or a hectic work schedule or prefer spending time on other activities instead of washing dishes.
Not only will the dishwasher efficiently clean your dishes, but it will also free up your time and energy for other essential things.
5. You Dislike Washing Dishes
Do you dislike washing dishes because it's time-consuming, causes you physical discomfort, or you can't stand unpleasant odors and residue?
Then you can use a countertop dishwasher instead.
All you must do is knock off any residual food from your dishes and load them into the machine. Then, add some detergent and start a wash cycle.
6. You Don't Accumulate Too Many Dishes
Countertop dishwashers are perfect for washing a small number of dishes.
This is ideal if you don't cook your own meals and only have a handful of dishes to wash at the end of the day.
These compact models have a capacity of about 2 – 6 place settings.
7. You're Looking for a Sustainable Option
There are increased attempts to reduce resource consumption and minimize environmental impact.
If you're an eco-conscious individual looking for sustainable options to conserve water and energy, countertop dishwashers are an excellent option.
These appliances use just about 2 gallons of water, whereas handwashing can use about 27 gallons.
The energy usage of a countertop model averages about 150kWh/year. This is much less than freestanding (~200 kWh/year) and built-in (~230 kWh/year) models.
More on that topic: Do Countertop Dishwashers Save Water?
8. You're on a Budget
Countertop dishwashers are generally more affordable than full-size built-in models or even portable freestanding models. If you're on a budget or not looking to invest in a larger dishwasher, a countertop dishwasher is a cost-effective option.
Interested in a small or full-size portable? Check our current recommendations:
Best Full-Size Portable Dishwashers: Our Choice for 2023
Best Small Portable Dishwashers: Top Picks for 2023
When NOT to Buy a Countertop
While there are many reasons why countertop dishwashers are worth it, there are certain circumstances when it's best not to buy a countertop model.
Limited Counter Space
Although these compact appliances are designed to save space, they still occupy space on your kitchen counter.
If you're already tight on counter space, having a countertop dishwasher could get inconvenient and even a bit cluttered.
In such situations, you can consider a built-in dishwasher (if you have the necessary provisions) or a portable freestanding model (that you can store away between uses). These will make more feasible options than a countertop dishwasher.
You Have a Large Family
You will accumulate many dishes if two or more members are in your household.
A countertop dishwasher may not suffice for larger loads.
And if you do use one, it will require multiple cycles with frequent loading and unloading, which is time-consuming.
You Entertain a Lot
Do you often entertain guests for dinners or parties at your place?
There's likely a lot of dishes at the end of the evening.
Countertop dishwashers have a limited capacity, and washing bigger loads would require you to run multiple cycles. This defeats the purpose of owning a dishwasher. In such cases, a dishwasher of higher capacity, like a built-in or freestanding model, is the better choice.
You Accumulate Too Many or Few Dishes
When you cook your own meals, not only will too many dishes accumulate, but the bigger dishes, like pots and pans, can't be accommodated in a countertop dishwasher; built-ins or freestanding models will be more suitable.
On the other hand, handwashing is better than running a countertop dishwasher if you don't accumulate even a handful of dishes.
You're Looking for a Long-Lasting Appliance
If you want an appliance that will last longer and are willing to spend more on it, built-in dishwashers are the best option over countertops or freestanding models.
The average lifespan of countertop dishwashers is 5 – 10 years, whereas built-in dishwashers have an average lifespan of 10 – 12 years. However, they also cost more than countertop models.
More valuable insights in our article: How Long Do Portable Dishwashers Last?
You Would Like More Features in Your Dishwasher
Countertop dishwashers have fewer features and cycle options compared to full-size dishwashers. They may not offer advanced settings like adjustable racks, specialized wash cycles, or additional compartments.
If you require a range of wash cycle options, specific features, or customization options, a countertop dishwasher may not be suitable.
Conclusion
The answer to the question, 'Are countertop dishwashers worth it?' is majorly a yes. Among the several benefits that make countertop appliances worth it are the space-saving design, affordability, energy- and water-saving features, portability, and ease of installation.
However, despite these benefits, countertop dishwashers aren't a suitable choice if you have limited counter space, there are more members in the household, you accumulate too many dishes, or you would like more features in your dishwasher.
If you're looking for a countertop dishwasher, don't forget to consider these different factors to determine if it's the right choice.
Thank you for your feedback!