Sonos has been dominating the smart speaker and wireless audio market for some time now, but the unit prices can be a bit intimidating. So how do you find Sonos products on sale?
Sonos sales can be found via signing up on the Sonos website and taking advantage of refurbished units, discount programs, and other special offers. Otherwise, most other large retailers will offer Sonos discounts, especially around holiday sale times.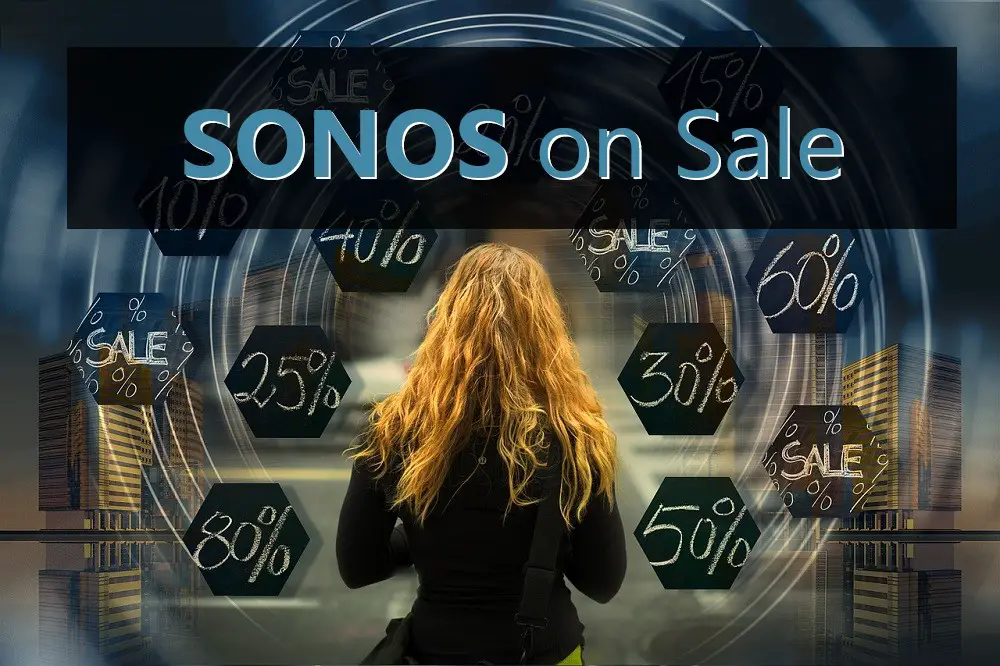 I'll take you through the general pricing of Sonos, as well as highlight the best places to find a deal as well as canvass some of the ways Sonos offers special deals to its customers.
Price Development
Sonos has the advantage of having few competitors in the space and so has more leeway over their price than others.
Their main competitors are Bose and Sony but Sonos' innovation and early moves saw them rise to the top of the wireless audio solution niche. They were able to achieve this by having an easy-to-use product that was at a good price while offering very good sound quality.
While the success of Sonos has spurred other competitors to try and lift their game, almost anywhere you look, from customer reviews to idle chatter on the internet, shows that Sonos is still leading the pack. (Sonos is a Good Brand)
Indeed, Sonos has had to deal with some pretty severe competition, including Amazon's Echo and Google's various smart speakers, particularly during the latter half of the noughties.
However, Sonos only started increasing its prices recently, with the last major price hike in 2020/2021. This has seen anywhere from a $10 increase on certain speakers in the range, going up to $100 or so on other speakers, such as the Arc soundbar.
While the portable speaker products of the Move and the Roam only saw no price increase and a $10 price increase, the Five, Arc, Sub, and Amp all saw significant increases of $50, $100, $50, and $50 respectively.
The obvious price peak during the covid pandemic in 2020 did not fully vanish until now and resulted in a higher price level.
The following table gives a nice overview of the price development of Sonos products during the recent years.
| Year | One | Five | Sub | Amp |
| --- | --- | --- | --- | --- |
| 2015 | 199 $ | 399 $ | 699 $ | 499 $ |
| 2018 | 199 $ | 499 $ | 699 $ | 499 $ |
| 2020 | 229 $ | 579 $ | 799 $ | 699 $ |
| 2022 | 219 $ | 549 $ | 749 $ | 699 $ |
Sonos price development
While Sonos has remained tightlipped on the exact reasons for it apart from some generic corporate speak, of course, the elephant in the room has been the quickly rising price of the vital internals of a smart speaker, such as the computer chips.
For some hard numbers, the earnings call on 11 August 2021 from Sonos detailed what the price increases would be. Sonos mentioned that the main problem was component cost and delay rather than other factors, and this can be seen in the difference in price rises.
Sonos on Sale
Finding cheaper Sonos units is possible directly from the company and many other retailers. Shops like BestBuy, Amazon, and more will have general Sonos sales or put Sonos products on sale for common holidays and special events such as Black Friday and Prime Day.
Sonos doesn't tend to offer heavily discounted items all year round and tends to coordinate such price drops with the usual sales periods such as Memorial Day or in the leadup to Christmas.
Sonos releases a newsletter that will inform you of sales, and their website also has many offers that you can take advantage of.
Sonos Discounts
Sonos offers a range of discounts that can be applied via the Sonos website.
They give a single-use discount code to any frontline workers that can be activated via their website. Sonos also offers a student discount of 15%, as well as a corporate program that allows you to 'make an impression on your clients, employees, and event attendees'.
Sonos also has a refer a friend program that works by creating a referral link on the Sonos website and then sending it on to friends, who then use it to create an account and receive a 10% discount.
One of the more interesting Sonos discounts is the upgrade program, which allows up to a 30% discount if you're an existing Sonos customer and want to swap out your older model for a new one. Check the Sonos website for eligible products.
External Sonos Discounts
Sonos products sold at other retailers such as the big box electronics stores have sales throughout the year, and general discount coupons from them can be used towards the purchase of Sonos products.
Amazon is always going to be one of the best places to look when searching for steep discounts, especially around the large holidays as well as internal Amazon-only sales discounts.
If you manage to receive a gift card for a birthday or through some work online, putting it towards a Sonos purchase is not an altogether bad idea.
Refurbished Sonos
One of the best places to check for refurbished products is the Sonos promotions page, which has a small selection of refurbished units for sale at reduced prices.
Per the Sonos website, every refurbished product undergoes thorough testing to guarantee quality.
On top of this, refurbished Sonos units come with the same warranty as a brand new Sonos, are repackaged into mint condition packaging, and come with all the usual accessories you would get with a new purchase.
You also get free shipping and Klarna eligibility with a refurbished unit. Klarna is a discount service that automatically searches for and applies the best deals to the product.
Sonos is currently offering a refurbished One (Gen 1) for $159 whereas a new version of the One will set you back $249.93.
A refurbished Beam (Gen 1) is being sold for $319 whereas you can expect to pay over $500 for a new one.
Used Products
The second-hand market for Sonos is relatively stable, with some great deals to be had. 
An interesting dynamic of the Sonos market is that there are generation 1 and generation 2 Sonos devices, often referred to as S1 and S2 respectively.
While these systems can work well together under certain configurations, many consumers opt to just upgrade to S2 speakers and offload their S1 devices. This means that you can get a quality, working secondhand Sonos device for a very low price.
The downside is the lack of features compared to the S2 devices, but it will still play audio like usual and just may missing features such as voice control.
All the usual places offer secondhand goods, such as Amazon and other local markets. The discounts range from a mere $10 for products in as-new condition to over 50% discounts for units with cosmetic or superficial damage.
Thank you for your feedback!