Sonos products are high quality, easy to use, and unique in some of their functions, but given their price point, it is natural to be concerned about how long they will last before making such a big investment. So how long do Sonos products last?
Sonos products have a good reputation in terms of build and software quality as well as performance. You can expect the device to work well for five to 10 years and Sonos will provide support for the lifetime of the product, as well as update software.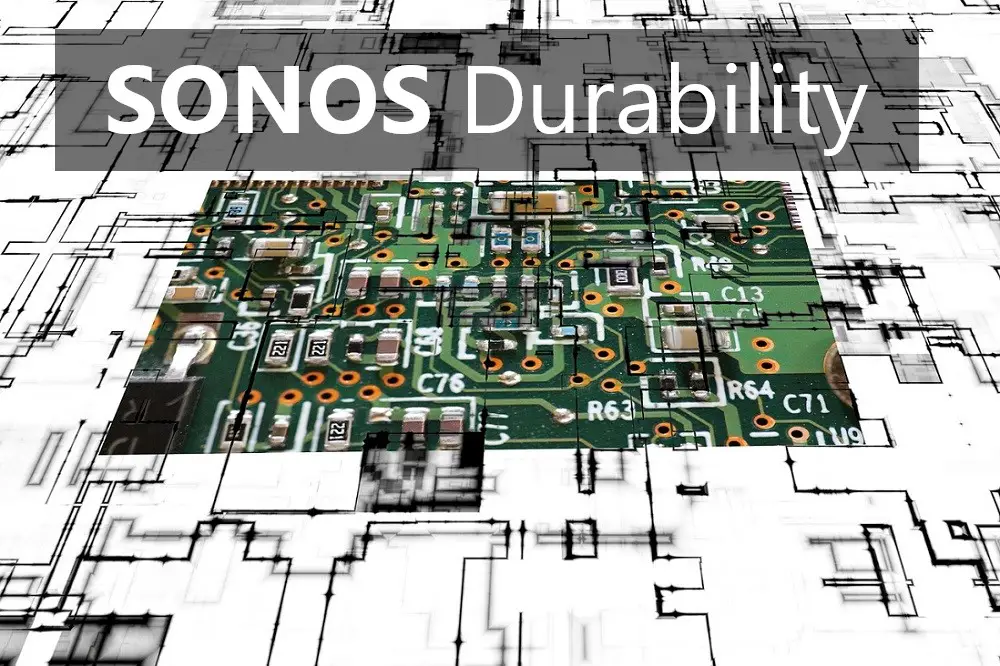 I'll take you through the main aspects to be aware of in regards to warranties, support, repairs, and functionality of Sonos speakers, as well as consider how long you can expect the average Sonos speaker to last.
Do Sonos Speakers Last Long?
It is important to note that Sonos has a specific business plan that involves enticing customers who don't know what they're missing out on. Sonos realized that while there is more music choice than ever before, people listen to terrible equipment.
So how can you make someone spend hundreds of dollars on a speaker? Sonos' answer was to make a high-quality product, and users will come.
Specific statements around the Sonos Play:5, one of their second-generation speakers, have been that they expect it to last 10 years in the hands of the average consumer. This is not an altogether unique claim in the speaker space.
However, Sonos claims that it makes streaming music simple, and also the technology in the speakers, like Trueplay, will automatically make the speakers sound good no matter what type of room or orientation the speakers are in.
But the question becomes: will this still be supported into the future if a new technology comes along that gets rid of Sonos mainstays like Bluetooth or WiFi? 
Sonos hopes you think that answer is yes, particularly because they have a track record of making their older speakers still work with the latest technology five or 10 years after being released.
This is also the case with a Play:5, which came with a pair of microphones that had no use when the device first came out, but now with the explosion in voice assistants usage like Amazon's Alexa, they have a very important use which differentiates them.
Sonos have also released a range of speakers meant to be highly water-resistant and dustproof, the latter being one of the biggest killers of speakers out there. (read on here: Are Sonos Speakers Waterproof?)
How Long Are Sonos Products Guaranteed?
Sonos offers a one-year full warranty on all products. This covers defects in materials and workmanship in every Sonos product for one year from the date of shipment.
This warranty cannot be extended but it is transferable if you give or sell the Sonos to another person.
This may get supplemented by local consumer laws and regulations.
The warranty won't cover the Sonos product if the problems result from external causes (generally dropping it or misuse) or not using it according to Sonos' product instructions.
A Sonos unit will also not be able to be returned under warranty if there are other details such as a missing or altered serial number, evidence of previous tampering or opening of the housing, or any problems caused by using unofficial accessories, parts, or components.
It's also worth mentioning that Sonos has a 45-day return policy, where you will get a full refund if you're unsatisfied for any reason.
To be eligible for this, you will need to have purchased the product directly from Sonos and have begun the return process within 45 days from the original shipment date. You'll also need to send the unit back in the original Sonos packaging, with all materials included.
There are some other conditions that need to be followed, but if done so you will receive either a full refund or a repaired product.
When Does the Sonos Support End?
Sonos will continue to provide product support even after the warranty expires, and you can call their support center anytime to get help if your Sonos stops working, even if it is not officially being sold anymore.
Sonos also made the decision to release the S1 and S2 versions of their apps, with the S1 being able to still run legacy Sonos speakers so they don't just become e-waste.
That's not to say that every Sonos item is fully supported while the company still exists, as functionality and software updates do stop for older speakers, but that doesn't mean their basic functions are remotely locked. 
So while you won't lose functionality, you also won't gain all the nifty new features for the modern Sonos speakers.
As a general rule, Sonos looks to support products with software updates and patches for approximately five years after last being sold by Sonos.
Can I Use Sonos Products After the End of the Support?
Sonos has no issues with you using their older products if they still work for you. Public statements made by Sonos executives have also pointed to them not wanting people to have to go out and buy a new speaker every year like smartphone companies want you to.
So while your product may be no longer receiving official updates or having its software refreshed, that doesn't mean it will cease to work.
Bug fixes are not included in this legacy policy, so if some exploit or issue comes up which causes issues with older Sonos devices, Sonos will endeavor to update these remotely to remove these problems.
Sonos' philosophy seems to be that access to services and overall functionality will eventually be disrupted for legacy Sonos devices, particularly as partners evolve their own services and features.
But the basic functionality of wireless connectivity to play music is unlikely to be impacted across the Sonos range, even for some of the original Sonos devices.
Sonos also has a Trade-Up program, which gives you the option to upgrade older Sonos products to modern ones with a 30% discount. Trade-Up doesn't even require you to send or hand in your old Sonos device anywhere, you just have to prove you own it.
While there was a bit of controversy when this program first launched, Sonos no longer requires you to brick or make your old device inoperable before claiming the discount.
Thank you for your feedback!