The battle to be the best Smart TV brand is intense. Thus, every manufacturer is doing their best to come up with transformational technology. Smart TVs are getting better and more advanced. Plus, each brand is looking for ways to balance superior technology with affordability. 
The five companies that lead the market in best Smart TV brands are TCL, LG, Samsung, Sony, and Panasonic. This ranking considers factors such as picture quality, wide-angle viewing, streaming capabilities, affordability, and the Smart TV's design.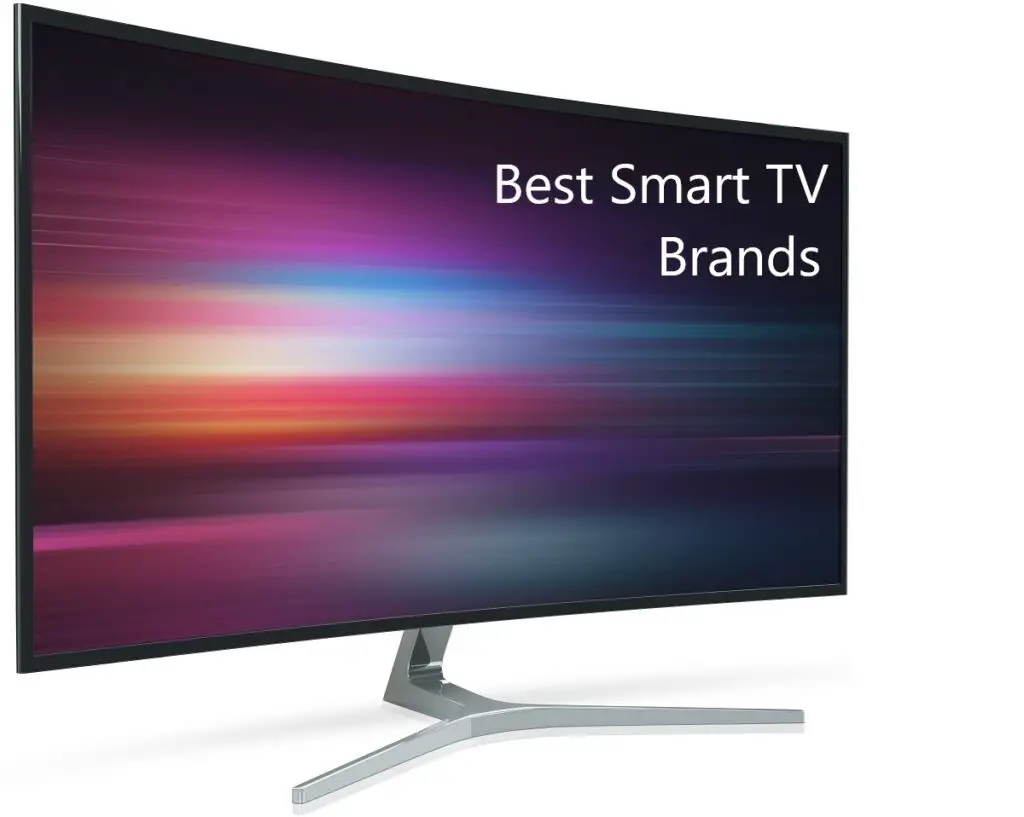 This report will compare and contrast the top ten (10) Smart TV manufacturers in the world. It has never been so easy to make an informed buying decision.
10 Best Smart TV Brands
1. LG
With advanced features like high-definition displays, superb sound quality, smart interaction, rich content, and more, LG delivers the best Smart TVs to help you complete your entertainment experience. 
LG offers unique features and functionality in both OLED and LCD Smart TV models. Their TVs offer immersive 4K and 8K. Their unmatched webOS delivers intuitive navigation and screen mirroring capabilities.  
2. TCL
TCL offers the best in terms of affordability, reliability, and user experience. While TCL Smart TVs are not that popular in the U.S., they are an affordable alternative in case you want a larger screen on a small budget.
TCL Smart TVs offer the best value for money. You get premium Smart TV technology without having to pay an arm and a leg. Their TVs stream in an instant and come with a range of smart, high-quality features. Experience the best in picture quality with Dolby® Vision™ HDR and WCG Pro for lifelike images, smooth motion clarity, and an exciting contrast ratio.
3. Samsung
Samsung Smart TVs are superior to most other Smart TV brands. Look for Smart Remote capabilities and access to secure apps running on the Tizen Operating System. 
Look for compatibility with Amazon Echo and Google Home. Look for SmartHub, which uses the cloud to deliver the latest Smart TV content.  
4. Sony
Sony has a long and trusted tradition of offering products built to last. Also, Sony has an outstanding track record for excellent customer service. 
Their Dual-band Wi-Fi is faster than Wi-Fi on other brands, so you can stream your favorite shows without interruption. And with Chromecast™ and Miracast™ compatibility, plus amazing technologies like 4K X-Reality PRO and TRILUMINOS™ Display for mobile, Sony's Smart TVs deliver the ultimate picture quality. 
5. Panasonic
Panasonic's Viera Connect smart platform underlines its dedication to providing consumers with top-of-the-range entertainment technology. 
Their line of Smart TVs offers award-winning features like 3D picture technology, super-bright displays with full-array LED backlighting, Smart Viera Connectivity, and multiple ways to connect to the internet.
6. Hisense
Hisense brings you affordable Smart TVs in simple designs coupled with premium technologies. Hisense Smart TVs offer the full Android experience with hundreds of streaming channels. 
You also get superior web surfing capabilities with access to apps, social media, email, and TV browsers.
7. Vizio
Vizio Smart TVs stand out because of cloud connectivity. Your apps are cloud-served and so are the firmware and software updates. 
Vizio Smart TVs offer superior image and sound at almost every price level. However, they are best known as the top in class for budget TVs. 
8. Xiaomi
The Xiaomi line of Smart TVs displays impressive picture quality and color contrast. Powered by quad-core processors, Xiaomi TVs have impressive lag times with smooth streaming. 
Their 4K screens, ambient lighting, and exceptional build quality defy the affordable prices. 
9. Toshiba
Toshiba Smart TVs make use of In-Panel Switching (IPS) panels to deliver wide viewing angles. With Toshiba, you're assured of low lag times, fast search experience, and reliable connectivity. 
Previous versions run on the Toshiba Places platform. However, newer models run on either VIDAA or Android.
10. Amazon Fire TV
The Amazon company's first venture into TV manufacturing has led to outstanding results. The Amazon Fire TV is easy to use, provides excellent picture quality, cinematic home theatre audio, and fast online performance. 
It has arguably the best voice integration with Alexa, more than 5,000 channels, and over 80,000 Alexa skills.
5 Smart TV Brands to Avoid
Not all Smart TVs are created the same. Some will disappoint you with poor picture quality, high lag, poor support, too few apps, and lack of browsing capabilities among many other reasons. 
1. FFalcon
While this brand boasts of a great user interface, it has several issues:
Poor HD rating
Poor sound quality
Doesn't conform to the SD standard
2. Insignia
While Insignia has some fairly good non-4K TVs, they fail in 4K delivery due to:
Poor picture quality
Poor design
Poor sound quality
Settings aren't user friendly
3. Hitachi
Japanese manufacturers have always had a reputation for high-quality electronics. It's a surprise that Hitachi, a renowned brand name, makes our list of Smart TVs to avoid. Reasons include:
Screen blinking
Poor picture quality
Limited Smart features.
Poor sound quality.
Poor support in terms of after sales services and warranty.
4. RCA
Though RCA TVs run on the Roku operating system, they can be a letdown in several areas. These are:
Lack of local dimming
Poor picture quality
Narrow viewing angle
Inconvenient port placements
Limited HDR compatibility. 
5. Westinghouse
Westinghouse Smart TVs are known for their great voice recognition and remote connectivity. However, users have expressed dissatisfaction in:
Lack of deep black colors.
Poor viewing angles. 
Skewed color spectrum. 
Non-HDR Smart TVs
Best 4k Smart TV Brands
There are so many Smart TV brands in the market boasting 4K. It's easy for most consumers to assume all 4K Smart TVs deliver nearly the same experience. However, the brand of the Smart TV determines more than just the name and logo. 
When looking for your best 4K Smart TV brands, these are the features you should be looking at:
Smart TV operating system
App store and compatible apps
Unique software for sound and picture. 
Gaming modes
Wide angle viewing
Voice integration
1. LG
LG 4K Smart TVs are mostly mid-range and high-end TVs. Even though they come at a premium price, expect some of the best features in Smart TV technology. 
LG 4k Smart TVs run on the LG proprietary operating system webOS. The brand is the global leader in OLED technology. Their 4K TVs deliver high-quality pictures and come in attractive designs. LG is renowned for its customer support and reliable warranties. 
2. Samsung
Samsung is a close second when it comes to Smart TV technology. Samsung 4K Smart TVs run on their proprietary Tizen Smart TV platform which ensures all available TV apps are safe for use. The Samsung brand is also known as the world leader in quantum dot technology. 
3. Sony
Sony has long established itself as a leader in TV technology and it shows in the 4K Smart TVs. Sony 4K TVs deliver an excellent sound experience with the Acoustic Surface Audio+ technology. 
Sony Smart TVs run on the Android TV operating system, giving users access to the easy-to-use extensive Google Play Store network of apps. 
4. TCL
TCL is a popular choice for mid-range 4K Smart TVs. TCL's main attraction is they offer some of the best and latest TV technologies at budget rates. 
TCL runs on the Roku platform with advanced voice integration and an intuitive user interface. 
5. Vizio
Vizio is arguably the best budget TV for 4K Smart TVs. All current 4K Vizio TVs are OLED and the app selection is extensive. 
Vizio 4K Smart TVs run on the SmartCast platform, which sometimes results in limitations on the Smart experience you would expect from most Smart TVs. 
Best LED Smart TV Brands
When shopping for Smart LED TVs, you want to look at screen resolution, contrast, connectivity with other devices, and internet connectivity. Some of the top brands include:
1. Panasonic
Panasonic LED Smart TVs are mid-range products with great sound and picture quality. 
Panasonic TVs are typically made to last long without the need for repairs. Their customer service is good and their warranties are reliable. 
2. Sony
Like most other Sony TVs, their range of LED TVs boasts great picture quality, exceptional sound, and above-average build quality. 
Though they are typically more expensive than other brands, Sony LED Smart TVs last longer and it's easier to source original parts from the manufacturer.
3. Xiaomi
Xiaomi's Mi LED Smart TVs are slim, have a wonderful design, great processing engine, and awesome contrast performance. It's a budget LED Smart TV with premium functionalities.
4. Toshiba
The other LED TV brands are great for home viewing. However, if you're looking for the best LED Smart TV to use in a commercial space such as an office or sports bar, then Toshiba's LED range could be perfect for you. 
The colors are crisp and clear and video motion is smooth, even when viewing fast objects such as race cars or sports. 
Cheap Smart TV Brands
With the rate of emerging technologies, people no longer buy one TV to last a lifetime. Thus, you don't need to spend a fortune to get a decent TV that will last you a few years before the next wave of emerging TV technologies. 
However, you also don't want a Smart TV which might save you on buying costs and make up for it with limited Smart options, lack of internet connectivity, poor sound or picture quality, or constant repairs. With that in mind, we have compiled a short list of some of the best cheap Smart TVs in the market today. 
1. Hisense
Hisense Smart TVs are some of the best entry-level budget TVs in the market today. They offer the best value for their price range while delivering great overall performance. 
The picture quality works great in both bright and dark rooms. They typically have a good build quality and look nice as part of modern decor. 
The lag time is short for online streaming and browsing. The response time in gaming is good too. 
2. Vizio
Vizio is well known as a budget brand with great performance. Their M7 series Quantum 2021 has premium gaming features you're only likely to find in high-end Smart TVs. 
Vizio TVs typically have low input lag and quick response time. The brand's Smart TVs have full array dimming with a high contrast ratio. However, most models lack HDMI 2.1 ports and only have HDMI 2.0, which means you can't take full advantage of PlayStation gaming. 
3. Amazon Fire 
Amazon Fire Omni is Amazon's first attempt at penetrating the TV market. The Omni is affordable and has lots of Amazon Fire features. 
Omni has a low input lag and boasts hands-free control through Alexa voice integration. The display has high color contrast and the TV has a simple yet modern design. 
Best Smart TV Brands for Streaming
The most common use for a Smart TV is streaming. Your favorite or most popular shows are now more likely to come through a streaming service than from a major network. Even the major networks now have apps to deliver streaming services to their viewers. 
So, when shopping for a Smart TV, one of the most important considerations is how well it streams content. Here's a list of some of the best Smart TV brands for streaming. 
1. Samsung
You can't beat Samsung's Tizen operating system in making accessible a wide range of streaming services. In addition to compatibility with most of the major streaming apps, the Tizen app store, Smart Hub, has strong security protocols. Thus, you're always sure of safe use. 
Tizen OS is perfect for streaming as it offers a wide range of content, apps, and features. The 'Universal Guide' helps you find movies, TV shows, and sports events easily, choosing from over 1,000 channels in more than 20 countries. 
Tizen OS supports several voice integrations including Alexa, Google Assistant, and Samsung Bixby. 
2. LG
LG Smart TVs are easy to navigate and make accessible a massive library of TV apps. The webOS is a user-friendly interface delivering a wide library of TV apps. 
The Magic Remote and OLED display make streaming easy and cinematic. 
3. Hisense
If you're looking to stream within a budget, then Hisense TVs have the best budget-friendly Smart TVs with great streaming capabilities. Hisense Smart TVs run on the Android TV operating system, delivering all the advantages of Google Play Store's wide retinue of streaming apps. 
The displays show excellent color contrast with exceptional black uniformity. The screen looks good in a dark room while still delivering good visibility in a bright environment.
Thank you for your feedback!