The primary purposes of a portable dishwasher are its portability and ability to fit into tight spaces for those who live in small spaces or travel often (like apartments, RVs, dorm rooms, etc.)
When you're tight on space, it's essential to consider portable dishwasher sizes that suit your needs and available space appropriately.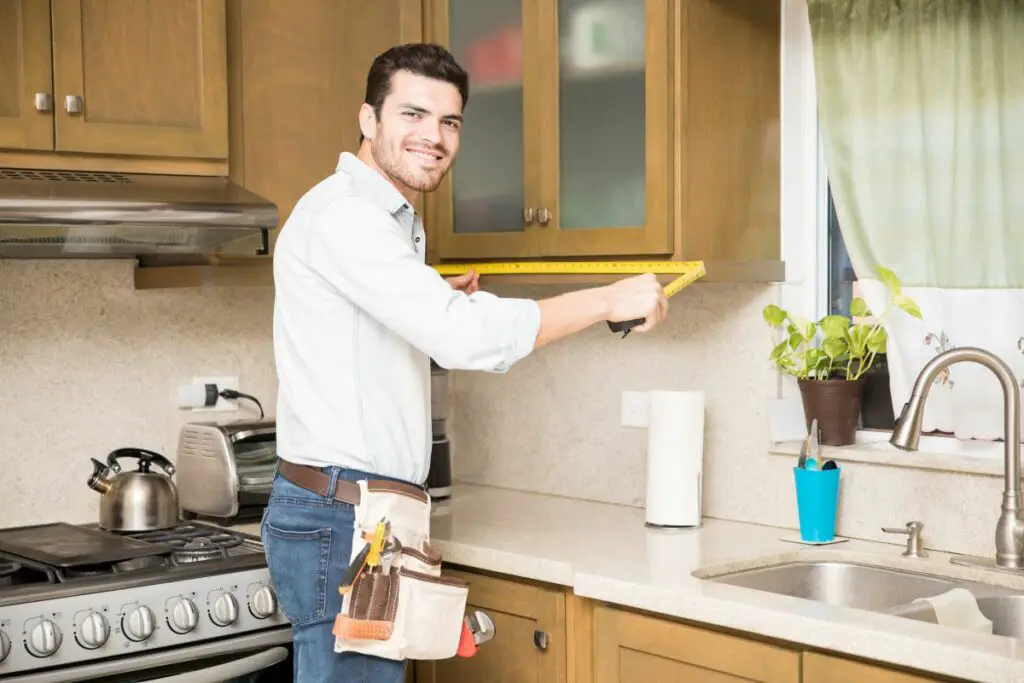 From choosing between countertops and free-standing models based on the space you can dedicate for one to other factors that go into selecting a portable dishwasher, here's a size guide to help you choose what's best for you.
Free-Standing Portable Dishwasher Sizes
Most free-standing portable dishwashers range from 18" wide, 36" tall, and 26" deep to 24" wide, 37" tall, and 30" deep. The size of portable dishwashers typically corresponds to how many place settings you can wash at a time. 
Here are some different size examples of free-standing portable dishwashers:
As evident from the table, the free-standing dishwashers come in widths of 18 inches or 24 inches. The 18-inch models are more compact, while the 24-inch models are almost similar to built-in models.
Loading Options
Most freestanding units have between 8-12 place settings. While the 18-inch models typically have 8 or 10-place settings, the 24-inch models have at least 12-place settings. 
Some 24-inch models have up to 15 place setting capacities, meaning you can wash up to 173 items in one go, helping save time and effort.
Do Free-Standing Dishwashers Fit Into the Counter?
Free-standing dishwashers can be installed in the same cabinet opening as a built-in unit, provided you have the necessary clearance. The 24" wide portable dishwasher is similar to the built-in model and can fit through most cabinet openings. 
For a wheeled portable dishwasher 23 ⅞" wide, 20 ¾" deep, and 33 ⅞" height, the dishwasher opening must have a 24"-25" width, 24" depth, and 34"-35" height clearance.
There are convertible portable dishwashers that you can use as a free-standing dishwasher or a built-in (with an installation kit). You can always convert this to a built-in at a later date.
Such dishwasher dimensions are 36 ⅛" in height, 24.75" in width, and 27" in depth, with the door requiring a 24.75" clearance to open.
Countertop Portable Dishwasher Sizes
A countertop dishwasher is the best choice if you have nowhere to store a portable dishwasher when it isn't in use.
While there isn't a standard size for countertop models, most units are about 20" deep, 22" wide, and 17" tall. The different models typically range from a four-place setting to a six-place setting capacity.
Countertop models come in varied sizes; depending on your available counter space, you can pick the small, medium, or large units.
Here are some different size examples:
As evident from the table, there is no standard dimension for countertop dishwashers. There are small, medium, and large sizes, with different place settings.
Techjut tip: A countertop dishwasher might not be a good choice if you have little counter space or none right next to the sink. 
Loading Options
The loading options vary for the different sizes of countertop dishwashers. While most countertops have a capacity of about six place settings, the dinner plates they can accommodate can range from 10-12 inches.
Here are the loading options for the different sizes:
Small models

The Farberware model – two place settings
The Magic Chef model – three place settings 
The HAVA model – four place settings (4 cups, 4 bowls, 4 dinner plates, 4 small plates, 7 spoons, 7 forks, and 7 knives) 

Medium-sized models have about six place settings (and a silverware basket)
Large ones usually have six place settings and can accommodate dinner plates up to 10", bowls, saucers, mugs, cups, wine glasses, and small vessels.
How To Choose The Best Size
Buying a new portable dishwasher requires careful consideration of a few factors to decide what will suit you best.
Here's a short and easy guide to help you select the best-size portable dishwasher for your space and needs:
Choice of Portable Dishwasher Type
What type of portable dishwasher are you considering? You have the choice of countertops or free-standing models.
To make this choice, there are some other factors that you must consider:
Load Capacity
Checking the load capacity of a portable dishwasher or the number of place settings is a good place to start while hunting for a suitable-sized one.
For 1-2 members, countertop dishwashers would be an appropriate choice.
For more than two members, a free-standing model would be better suited.
This would also be a good choice for those who entertain often and frequently have guests over for dinner.
Frequency of Use
Apart from the load capacity, you must also consider the frequency of use to decide the dishwasher size that will suit your needs.
If you run your dishwasher daily, the recommendations based on the load capacity (above) apply well. However, a free-standing model is also a better choice if you tend to accumulate dishes over a few days.
Techjut tip: Avoid accumulating dirty dishes in your dishwasher; it could lead to bacterial growth and a foul smell. If you absolutely must, rinse the dishes before loading them into the appliance. (Read more about smelling portable dishwashers)
Type of Vessels You Use
You mustn't overlook this essential factor when selecting an appropriate-sized portable dishwasher. 
If your household has full-fledged meal preparation regularly with pots and pans, you'll need a free-standing dishwasher to accommodate the bigger vessels.
Measure Your Kitchen Space
Once you've decided between a countertop dishwasher and a free-standing one, the next critical factor is to measure the dedicated kitchen space where you intend to keep the appliance.
Use a measuring tape to measure the space.
For Countertop Dishwashers
For a countertop dishwasher, measure the height between the counter and overhead storage cabinet (if there are any).
Also, measure the counter space's width and depth (front to the wall).
While taking measurements, remember that if you opt for a countertop dishwasher with a built-in water tank that you can fill manually, you mustn't jam it between the counter and overhead cabinet.
It will need sufficient space to open the tank's cover from the top and fill the water.
For Free-Standing Dishwashers
Since free-standing dishwashers are on wheels and can be rolled away between uses, you can keep one in any corner, away from sight.
However, if you're tight on floor space and looking to keep your portable dishwasher in a specific place, you'll want to get the measurements before looking for a suitable appliance.
Measure the height, width, and depth of the space.
If you're looking for a portable dishwasher with a butcher block top (because you could use additional counter space for storage or food preparation) and placing it at the end of your kitchen counter, measure the height from the floor to the top of the kitchen counter.
Budget
Once you have the space measurements figured out for a countertop or a free-standing unit, you must decide how much you're willing to spend for a new (or used dishwasher).
Based on your budget and the dimensions, it will be easier to filter your search and narrow down your choices.
Of course, we do have an article about that: Portable dishwashers can be expensive, here is why.
Brand
Finally, if you're looking for any specific brand/s for a portable dishwasher, you can check at a local retail store or online for the available choices.
While it's always better to physically check the new appliance at a store (to ensure its size is suitable for your space), you'll find that the appliance dimensions provided online are also accurate.
Some of the brands that offer portable dishwashers include Bosch, LG, KitchenAid, GE, RCA, SPT, Whirlpool, Farberware, and Black+Decker. However, each of these brands won't have as many options for portable dishwashers as built-in dishwashers.
Conclusion
A portable dishwasher is designed for convenience and portability in homes that don't have sufficient space for a built-in unit. 
Whether you're planning to get a countertop model or a free-standing one on wheels, it would help to know the exact space dimensions to narrow down your search to suitable options.
Some free-standing models can also be converted to built-in with an installation kit if you move to a place where you have the space for installing a built-in dishwasher.
Thank you for your feedback!