While the commercials may show Sonos being perfect for everyone, it can be hard to silence that voice in your head that tells you that your humble abode is different and that Sonos won't work well. So let's look at some of the best Sonos setups for different rooms.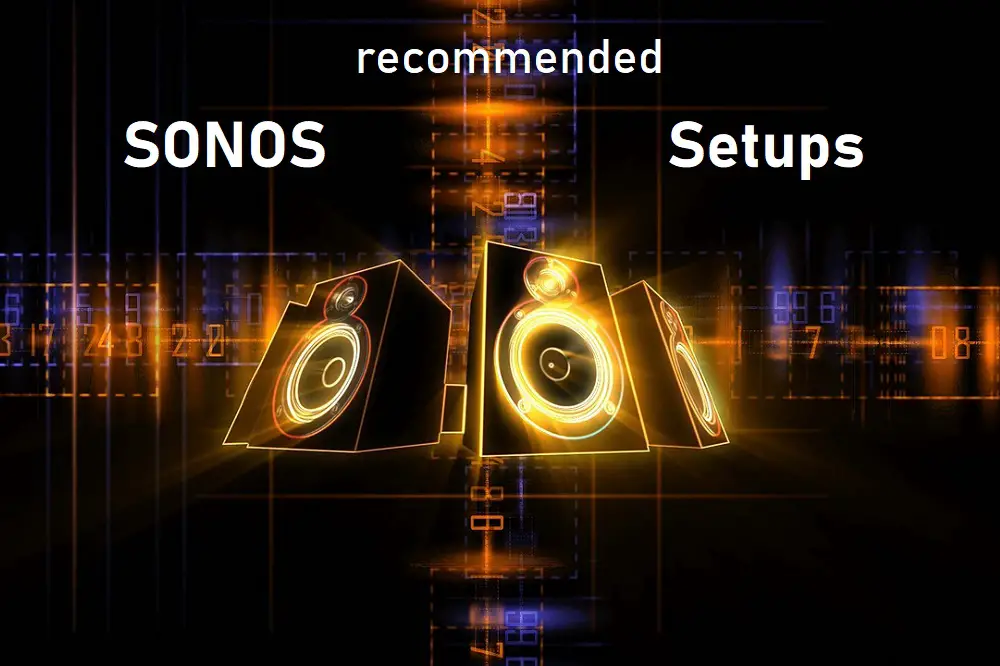 We'll look at the setups that would best work for the living room, bedroom, large rooms, apartments, and multiroom setups, as well as consider what the entry-level choices would be, and the premium or best Sonos that money can buy.
Sonos' Trueplay Makes Each Setup Awesome
Before we get into what the best setup is for any particular room, it is important to first talk about Trueplay.
This is essentially a calibration tool that temporarily utilizes a microphone in a device such as an iPhone to measure sound reflections off your room's walls.
Some modern software and technology help it to decipher room size including important features such as layout, speaker placement, possible furniture issues, and any other relevant audio information.
Exactly how Trueplay works is a Sonos secret, but does make dynamic changes to how the sound is played to get it to fit the particular properties of that room.
After following the steps and doing the calibration, Trueplay will then operate to adjust the speakers, tweeters, and other components to get the best sound quality possible. 
Best Sonos Setup for Living Room
Most living rooms will tend to be open, needing a lot of power in the speakers to fill the room as best as possible. These larger size rooms will also benefit from larger speakers and the addition of a subwoofer to give that extra bass feel.
Low Budget
Performance
2 Sonos Five
2 Sonos One
1 Sonos Sub
1 Sonos Arc
1048 USD
1946 USD
For the low-budget option, any of the standard Sonos speakers will work a treat, such as the One or One SL. As living rooms tend to be the center of your home you should preferably choose a stereo sound system which can be done easily with 2 Sonos Five.
You could also look at the Sonos Ray which has an optical or WiFi connectivity option, TV remote sync and supports Apple Airplay 2.
The Ray is a great, compact soundbar that can be easily put in a central location in the room such as on a TV stand or mounted to the wall via the Sonos Ray Wall Mount.
For best performance, you'll want to look at a surround sound option that includes a soundbar, two speakers, and a sub, such as the Sonos Immersive Set. This includes the Sonos Beam with a bonded sub and two One SLs.
Through a combination of Trueplay and Sonos connectivity, the Immersive Set will calibrate itself to play the best sound mix for the room it is placed in.
Best Sonos Setup for Bedroom
The bedroom is the one room where you will spend a fair amount of time, although depending on your routine you may be asleep for most of it. This means you don't necessarily need a permanent placement of the Sonos speakers in the bedroom.
Bedrooms will be among the smaller, enclosed rooms in a house or apartment, with an ability to have a door closed to further contain the sound.
This means that even a single Sonos speaker will be able to adequately fill almost any bedroom unless you have one of those California King mattresses and a room made to fit it in relatively to make it look like a standard-size bed.
If you intend to only use your room for sleeping and not much else, then a great low-budget option that gives great performance but also mobility would be the Sonos Roam or Sonos Move.
These are the portable speaker options that also have Bluetooth connectivity and can be carried with ease to another room for use there. They can still be added to a Sonos room so that you get synchronous play across all speakers via the app.
They are standalone, run on both internal batteries and charging stations, and connect wirelessly, meaning you don't need elaborate electrical setups to get it going.
For example, this gives you a great audio stream for when you're in your room getting ready in the morning so that you can listen to a podcast or some motivational music. WiFi connectivity and the ability to plop the speaker down anywhere are great features of the above.
| Low Budget | Performance |
| --- | --- |
| 1 Sonos Roam | 2 Sonos One |
| 143 USD | 599 USD |
After you're done, it can then be carried to the kitchen for uninterrupted listening for when you start breakfast. Sonos' portable range is also unique in that you don't sacrifice large audio quality drops just for portability.
The Two Room Set from Sonos would be a great choice if you want to splurge on a good bedroom setup with a top performance, as they feature voice control, touch control, and support Apple Airplay 2. You get two of the Sonos One, a great speaker that boasts all of the newest Sonos features.
These speakers will be bonded together in a stereo pair, meaning you get a surround sound set up that operates effortlessly via WiFi. You can also pick up a stylish pair of Sonos One Stands to complement. 
This is one possible premium setup, but you could also consider adding in a soundbar or sub to give it more power, particularly if you have a TV in the bedroom that you want to give a surround sound feel.
Best Sonos Setup for Large Room
Any large room in your house could be the center of entertainment for any guests, and being a larger space you want to make sure that any audio system is able to properly fill the space.
Large rooms tend to be spread out, often having high ceilings as well as furniture that will impact the ability of the sound to reach all corners of the room. This means you'll want to ensure you get a system on the larger side to compensate for this.
Low-budget setups in large rooms still have a great sound and are not cheap. For a great complement to a TV system or for general audio playing, look at the Entertainment Set with Beam which comes with a Sub (Gen 3) and a Beam (Gen 2). The sub will connect to the Beam using Sonosnet, which means no wires are needed.
The Beam will also be set up via the Sonos app and doesn't require any messy cables, meaning you can set it up in almost any way you want to give an appropriate power cord, which itself is easy enough to hide away.
Low Budget
Performance
1 Sonos Sub
1 Sonos Beam
1 Sonos Sub
1 Sonos Arc
2 Sonos One SL
1699 USD
2999 USD
The Beam comes with Dolby Atmos, a way to get the highest quality sound from your Sonos setup, as well as the usual Sonos features of Apple AirPlay 2, voice control, touch controls, TV remote sync, and HDMI eARC.
HDMI ARC (the latter standing for Audio Return Channel) is a protocol that works via the HDMI standard and should help reduce the number of cables you need due to both video and audio streaming becoming easier. 
This setup will have enough power to easily fill the room, especially when you are entertaining guests and want everyone to still hear the background music.
For one of the ultimate performance setups, look at getting the Immersive Set with Arc, which comes with the premium smart soundbar Arc as well as the Sonos Sub, and two One SLs, to which you can get a pair of two more One SLs to really get that surround set up.
This amount of speakers means you can put the soundbar, sub, and One SLs at the front and center of the room, and then have the other One SLs as satellite speakers at the back of the room.
Best Sonos Setup for Apartment
Apartments have the advantage of being able to have single speakers or single room setups that can reach the entire space in most situations. You will also have more corridors or corners that can prevent audio from easily reaching all areas clearly.
Of course, apartments can be tiny or huge, and a studio apartment will have quite different acoustics compared to an apartment with multiple rooms, but either way, a studio apartment will benefit from one or two speakers in most situations.
So look at using a Sonos Roam or Move to get portable sound quality at a solid price point that can be moved around the apartment easily while still also having WiFi connectivity via the Sonos app.
| Low Budget | Performance |
| --- | --- |
| 1 Sonos Move | 2 Sonos Five |
| 319 USD | 1048 USD |
Another idea is to put the charging station in a central location where the speaker will spend most of the time.
For a more upmarket Sonos setup, keep in mind that you can have up to 32 Sonos devices per Sonos app, so you can have multiple speakers throughout the apartment all playing in sync, so look at picking up the premium speaker Five, which can be in stereo pairs.
If you find this isn't quite powerful enough, Sonos allows you to keep adding speakers such as a soundbar or sub in all the standard surround sound configurations. Use the common rooms such as the living room or kitchen area for the more involved Sonos setups.
Best Sonos Setup for Multiple Rooms
Multiple rooms spread out across a residence will have varying features and limitations that will significantly impact the quality of sound.
However, you're likely to have walls and layouts that will prevent audio from penetrating these walls easily, even to the point that it may impact the connectivity between devices.
You should consider setting up Sonosnet in situations where you find some speakers in outlying rooms lose connectivity such that they won't play the audio stream like the other speakers are.
Sonosnet is Sonos' own connectivity system that starts connecting nearby Sonos devices when you put at least one Sonos device on ethernet directly connected to a WiFi router. 
For budget but quality room-filling sound, you can then use either a Sonos One SL or Sonos Five to bring Sonos to each and every room, or use the soundbars like the Ray or Beam.
Low Budget
Performance
1 Sonos Ray
1 Sonos One SL (per extra room)
1 Sonos Arc
2 Sonos Five
478 USD
1448 USD
For the premium Sonos experience, you'll want to grab a Sonos Arc, Sub, a set of Fives, and then additional speakers for the other rooms, you could go with the Sonos Roam or Move if you want more portability, or go with more Fives if you want the best sound experience.
This is a great starting point for Sonos at the top end, but you can also grab some outdoor speakers, Sonos Architectural by Sonance, combined with a Sonos Amp if any of the multiple rooms will be exposed to the elements, such as an alfresco area.
Finally, the Sonos Roam and Move can also be synced into this setup if you have multiple rooms which you won't use all that commonly.
Thank you for your feedback!