Among the several household appliances, washers and dryers are the most frequently used. How long a tumble dryer lasts depends on how often it is used; one subject to heavy use may have a shorter lifespan.
The average lifespan of a tumble dryer is between 6 to 15 years. Typically, they last a few more years than washing machines. A well-maintained tumble dryer can last for a longer time with proper maintenance. Also, a high-quality dryer will most likely outlast a cheaper model with inferior components.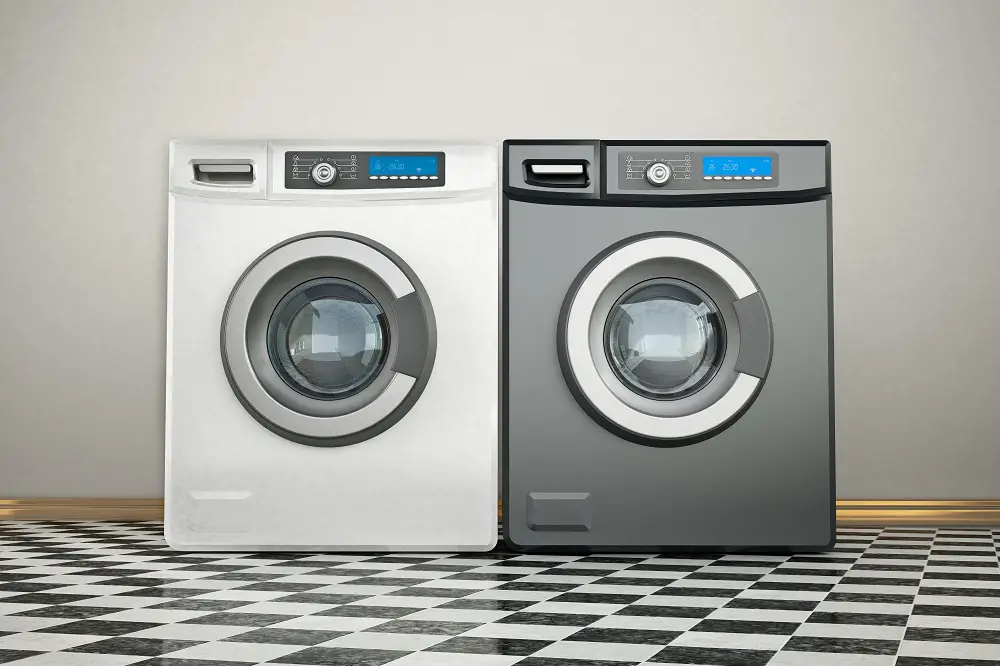 Let's look into the durability of tumble dryers, common problems, and maintenance know-how to extend a tumble dryer's lifespan.
Lifespan of Tumble Dryers
On average, a tumble dryer should last for up to 10 – 15 years, with the ultimate care and maintenance. Generally, a heat pump tumble dryer lasts longer, although they're more expensive than condenser or vented tumble dryers.
How long a dryer lasts depends on several factors, including the dryer size, the motor type, and the construction quality. Also, the frequency of usage and laundry load equally contribute to determining a dryer's lifespan.
Dryers contend with high heat for prolonged time periods and venting issues more often. They withstand high heat, buttons, and zippers slamming into the metal grate, clumps of fiber dragged through their filters, and forgotten pocket items melting in the drum.
Lasting for 10 – 15 years with these wear and tear factors is highly impressive.
It is recommended to have your clothes dryer serviced on a regular basis, at least 1-2 times annually; this ensures longevity and proper functioning.
Read our full article: How To Service A Tumble Dryer? (And How Often)
Durability of Tumble Dryer Brands
Different tumble dryer brands have different lifespans. However, with proper maintenance on a regular basis, it's possible to extend the lifespan of dryers.
How Long Do Samsung Dryers Last?
Samsung tumble dryers last between 18 – 24 years with proper maintenance and care.
How Long Do LG Dryers Last?
The average lifespan of LG tumble dryers is between 10 – 15 years, with front loaders being very efficient.
How Long Do Beko Dryers Last?
Beko specializes in budget machines offering excellent value for money. Beko dryers last somewhere between 8 – 10 years on average.
How Long Do Whirpool Dryers Last?
Whirpool dryers last 8 – 13 years and their lifespan can be extended through proper care.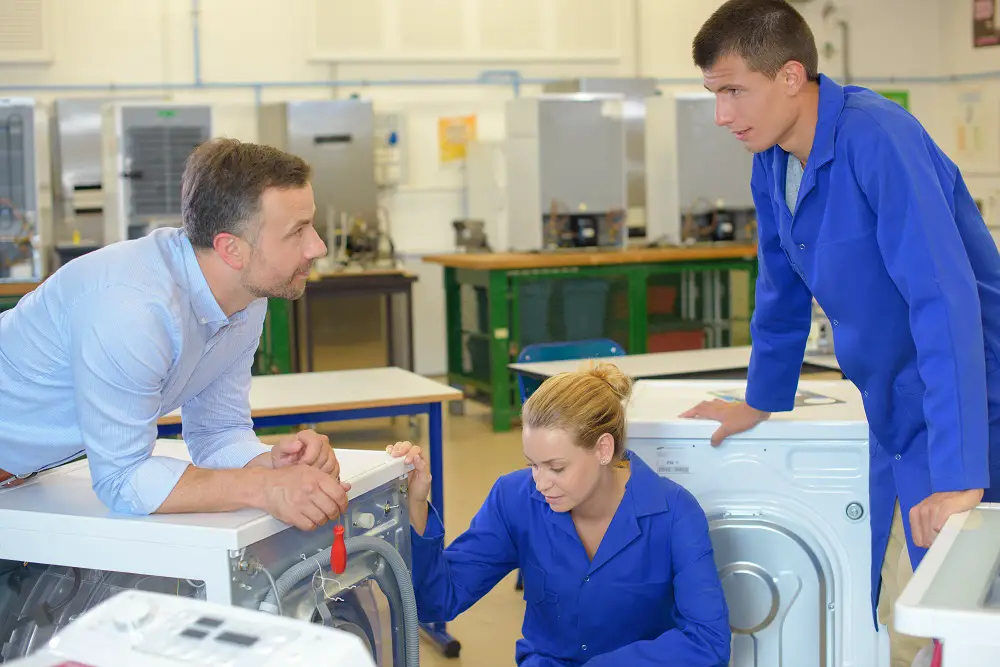 5 Most Common Reasons A Tumble Dryer Dies
As per a study by Consumer Reports, dryers work wonders for about five years after purchase. About 80% of dryers make it through the first five years without encountering any problems.
The first few common problems may arise eventually. But, with proper maintenance, tumble dryers can continue to perform well and remain trouble-free beyond the first five years.
There are a few common tumble dryer problems that cause it stops functioning. Once you've diagnosed the problem on your own or with a technician's help, you can decide on repair vs. replacement.
A Faulty Motor
Typical Replacement Cost (DIY vs Technician): $50 – $100, $250 – $450
When the dryer's drive motor turns faulty, the initial symptoms include a slight humming sound. This happens as the motor tries to rotate the shaft and pulley responsible for spinning the drum.
A Broken Drive Belt
Typical Replacement Cost: $10 – $50, $100 – $200
Dryer belts break under too much stress, usually caused by overloading the dryer. A broken belt could also be the side-effect of another, more serious technical or mechanical problem in the dryer.
A Faulty Thermostat
Typical Replacement Cost: $3 – $20, $80 – $200
If the safety thermostat has tripped, it stops the tumble dryer from heating up. A faulty thermostat is the outcome of the appliance overheating, a faulty motor, a broken drive belt, etc. Some thermostat types can be reset by a small button or a reset hole, while some others are non-resettable.
A Faulty Start/Stop Switch
Typical Replacement Cost: $15 – $60, $50 – $150
A malfunctioning start/stop switch prevents your appliance from turning on. Although designed to last for several years, a dryer's start button could've worn out.
A Broken Door Switch
Typical Replacement Cost: $5 – $10, $50 – $150
A faulty door switch/safety lock prevents the appliance from coming on. This is the outcome of a faulty microswitch contact, a broken door hook, or a striker pin.
Is It Worth Repair A Tumble Dryer?
The answer to this question isn't a straightforward one. Several factors affect the decision of whether it's better to repair your existing tumble dryer or get a new one.
| Concern | Repair | Replace |
| --- | --- | --- |
| Dryer more than 10 years old | No | Yes |
| Cost of the repair less than $400? | Yes | No |
| Problem with the heating element, drum, or faulty control panel? | Yes | No |
When To Buy A New Tumble Dryer?
You don't necessarily have to wait for your dryer to stop working to get a new one. Once your tumble dryer has crossed the ten-year mark, it's a good time to stop investing in appliance repair and replace it instead.
Consider buying a new tumble dryer if:
Repair costs are too high. Consider asking for a quote for repairs. If repairing it will cost more than 50% of its original cost, and your dryer is over 50% of its lifespan, consider getting a new dryer.
Your existing dryer is more than ten years old. Constantly evolving technology has manufacturers making dryers with more efficient heating methods to reduce energy usage and bills.
Your tumble dryer is louder than usual or emits a strange burning smell. This is an indication of worn-out components and the device nearing the end of its life. It could also be an issue with heating elements.
There are constant performance issues. When the dryer fails to start, shuts off mid-cycle, the clothes take longer to dry, there is inconsistent drum rotation, and the dryer overheats or doesn't heat at all, it's time to get a new one.
Before you consider buying a new tumble dryer, check if your machine is still under warranty. The manufacturer may cover the repair costs or send a new dryer as a replacement.
If it is indeed time to buy a new dryer, it's best to look around for the best deal. There may be special discounts available on some good brands of tumble dryers. Don't forget to narrow down your choices to those that are a good match for your washing machine. For example, you'll need a high-performing dryer if your washer doesn't spin excess moisture from your laundry well.
How To Extend The Lifespan Of A Tumble Dryer?
To ensure longevity and optimal performance, it is essential to care for your tumble dryer and maintain it well. It will also help avoid costly repairs.
Don't forget to unplug the machine before you start with the cleaning or maintenance.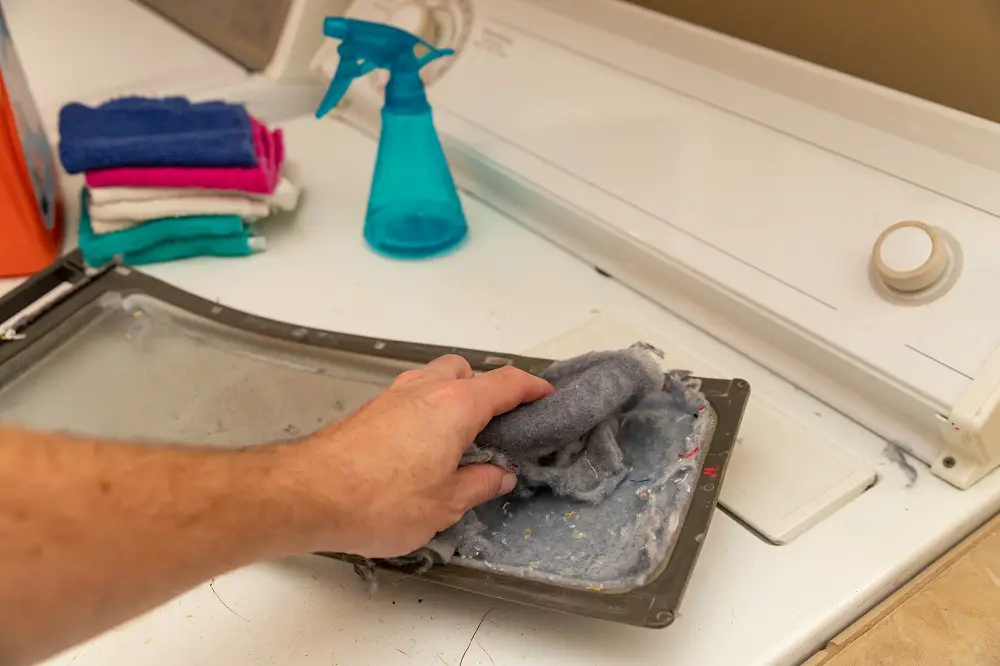 Here are some essential tips that will help extend the lifespan of your tumble dryer:
Clean the lint filter after every use. This will prevent any heat build-up in the machine and avoids damage to components due to overheating.
Avoid overloading the machine. It's a common cause of damage and the short life of tumble dryers.
Clean the filter storage. Once you've removed the lint filter, there's bound to be fluff gathered in the filter housing, which needs to be cleaned too.
Clear the venting and keep it free of obstructions. This allows for free air movement, helping keep the machine cool.
Use a damp cloth to clean the interior and exterior of the machine regularly. Regular cleaning allows you to keep your tumble dryer looking as good as new.
See more on our complete guide: How To Service A Tumble Dryer? (And How Often).
A tumble dryer is one of the simplest appliances to use at home, just like a washing machine. One can last for as many as 10 – 15 years with the proper care and maintenance. However, new appliances are more energy efficient and often a better investment than costly repairs of older appliances.
Do get a technician to thoroughly check your tumble dryer and get a free quote on repairs before you take a call on getting a new one.
Thank you for your feedback!