The invention of several household appliances has made lives easier. Among such appliances are the portable dishwashers, which revolutionized how people cleaned their dishes.
Portable dishwashers have been around for decades and are still manufactured by multiple appliance companies. They're available in various sizes and styles, and most offer similar features as built-in models.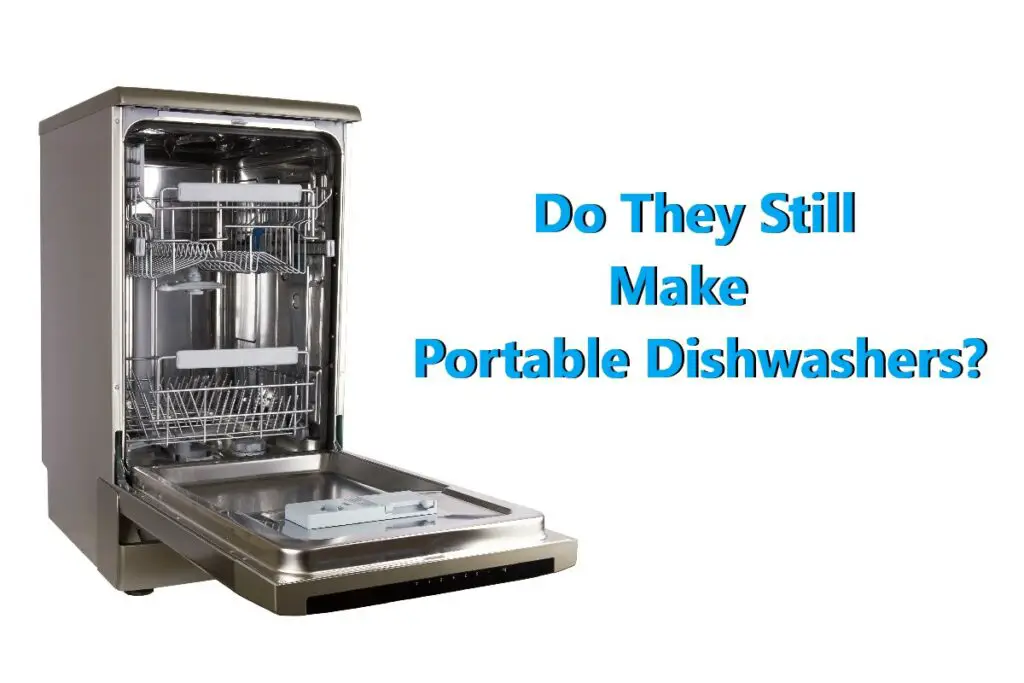 Let's look into how and why these portable appliances' popularity changed over the years.
History of Portable Dishwashers
Before the advent of dishwashers, washing dishes was a manual labor task – tedious and time-consuming. While the first dishwasher models were large and expensive, they were mainly used in hotels and restaurants.
Portable dishwashers only became widely available around the mid-20th century.
The first successful portable dishwasher, a hand-powered model, was invented by Josephine Cochrane, together with mechanic George Butters, in 1886. Whereas Europe's first electric motor-powered dishwasher was made by Miele in 1929.
It wasn't until the 1950s (the postwar boom) that portable or stand-alone dishwashers became available for domestic use.
Among the earliest portable dishwashers was Whirlpool's Roll-Away Dishwasher, introduced in 1951. This dishwasher was mounted on wheels and could be rolled from one place to another. It was a significant improvement over the more common built-in dishwashers that couldn't be moved.
KitchenAid introduced its first portable dishwasher in 1970. This portable version didn't require any installation.
As for the world's first countertop dishwasher model, the credit goes to Electrolux. The countertop model D10 was introduced in 1959 and was nicknamed "The Round Jar".
Popularity Change of Portable Dishwashers
Not surprisingly, the earliest dishwasher models were smaller, making them portable. The development of standardized height cabinets and wall-to-wall countertops led to an increase in the popularity of standard, built-in models.
However, portable dishwashers grew in popularity over the years, with a range of models available to fit any kitchen size and budget.
These portable appliances have come a long way since their introduction in the 1970s. Initially, these were considered luxury items, and only a few households could afford them.
With the production of more affordable models, their popularity began to rise. Today, portable dishwashers have become a staple in most households, and their popularity shows no signs of waning.
Reports indicate the global dishwasher market size value in 2021 was $4.77 billion. The estimated compound annual growth rate (CAGR) between 2022 to 2030 is 9.9%. Hence, the market is projected to reach $9.8% by 2030.
Why Portable Dishwashers Are Popular Now?
Over the last few years, the popularity of portable dishwashers has soared.
Here are some reasons for this:
Convenience for dual-income households
Working individuals or families have less time to spend on household chores. Portable dishwashers make a convenient solution to wash dishes, hence saving time and energy.
Increase in environmental consciousness
With an increasing number of people becoming environmentally conscious, the energy and water-saving features of portable dishwashers have become more appealing.
Open-concept kitchens
With the rise of open-concept kitchens in the 2000s, new home constructions are increasingly adopting this design. Open-concept kitchens have fewer cabinets and less space for built-in dishwashers.
Covid-impact
Covid-19 times saw a boost in portable dishwasher sales. People were spending more time indoors and even working from home. Having to cook at home, the number of dirty dishes increased, and so did portable dishwasher sales.
Increase in standard of living
The standard of living is on the global rise. An increase in per-capita income has encouraged people to adopt products that can make their lives easier, like portable dishwashers.
Surge in demand for smart home appliances
Consumers' preferences are leaning toward smart home appliances for ease and convenience to use. Appliances that have Wi-Fi features and sensor technology are more in demand.
Small homes
Cities with high real estate prices or rents have led many individuals and families to look for small homes. This means they have limited floor space, and portable dishwashers are the most suitable option for such homes.
Increasing popularity of RVs
RVs have seen an increase in sales over the last few years. People maintain all the basic amenities in their RVs, including portable dishwashers. Hence, the increase in RV sales also led to an increase in portable dishwasher sales.
Small budgets
Portable dishwashers are an excellent option for those who have small budgets for purchasing appliances. They cost much less than built-in dishwashers.
What We Expect in the Future
While the boom of RV sales during Covid could eventually stagnate or slightly decline, the overall outlook seems to appear stable.
We expect that RVs will continue to remain popular, as will people living in small homes, especially in the cities. Moreover, with inflation, the effective budgets of individuals and families will decrease.
The future will have people wanting to save time and energy, looking for alternatives to ease their household chores.
Also, the increase in environmental awareness will have people focusing on portable dishwashers, among other appliances, more than ever.
Conclusion
If you want the convenience of a dishwasher but don't have the space or provisions to install a built-in model, portable dishwashers are your best bet. The popularity of portable appliances has increased over the decades owing to people residing in small homes, the increase in RV popularity, and environmental awareness, among other reasons.
Undoubtedly, portable dishwashers will continue to see a surge in demand in the future. With additional features and energy-saving technology, future models will be more efficient and worth the purchase.
Thank you for your feedback!