A spin dryer is an excellent option to reduce your utility bills and laundry drying time, especially for those who hand wash their clothes. With portable spin dryers, there's the added advantage of less space consumption, making it ideal if you live in a small apartment or dorm.
The best spin dryer must have a good capacity and spin speed, be easy to install and use, consume less power (for electric ones), and be durable.
Our list of the best portable spin dryers – electric and manual, will provide you with options that rate well in all the factors you need to look out for when you shop for one.
Two Best Portable Spin Dryers (Electric)
If you've got a portable washer, consider getting an electric dryer that will suit your laundry loads and home space. Here are two of the best portable electric spin dryers to help drastically reduce your laundry drying time.
Ninja Portable Spin Dryer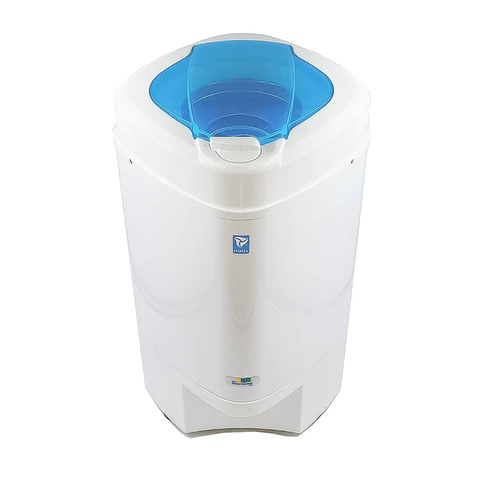 | | | | | |
| --- | --- | --- | --- | --- |
| | Capacity | 9/10 | | |
| | Electricity Costs | 9/10 | | |
| | Ease of Use | 8/10 | | |
| | Installation | 9/10 | | |
| | Quality of product | 9/10 | | |
| | Price | 7/10 | | |
| | Spin Speed | 9/10 | | |
This portable electric spin dryer is one of the best for compact spaces like apartments, RVs, and boating, and it takes only three minutes to get the clothes nearly dry.
Pros
Large inner tub 9″ x 14″ and laundry capacity of 22 lbs
Compact size of 13″ x 13″ x 24″ with a weight of 19.7 lbs – can be moved around easily
High-tech suspension system, stainless steel drum, and triple weld make it extremely durable
Spin speed – 3200 RPM
Quieter than most spin dryers
Extremely energy efficient with a power consumption of only 320W
Extracts water, detergent, and other additives from the laundry
Cons
Tends to shake, especially if the laundry isn't well balanced
While it spins faster, it takes longer to get up to speed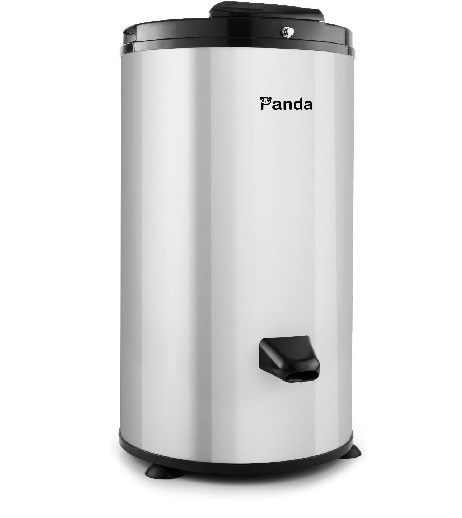 | | | | | |
| --- | --- | --- | --- | --- |
| | Capacity | 9/10 | | |
| | Electricity Costs | 9/10 | | |
| | Ease of Use | 8/10 | | |
| | Installation | 9/10 | | |
| | Quality of product | 9/10 | | |
| | Price | 6/10 | | |
| | Spin Speed | 9/10 | | |
This is another equally good electric spin dryer with similar capacity and spin speed. It is a great space saver and is perfect for apartments, dorms, RVs, travel, boats, etc.
Pros
Large laundry capacity – 22 lbs
Spin speed – 3200 RPM
Gravity draining; the spin dryer needn't be located near a sink or drain
Item weight is 26 lbs – easy to carry around
Power consumption – 300 W; Annual energy consumption – 3 W; extremely energy-efficient
Stainless steel drum – sturdy and durable
Spin disc prevents clothes from being spun out or the drum from being out of balance
Removes detergent and harmful mineral deposits from laundry
Cons
Slightly expensive
Noise level is 72 dB – tends to be loud
Two Best Portable Spin Dryers (Manual)
The most energy-efficient option is the manual spin dryer, although, it takes some effort on your part to operate one. And the laundry doesn't dry as much as it would in an electric spin dryer owing to reduced spin speeds.
Here are the two best manual portable spin dryers for those who live alone or hand-wash a few items.
This freestanding manual spin dryer, available in two colors (green and pink), is a good option for those living in a small apartment, RVs, or camping.
Pros
Can reach a rotation speed of up to 2500 RPM
Weight of the unit is only 10 lbs – easy to move around
Made of ABS plastic and high-quality polypropylene – sturdy
Holds 4-8 spring/summer clothes and 1-3 autumn/winter clothes
Cons
Slightly expensive for a manual spin dryer
Requires use of both hands to operate
Might not last for many years
If you're looking for good deals on a portable washer-dryer, this mini washing machine is also a spin dryer.
Pros
Product weight is only 5.51 lbs – extremely light and portable
Foldable spin handle to fold up when not in use
No power supply required; extremely energy-efficient
2-in-1 use – as a washer and dryer
Suction cups on the feet of the dryer provide more stability
Suitable for small-to-medium-size clothes
Made of high-quality ABS and PP material – sturdy
Cons
Only 40-50% dehydration rate; might not dry clothes as much as an electric model
Requires to be rotated by hand; it can get tiring
Capacity is only 2 kgs/4.4 lbs
Not very durable
Most Important Things When Buying a Spin Dryer (Sorted)
Some of the essential things to check out before you purchase a standalone spinner are:
Capacity:
The first thing to check is the spin dryer's capacity to suit your laundry load and frequency. Those who do bigger loads more than three times a week would benefit from a higher-capacity electric spin dryer.
Price:
While spin dryer prices are much less than tumble dryers or washer-dryer combos, if you're tight on a budget, you should check for a suitable price for the capacity you require at the store or online.
Spin speed:
The more the spin speed, the more the excess water is removed. And if you hang dry the laundry after spinning it, the drying time reduces drastically.
Quality of the product:
Based on the price of the dryer, ensure quality and durability accordingly. A higher-priced electric unit with stainless steel drum must last about 6-8 years, while the manual ones made of plastic might not last as long.
Ease of use:
A spin dryer must be easy to use; simply load your pants, shirts, towels, etc., and get almost dry clothes after the machine has done its job. However, manual ones aren't as easy as the electric spinners, needing more effort from you.
Installation:
Spin dryers don't need hookups or venting and must be easy to install and use immediately. A small bucket or container to collect the excess water and a 110V electric outlet (for the electric models) should suffice.
Electricity costs:
The manual spin dryers are the most economical. However, even the electric ones don't consume much energy since they only spin for about 3-5 minutes without generating heat.
Conclusion
There are different electric and manual portable spin dryers that are great space savers and easy to move around. Before buying a spin dryer, check if the capacity suits your laundry needs.
Next, check the price, spin speed, quality, ease of use and installation, and energy consumption. Spin dryers will help drastically reduce the laundry drying time, and they do this in just 3-5 minutes.
Thank you for your feedback!