Portable washing machines allow the convenience of doing laundry in any place with a sink, drain, and electrical outlet. While a portable washer connects to a sink faucet using an adapter, some faucets work well, while others aren't suitable for a portable washing machine.
A portable washer uses an adapter to connect to just about any sink faucet with a removable aerator. Once you remove the aerator from the tap, you can connect the water hose connector based on the faucet threads.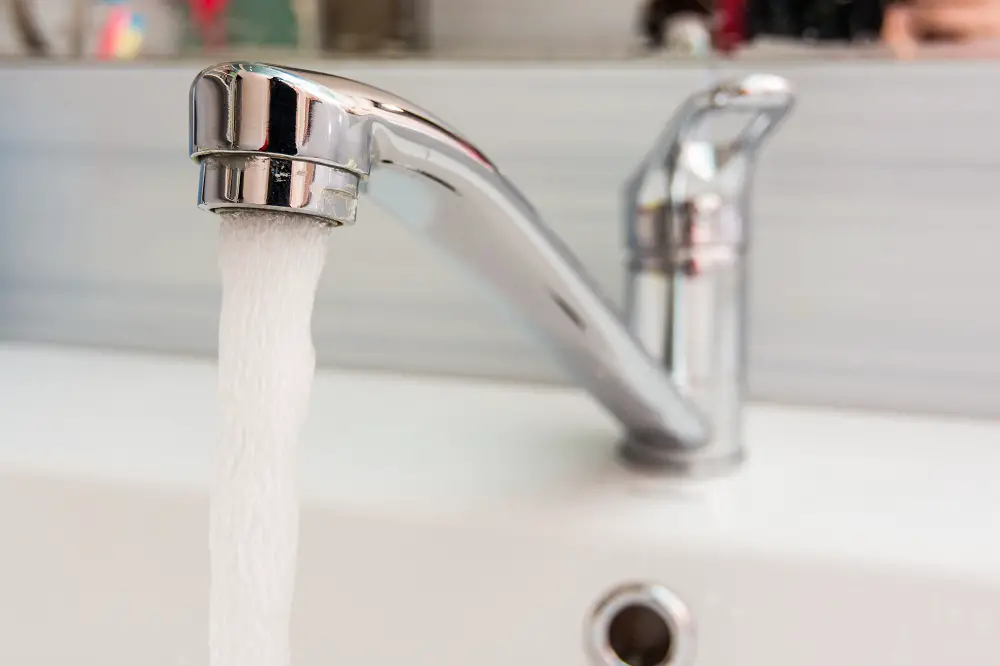 Portable washing machines work with a water supply from your kitchen or bathroom faucet; here's your guide to which faucets work best for portable washers.
5 Requirements for Portable Washer Faucets
For a hassle-free water supply to a portable washer, it is required for the faucets to have the following features.
1. Easy to Install
Most portable washing machines are rolled away into storage in between uses. This means that the water inlet pipe needs to be connected and disconnected for each use, as does the drain hose that needs to be set up too.
The faucet used to supply water to the portable clothes washer should make it sufficiently easy to set up the connections every time you use the washer.
Although the faucet itself takes a one-time installation, it must be easy to install on the sink and connect to the water line below the sink.
2. No Leakage
While the faucet adapter must be compatible with the faucet threads for a good fit, the sink faucet must have no leaks as is or when connected to the washer.
However, ensure that the connections are tightened to prevent leaks as well.
3. Ideally Permanent
Since you'll be connecting your portable washing machine to the faucet regularly, it would be helpful if you could connect the inlet hose to the faucet straight away rather than having to make any adjustments to do so each time.
Suppose you want to keep your portable washer connected to the sink faucet, if your existing faucet doesn't facilitate this, change it to a more compatible one for an ideally permanent setup.
4. Safe in Use
A good-quality durable faucet is required for hooking up to a portable washer, making for safe and easy use.
Any failure or leakage would result in a lot of problems and can damage the kitchen and floor substantially.
5. Single Handle
When you have to manually set the water temperature to hot, warm, or cold using the faucet, regardless of the wash cycles, a single-handle faucet is easier to use.
Best Faucets for Portable Washers
Here are some good faucet choices for use with portable washers, whether in the kitchen or bathroom.
An all-brass faucet divider with high-quality chrome plating that withstands corrosion and rust can be used conveniently for connecting to a portable washer.
Pros
Withstands corrosion and rust
Single metal handle
Easy to install
Can connect to the bathroom or kitchen faucets
Has an aerator and external thread adapter
Tap is accessible even when the washer is in operation
No leaks
Cons
Won't work with spout faucets, shower heads, pull-out faucets, and faucets without a removable aerator
This faucet divider has an external thread adapter and an aerator, and you can connect it to most faucets in the kitchen or bathroom (with a detachable aerator).
A single metal handle delivers water to the side outlet.
It's easy to install and is a great solution for connecting the faucet adapter of a portable washing machine.
This high-quality, durable kitchen faucet, with a 360-degree rotation function, provides superior use space for different activities between sinks.
Pros
Stainless steel material – corrosion-free
Built-in high-sealing ceramic cartridge ensures no leaks or drips, and accurate water temperature control
360-degree rotation
Removable aerator
Single handle
Cons
Extremely sensitive handle
A lot of water pressure
It can be installed without the cover deck for a one-hole installation or with the cover deck for a three-hole installation.
This stainless steel vanity bathroom faucet is sturdy and durable and gives a modern look to the bathroom. Its removable aerator spout can be disassembled by hand and is easy to clean.
Pros
Stainless steel with black surface – stylish look
Sturdy and durable
High-quality faucet ceramic cartridge prevents leaks, and easy to adjust water flow and temperature
Removable aerator
Single handle
Cons
Extra adapters might be required for installation to water lines
Might not fit all bathroom sinks
It is suitable for installation for a basin with one or three holes. 
Pros
Long-term durable
Lead-free
Includes two aerators; removable for use with a portable washer
Forward-only handle
Cons
Expensive
Single-hole installation; can't be used for three-hole installation
This single-hole kitchen faucet with a semi-professional spout and forward-only lever includes water-saving features. It has two aerators and a removable cartridge for easy repair and replacement.
Its solid brass waterways make for long-term durability. 
Faucets That Don't Work for Portable Washers
Some faucet types won't work for portable washers. If you have spout faucets, ones without a removable aerator, or a sensor-based faucet, these aren't compatible with adapters of portable washing machines.
As sleek and stylish as this matte-finish black faucet may look in your bathroom, it doesn't have a removable aerator.
While it's durable, easy to install, and has a single handle, its waterfall spout isn't in any way compatible to use with a portable washer's hose adapter.
At times, it might be convenient to use your mini washer or top-load portable washer by connecting it to the bathtub faucet and letting the dirty water drain into the tub. However, this type of wall-mounted universal bathroom tub spout faucet isn't compatible with a portable washing machine.
This touchless sink faucet is a great energy-saving option and has a removable aerator too. However, it can't be used with a portable washing machine.
Since the faucet supplies water only when it senses hand movement, it won't be able to supply water to the inlet hose of the washer. A good alternative is a faucet that has a sensor as well as a handle to turn on the water supply, along with a removable aerator.
Conclusion
Unlike a standard washing machine, many portable washing machines are designed to be stored away in between uses, and connected to a sink faucet for each use. Connecting to a faucet with a removable aerator is essential, ensuring you use the correct faucet adapter.
The faucet must be easy to install and must also make it easy to connect to the water intake hose of the portable washer. Additionally, it should be leak-free, safe in use, ideally permanent, and with a single handle for easy operation when connecting to a washer.
Faucets without a removable aerator and spout or sensor-based faucets are typically not suitable for use with portable washers.
Thank you for your feedback!